A Season of Giving with Stockton's MSW Program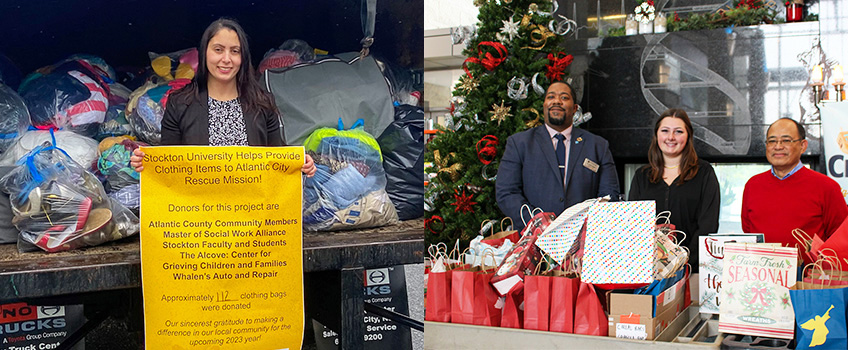 Galloway, N.J. – Generosity runs in the Master of Social Work family at Stockton University.
Two graduate students, Alyssa Frencer and Calli Votta, saw the holiday season rapidly approaching and decided that now is the perfect opportunity for them to give back to the local community. Through two separate projects, the students both made large donations to Atlantic City residents on behalf of the MSW program.
Blessing Bags
Frencer, who is also a part of the Student Success Scholars and Educational Opportunity Fund (EOF) programs, wanted to have a positive impact on the community during the holidays. She looked no further than the Philadelphia nonprofit Angels in Motion, an organization that helps local and underserved populations along the East Coast.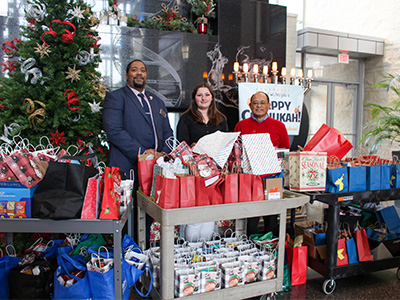 With their help, Frencer got to work and began to solicit holiday-themed "Blessing Bags" from students, staff and faculty. The Stockton community heard the call to action and came to support the cause: Frencer collected more than 350 Blessing Bags to distribute to the houseless in Atlantic City. Leftover food was then donated to Stockton's Food Pantry.
"It's just nice to see what one flyer or email can do, and how many people it will help," Frencer said. "Almost 350 people will now be getting a little bit of holiday joy and some snacks to munch on."
Angels in Motion will distribute the bags of non-perishable and single-serving food items that the Stockton community assembled and donated this weekend.
Tomas Itaas, associate director of Student Success Services, and Brett Pulliam, executive director of EOF, agree that Frencer embodies the spirit of community service that runs through the Student Success Scholars program.
"Part of the mission of the program is to give back to the community," Itaas said. "We strongly encourage students to do community service, and this is one of the aspects of that."
"The Student Success Scholars program under Tomas Itaas's conservatorship has really made a commitment to supporting students' right to participate in community service and this is yet another critical piece to student engagement on campus," Pulliam said. "I think that continuing to encourage students to give back with that service-learning piece will help them as students here at Stockton and beyond."
Frencer also credits her donation spirit to the MSW program, saying that she is "passionate about social work and knows that it is her calling."
Calli Votta and Alyssa Frencer are two students who truly exemplify the values and ethics the social work profession embodies. Their passion as well as the work they both have done for vulnerable populations is commendable."
Clothing Drive
Votta, president of the student organization MSW Alliance, wanted to do community outreach and partner with the Atlantic City Rescue Mission (for a second time this year) to provide them with clothing for the next year.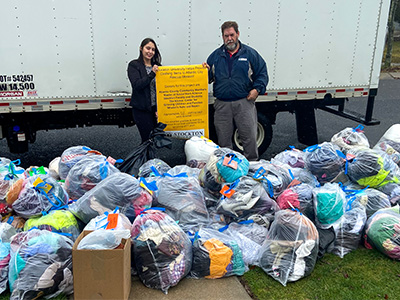 She and other MSW members started by collecting donations around campus for the past month and gathering them up at her house. Votta then separated, folded and packaged them into clear, plastic bags. Each bag – labeled for men, women and children – contained jackets, pants, sweaters, hats, gloves, shoes and other necessities, totaling a whopping 2,306 items.
She chose to help the rescue mission because she wanted them to be prepared for the upcoming winter season.
"It is essential to help others in need as much as possible because we are all humans who deserve to have their needs met," Votta said.
All 112 bags were collected by the AC Rescue Mission by flatbed truck on Dec. 16. The clothes will be available for houseless residents to pick up all throughout the holiday season.
Like Frencer, Votta credits the program with inspiring the donation.
"When working with vulnerable populations, I see the hardships that they have to go through when it comes to getting their needs met," Votta shared. "I show my support for our community by donating any essential items I can to help them. I am passionate about helping others and feel that the social work field will help me continue that in my future."
MSW Program Chair, Allison Sinanan, is proud of both Frencer and Votta and considers them fantastic representatives of the program.
"Calli Votta and Alyssa Frencer are two students who truly exemplify the values and ethics the social work profession embodies," Sinanan shared. "Their passion as well as the work they both have done for vulnerable populations is commendable."
As for next year, the students are looking forward to continuing to help others in need. They're even considering working together.
"Hopefully, yes," Frencer said when asked about teaming up with Votta. "I know that everyone in the MSW Alliance and the graduate program are really close, so I think if we could all team up and do something, maybe even bigger, it would be great for the community."
"I definitely see us working together and making an impact on our community together as MSW students," Votta said of Frencer. "I hope to work with her in the future to create a project that can benefit our community. I would enjoy to work with her as a team and give back to those in need."
-Story by Loukaia Taylor
-Photos by Loukaia Taylor and provided by Calli Votta
"Blessing Bag" Donors
Provided by Alyssa Frencer
Biology professor Margaret Lewis, as Scoutmaster, and Nick Sabo, the Senior Patrol Leader of Troop 77 in Smithville
Stockton's Health Science Club
Student Success Scholars program participants
Educational Opportunity Fund program scholars
Stockton staff, faculty members and students
Clothing Drive Donors
Provided by Calli Votta
Atlantic County community members
Whalen's Auto Repair and Tires in Cape May Court House
Master of Social Work (MSW) Alliance
Stockton staff, faculty members and students