NAACP Panel Discussion: Continuing the Conversation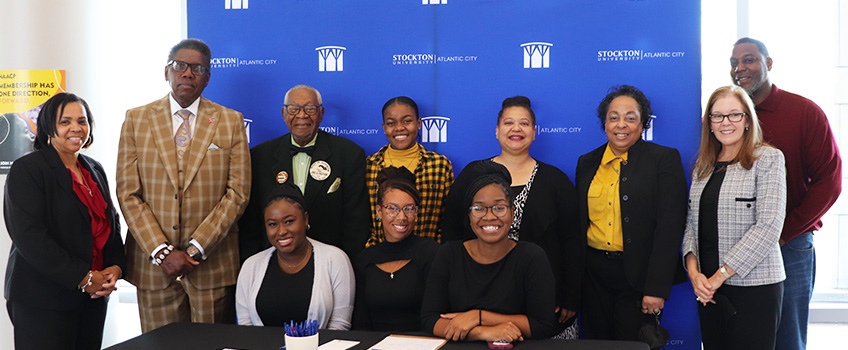 Galloway, N.J.- Following the national NAACP convention in Atlantic City this summer, Patricia Collins seized the opportunity to continue the conversation about youth engagement in politics and civil service with a panel discussion at Stockton University Oct. 10.
"The idea was to get them thinking about important issues like why getting involved in voter registration is important; why representation is valuable where I live, work or attend school; and what kind of impact next-generation leadership plays," said Collins, community engagement liaison for the Stockton Center for Community Engagement and Service Learning (SCCESL), which hosted the event.
"Today's youth are faced with a multitude of challenges. The more prepared our youth are to deal with and address these and other issues, the better prepared they should be if they decide to become future leaders in their community, place of work or the educational institutions they attend," she said.
Merydawilda Colón, executive director of SCCESL, concurred with Collins and stated during her welcoming remarks that SCCESL is "honored to have sponsored the panel discussion along with other university and community partners."
"I hope to see an annual NAACP panel discussion at Stockton keep today's conversation alive," Colón said.
Christopher Catching, vice president of Student Affairs, underscored that point.
"It's amazing to be involved in your community, both within the NAACP and out, to advocate for access and equity," Catching said. "This is such a great opportunity to get together and hear some fantastic stories and experiences from these panelists."
The panel, which was moderated by the faculty advisor for Stockton's NAACP chapter, Louise Gorham-Neblett, included: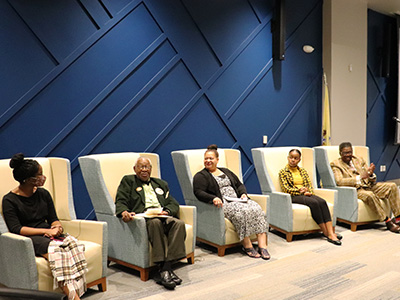 According to Collins, the panelists were selected because of their "commitment to community, affiliation with the NAACP, historical perspective, knowledge about issues impacting today's society, and their ability to connect with youth."
"I could not think of a better group of panelists to have on such important topics, because each one of them brought forth such knowledge, wisdom, passion and sincerity in what they spoke about which pertained to each question that Patricia stated," Shawn Cooper, co-coordinator of the discussion, said. "I believe each panelist reached the youth, as well as the adults in the audience. It was for all to hear and to be encouraged to take action. It made me proud to hear how each one of them not only believed in the fight, but are willing to stand up for their rights and the rights of others, as Fannie Lou Hamer has taught us so well to do. I am thankful to be a part of the NAACP Panel Discussion Committee along with Patricia and Christopher Lipari-Pazienza."
Prior to the panel, Jenkins performed "Lift Every Voice and Sing," and student Tahera Brown sang "I Believe" by Fantasia and "One Moment in Time" by Whitney Houston.
As the discussion began, various members of the NAACP throughout the years were mentioned, like Ida B. Wells, Walter White, Leroy Brown, Thurgood Marshall and Fannie Lou Hamer. It soon became clear how much of an impact the NAACP has made on the broader community through its efforts as an organization.
Jenkins reminisced about how powerful of a moment she had when going to the national convention.
"Just experiencing being in a room with diverse people, not just African Americans but different nationalities and ethnicities, all together to be empowered and informed about different regulations and laws that are being passed that impact African American lives specifically was empowering."
And when you stand up, stand on it! It's important to get involved as a youth, no matter your race, creed or culture, because it matters."
Hunter mirrored those sentiments, saying that inclusion was intentional on the NAACP's part, "There's so much in a name. Let's look at the words in our name, particularly the 'C:' the 'c' now is for people of color, not just Black folks. It used to, but the story has changed because (the association) wanted to pull themselves up by the bootstraps and involve all these other nationalities in order to get the train rolling."
The panelists also encouraged the Atlantic City and Pleasantville high school students in attendance to get involved, both civically in politics and in the NAACP. Goddard, Williams and Shabazz emphasized the importance of critical thinking and recognizing the critical purpose of getting involved and voting.
"What I've found is that a lot of people don't use critical thinking skills when it comes to voting. Your elected official should earn your vote, not expect it," Goddard said. "Now, let's take the most studied demographic in the United States, African-Americans, and look at how incredibly loyal they have been to the Democratic party. But we do not see legislation, policy or anything tangible or intangible to show for it. If our loyalty was a stock in the stock market, you better sell it because our return on the interest is very low."
"Bob Marley said, 'Get up, stand up, stand up for your rights, stand up, stand up and don't forget the fight.' The people who are working against you do not stop working, so you shouldn't either," Williams said. "And when you stand up, stand on it! It's important to get involved as a youth, no matter your race, creed or culture, because it matters."
Shabazz added, "I think it's very important to realize the climate we're living in. Even though I'm an elected official, I'm, before that, president of the Atlantic City branch of the NAACP, and I see, very clearly, that the rights that we have fought for are being threatened. We have to respond to that, especially young people because you're going to be recipients of what those of us who are older don't do. Everything happening today is going to have an impact on tomorrow."
Following the panel, students expressed interest in getting involved in voting, specifically how to lower the voting age from 18 years old to 16, after Goddard told them about cities in Maryland piloting such legislation.
-Story and photos by Loukaia Taylor