Fannie Lou Hamer Human & Civil Rights Symposium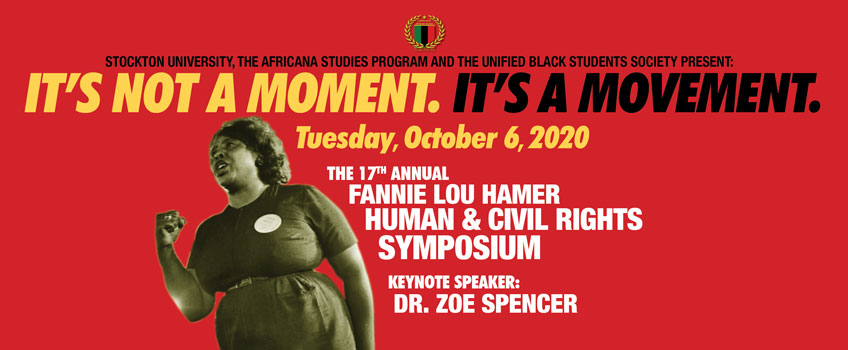 "It's Not a Moment; It's a Movement – Dr. Zoe Spencer, Virginia State University
Tuesday, October 6, 2020 2:30 p.m. via Zoom
* The event is free, but online registration is required.
---
Dr. Zoe Spencer
Dr. Zoe Spencer, or Dr. (Auntie) Z, as she is affectionately referred, is an Emmy Award-winning writer and scholar-activist and a beloved Virginia State University (HBCU) professor from Barry Farms Projects in Southeast Washington, D.C. Despite her struggles, she received her Ph.D., M.S.W., and B.A from "the Mecca," Howard University and her Master of Legal Studies (M.L.S.) from the Washington University St. Louis School of Law. As a staunch "freedom fighter"- she has unapologetically dedicated her life to addressing all forms of oppression and disparity, no matter the construct. As such, she has not confined her work to the halls of academia and professional spaces. Instead, she has advocated for victims of state-sponsored violence, organized direct actions, one of which was featured in Ava Duvernay's Documentary, 13th, and committed to serving as a regular speaker, presenter, and educator in men's Level II, III, and IV correctional facilities in Virginia.
She is a highly sought after presenter and lecturer with hundreds of professional presentations to her credit. Her critical and creative work is dedicated to addressing "neo lynching" and state-sponsored violence in America and includes, her Emmy Award-winning spoken word piece "Say Her Name," which pays homage to the victims of historic and contemporary lynching in America. Her scholarly publications include: Sassy Mouths, Unfettered Spirits, and the Neo-Lynching of Korryn Gaines and Sandra Bland: Conceptualizing Post Traumatic Slave Master Syndrome and the Familiar "Policing" of Black Women's Resistance in Twenty-First-Century America, published in the renowned feminist journal Meridians and Why Welcome Back Jim Crow: Jim Crow, Neo Lynching, and the Criminalization of the Right to Resist in 21st Century America published in The Criminal Justice Journal and Law Review, Special Edition.
But most importantly to her divine purpose, she is "Ma" to her Sun, Grandma to her future freedom fighter Islah Sevyn Kemet, "Auntie" to her beautifully brilliant HBCU students, who are on the front lines of this resistance movement; and "an unapologetically Black" "Z" to any power structure that is oppressive to the people. To the struggle, she is a comrade and an ally to the Queens and Sistars from races, identities, and spaces, who stay on the front lines in the battles against all forms of oppression and brutality.
---
About Fannie Lou Hamer
Fannie Lou Hamer was among the most significant participants in the struggle launched in the latter half of the twentieth century to achieve freedom and social justice for African Americans.
Mrs. Hamer's historic presence in Atlantic City at the 1964 Democratic National Convention brought national prominence with her electrifying testimony before the convention's credentials committee. She sought to prevent the seating of the all-white Mississippi delegation. While this effort failed, the Democratic Party agreed that in the future no delegation would be seated from a state where anyone was illegally denied the vote. Roughly a year later, the 1965 Voting Rights Act was passed.
Learn more
Sponsors
Africana Studies Program, Unified Black Students Society, Office of the Provost, The Council of Black Faculty and Staff, Office of the President, Office of Institutional Diversity and Equity and the Office of Student Development.
Past Speakers