LGBTQ+ History Month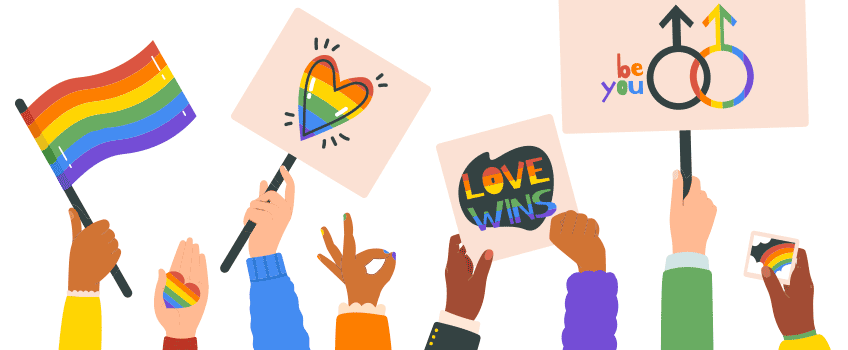 LGBTQ+ History Month is a month-long celebration of the history of the diverse and beautiful lesbian, gay, bisexual, transgender, and queer community and the importance of civil rights movements in progressing gay rights.
The observance was created by Rodney Wilson, a history teacher at a Missouri high school, in 1994. The following year, LGBTQ+ History Month was added to the list of commemorative months in a resolution forwarded by the General Assembly of the National Education Association. October was chosen as the month of observance as National Coming Out Day already existed as a holiday on October 11th. Also, the anniversary of the first march for gay rights in Washington took place on October 14, 1979.
Upcoming Events
---
On-Campus Resources
Women's Gender & Sexuality Center
The Women's, Gender & Sexuality Center empowers students who identify as women and all genders who identify as LGBTQIA+, victims of power-based personal violence, and community allies. WGSC will accomplish this by promoting equality and justice, ensuring access to opportunities, and providing services through education and advocacy. Stop by the brand new lounge between classes. Engage in some thoughtful discussion about the issues that matter to you. Attend a group discussion. Or, make a cup of your favorite coffee and relax with a good book from the lending library. The WGSC is a place where you can relax, unwind, and be yourself. Visit the Being LGBTQIA+ at Stockton website for a full list of resources!
Pride Alliance is a recognized student organization at Stockton University that strives to strengthen unity between lesbian, gay, bisexual, transgender, asexual, and heterosexual people while creating an environment for equality.
Queer & Trans People of Color Society
Queer & Trans People of Color Society (QTPOCS) is a recognized student organization at Stockton University and an affinity space for LGBTQ+ BIPOC identifying people and allies. This organization will hold meetings and events that address issues regarding queer and trans people of color as well as celebrating the multicultural intersectionality of the LGBTQ+ community here at Stockton. The club's environment strives to be a diverse place where the lives and experiences of queer and trans people of color are centered and uplifted. Allies are welcomed, with the understanding that their voices will not be the center of conversation, as the club's main goal is to elevate the voices of those who are marginalized within the LGBTQ+ community.
We are always looking for new members and new ideas to promote and solve women and gender issues around campus and in the community.
LGBTQ+ History Month at Bjork Library
Stockton's Richard E. Bjork Library provides access to a wealth of resources on LGBTQ+ history. From books and eBooks to digital research and historical content, there is something for everyone.
---
Other Resources
The Safe Space Alliance is a LGBTQI+ led nonprofit organisation that aims to help people identify, navigate, and create safe spaces for the LGBTQI+ community worldwide.
CenterLink is an international nonprofit organization and member-based association of LGBTQ centers and other LGBTQ organizations serving their local and regional communities. Their mission is to strengthen, support, and connect LGBTQ community centers.
The mission of The Pride Center is to provide a safe and welcoming space for all individuals who identify as LGBTQ to find support, educational tools, health and education resources, and social opportunities within a community of acceptance.