Picture Stockton: Raising Platforms for Ospreys along the Atlantic City Expressway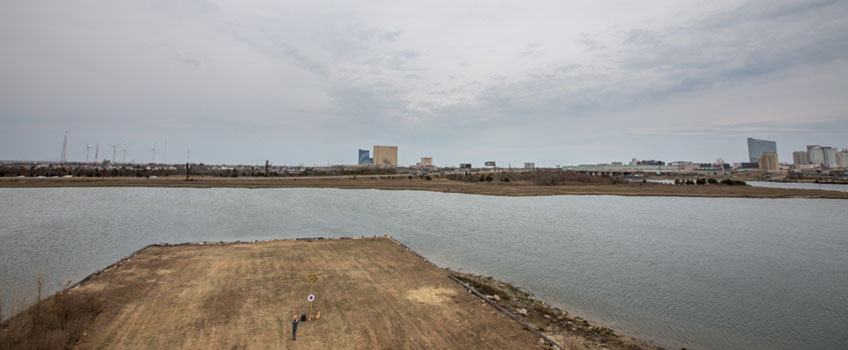 Right before the 44-mile expressway ends in Atlantic City, it enters a coastal ecosystem that is home to ospreys from spring into early fall. Stockton University volunteers helped to install three new nesting platforms just in time for returning ospreys that nest and fish along the marsh.
Last year, an osprey pair selected a billboard to raise their young, causing an inconvenience to advertisers. With nesting season underway and no time to secure permits for platform installation in the marsh, the South Jersey Transportation Authority (SJTA) used its informational roadway signage as temporary platforms for wooden nest boxes to provide immediate alternatives.
This year, SJTA built three permanent platforms and worked with WSP engineering consultants to secure permits from the New Jersey Department of Environmental Protection to provide ospreys with prime real estate set back from the roadway.
Daniel Moscovici, associate professor of Environmental Science and Geology, Stockton students, Ben Wurst, habitat program manager for the Conserve Wildlife Foundation of New Jersey and staff from WSP joined SJTA to install the platforms on March 29.
Stockton partnered with SJTA to create an internship opportunity for students to help manage environmental stewardship programs that fall under SJTA's Roadway Environmental Advancement Initiative (READI). David Lewis, an Environmental Science major from Northfield, was selected to be the first intern. "I'm honored and can't wait to show them what we can do," he said.
Lewis, who helped install the platforms, will monitor the osprey activity at the nests during his internship.
"Birds are riding the southerly winds returning to their nest sites that they return to year after year," said Ben Wurst after finishing the installations.
One pair flew over the marsh as a platform was being raised.
"Today, the most amazing part was seeing two ospreys fly over as we finished installing the first platform and partnering with Stockton on this project. These are highly visible platforms where everyone going to Atlantic City will see them," said Wurst.
Moscovici added, "The moment the pair appeared we all got an instant reward. It was really exciting."
View the photo story below by Susan Allen.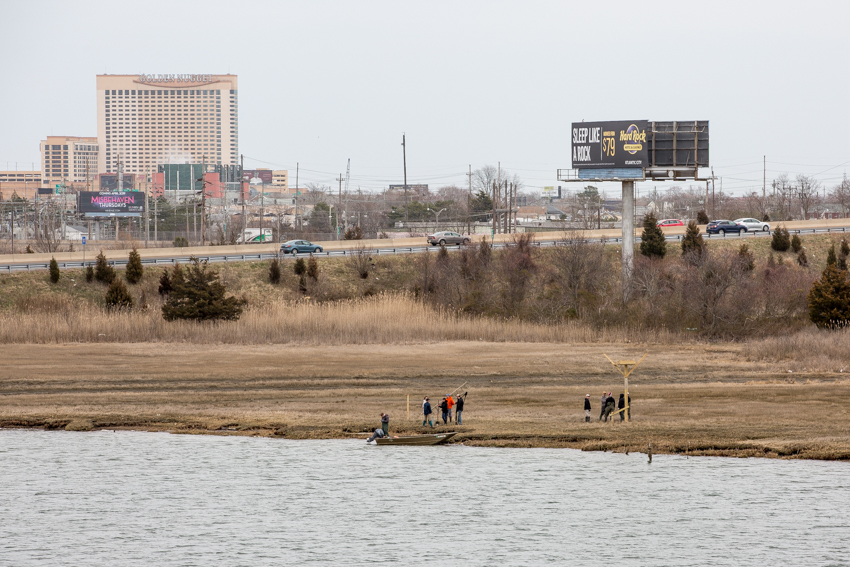 Students install a nesting platform off the Atlantic City Expressway. Across the bay, Brian Jackson, chief operating officer for Stockton Atlantic City, spoke at a ceremony hosted by SJTA. "We look forward to the ospreys returning soon to enjoy the new nests. Outside of our new residential building, they will have the best views in the city," he said.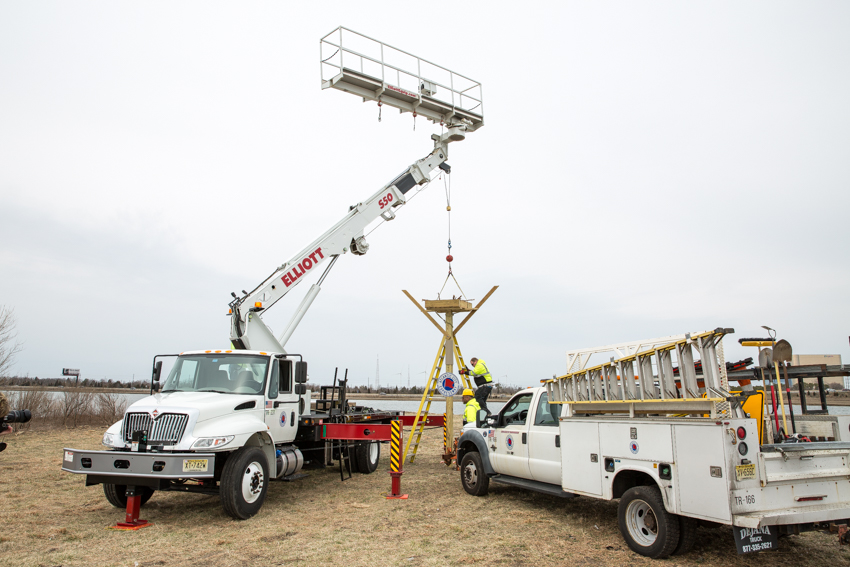 In addition to osprey platforms, the READI program has installed nest boxes for bats, American kestrels, blue birds, screech owls and butterflies and has planted wildflowers and native trees.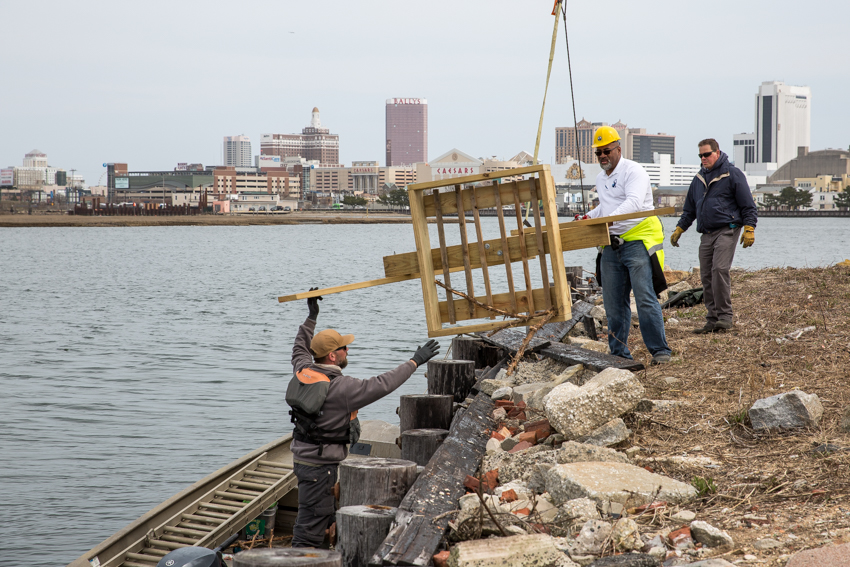 A South Jersey Transportation Authority boom lift slowly lowers a nesting platform to Ben Wurst, who balances in a boat.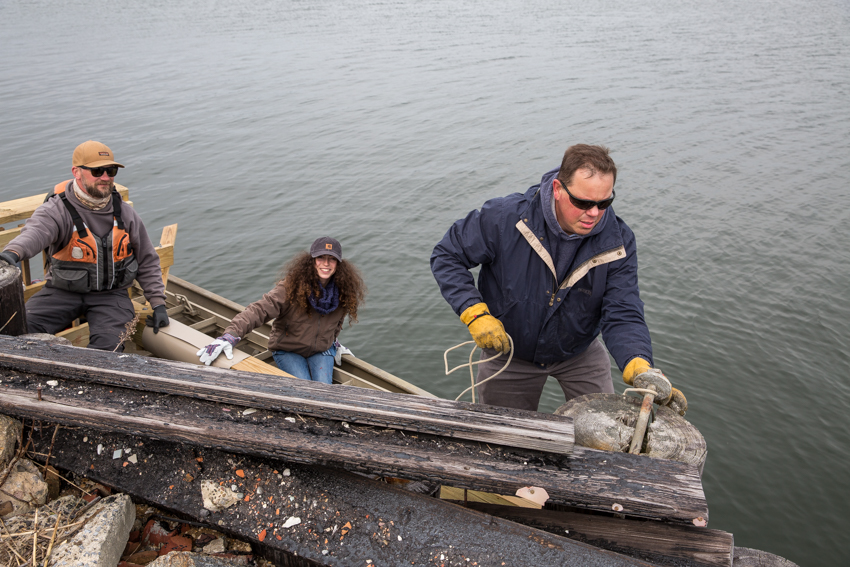 David Lewis, an Environmental Science major, unties the boat as Victoria Saunders, a Sustainability major, holds on to the third platform and Ben Wurst prepares to steer away from Bader Field to the marsh.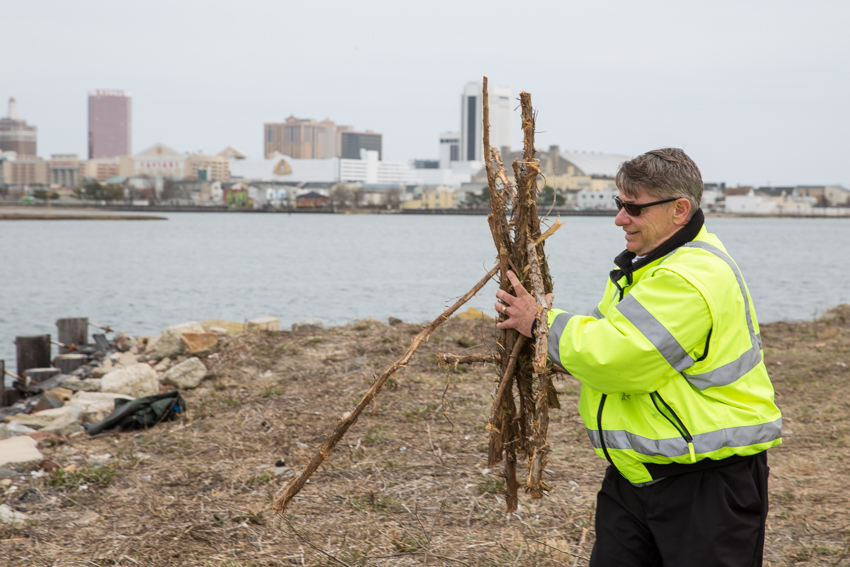 Nick Marchese, SJTA operations project manager, delivers starter nesting material to the boat.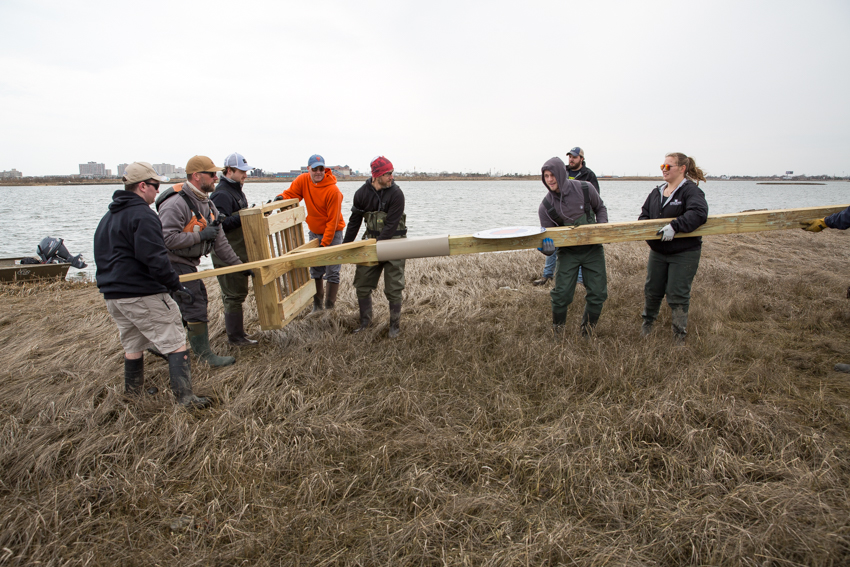 Helping hands carry the platform to its designated location. Brendan Branca, second from the right, was excited to install the platforms, a first-time experience for him. He is a senior Environmental Science major with a concentration in Geographic Information Systems (GIS) and planning. "I didn't even know what GIS was, but when I stumbled upon it during college, I knew I wanted to use it. I also want to be out getting my hands dirty," he said. Over the summer he scouted blueberry fields in Hammonton for pests during an internship. He incorporated GIS mapping to analyze pest concentrations on the farm.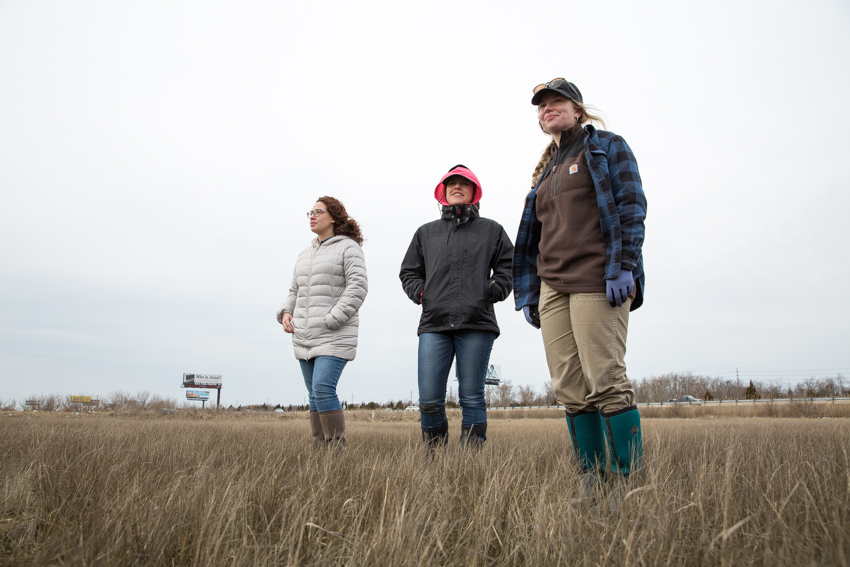 Staff from WSP stand in the exact site that they worked to permit with the NJ DEP for platform installation.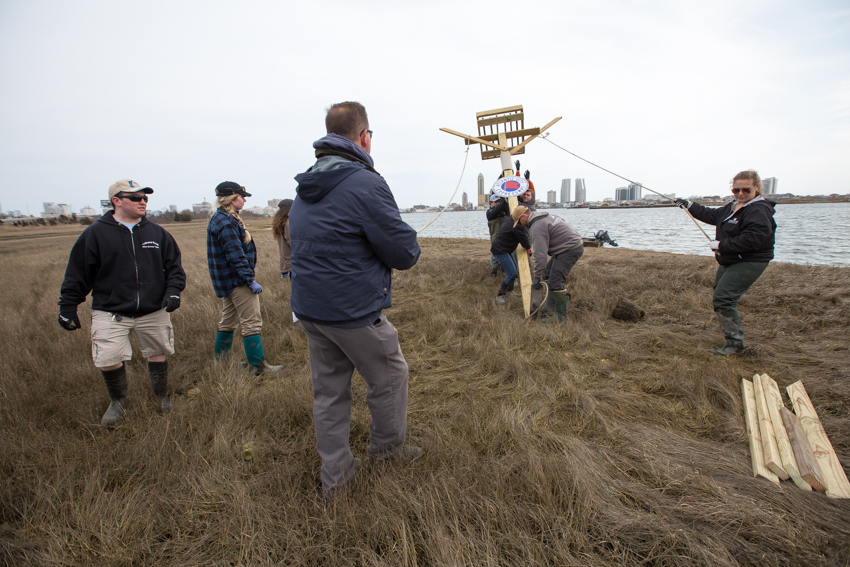 The platform raising is a team effort.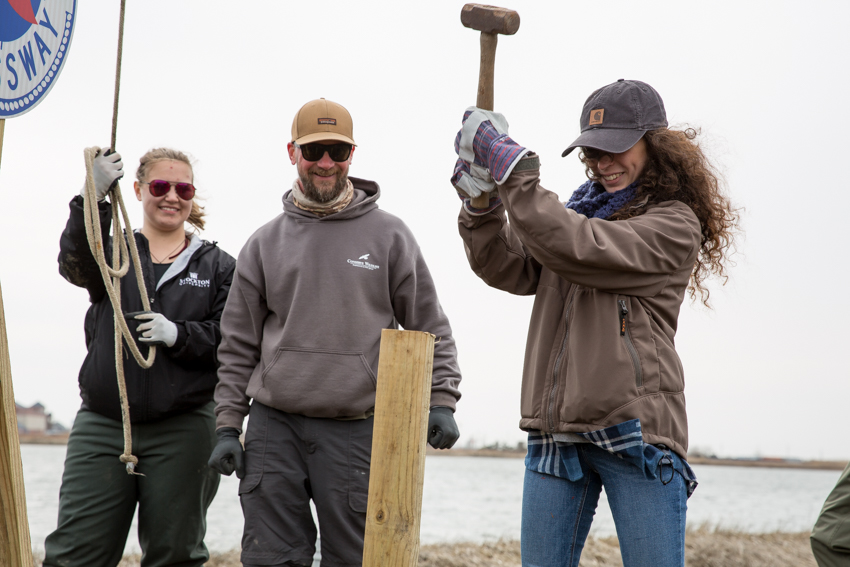 Victoria Saunders hammers a platform anchor into the marsh.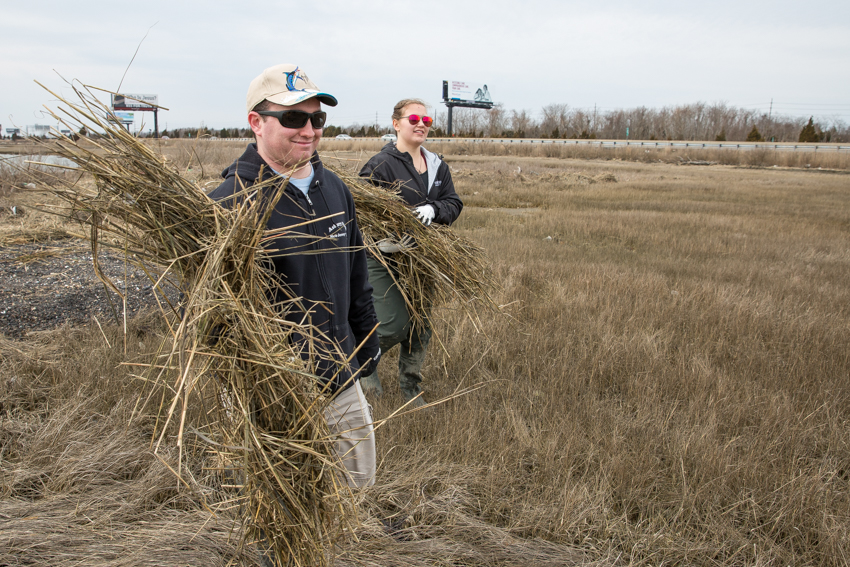 Students gather nest material for the platform to give ospreys a head start.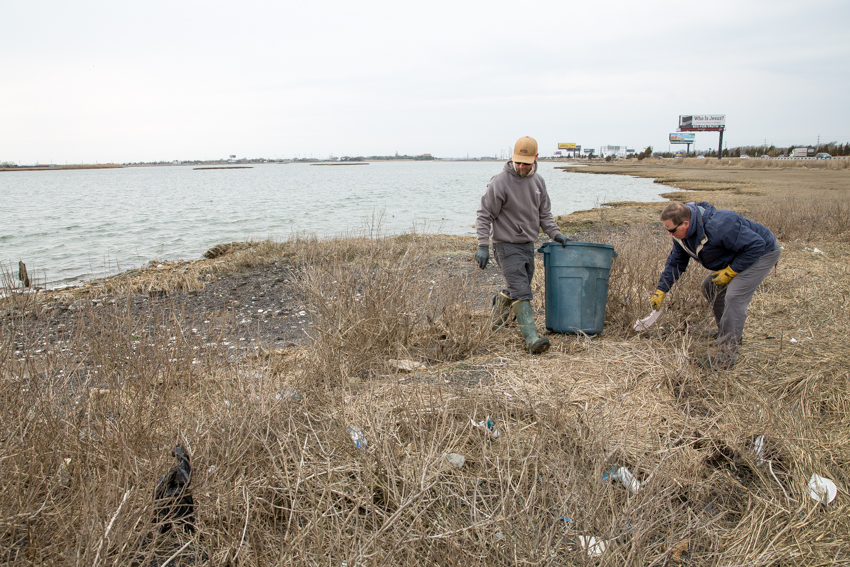 Ben Wurst and David Lewis remove litter that could potentially end up in the nests.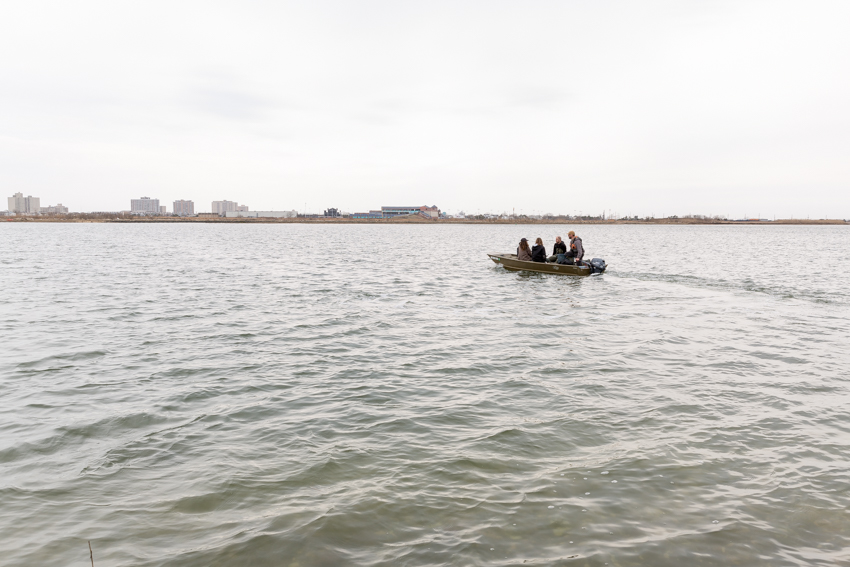 Volunteers ride back to Bader Field after successfully installing three platforms.

View more photos on Flickr.