T.A.L.O.N.S. Welcome New Students to Campus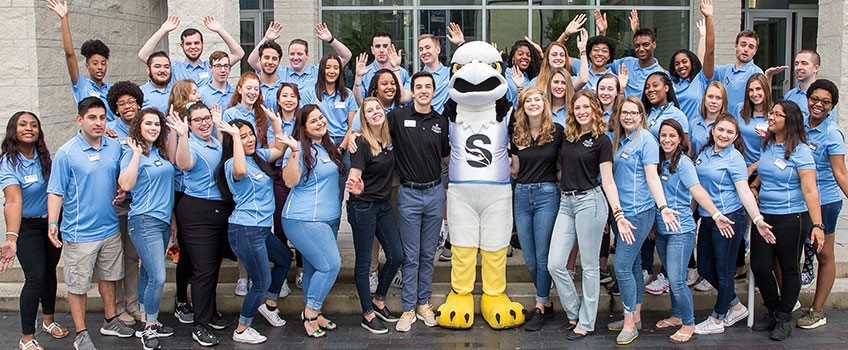 Galloway, N.J. – Are you an incoming freshman or transfer student? Are you just a little nervous about the transition into Stockton?
Don't be! We've got you covered ... with an entire program filled with your first new friends and mentors.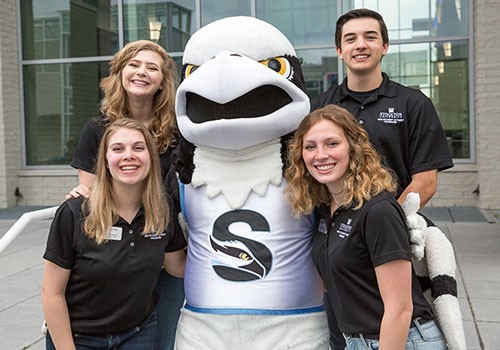 The new program "T.A.L.O.N.S.," or "Transition Activity Leaders of New Students," is a combination of former orientation and mentorship programs that assists incoming freshmen and transfer students to help make them feel welcome and prepared to begin their careers at Stockton. They are here for you, and will do everything they can to ensure that you have a smooth transition into the Osprey lifestyle.
There are four head T.A.L.O.N.S. who act as activity leaders and The head T.A.L.O.N.S. are Stephen Dolan, Brooke Nolan, Isabella Massey, and Ariana DiPhillippo. Just look for the people in the black polo shirts – those are your head T.A.L.O.N.S.!
"I love doing this," said Dolan, who was in earlier programs prior to becoming a head T.A.L.O.N. "I wouldn't get up at 7 a.m. and come in if I didn't."
Faculty and staff are also T.A.L.O.N.S., and they act as advisors and student resources. Altogether, there are over 125 participants in T.A.L.O.N.S. program at your disposal.
"This type of program is a nice way to meet students before they start class," said Professor of Art Hannah Ueno. "They help acclimate students to Stockton, and allow faculty to suggest courses to help with the registration process."
The T.A.L.O.N.S. complete two trainings before starting work: one is an Orientation training that typically occurs in June, and the other is a Welcome Week training in August that stretches into Welcome Week itself. Welcome Week is a twice-annual week-long event in which incoming students can review their class schedules, participate in educational and social events, and get acquainted with classmates before the semester begins. All new students are encouraged to participate.
The trainings are designed to prepare the T.A.L.O.N.S. with all of the knowledge they need to assist incoming students and their families. Participants become experts on necessary things like DegreeWorks, Stockton's degree evaluation system, and FRST, Stockton's first-year studies program, so they can answer any questions that you or your family members may have when you arrive at Stockton.
The student T.A.L.O.N.S. are very excited to begin performing their duties.
"I am a transfer student," said junior Erin Fitzsimmons. "I joined because I wanted to help other transfers, commuters, and other non-traditional students who may feel underrepresented or overlooked feel celebrated."
Senior Caitlan Ramcharan wants to help others the way the programs helped her when she first arrived.
"Those programs really made Stockton stand out, and I had the greatest experiences," she said. "I'm an only child, and the people I met in those programs quickly became my family. Stockton goes to great lengths to make everyone feel welcome, and I wanted to do the same."
T.A.L.O.N.S. Supervisor and Director of New Student and Family programs Jennifer Radwanski said introductory programs are crucial for incoming students.
"Our hope is that when new students and their families participate in summer orientation, they feel more comfortable and confident in their decision to attend Stockton in the fall," she said. "We also hope that they start to begin building relationships with faculty, staff and students so they know who they can go to for help as they transition into our institution."
For more information, visit www.stockton.edu/talons or check out the program's Instagram, @stocktonnsfp.
Welcome to Stockton. The T.A.L.O.N.S., as well as the rest of the Stockton community, can't wait to meet you!
Reported by Kat H. Wentzell.
# # #
Contact:
Diane D'Amico
Director of News and Media Relations
Stockton University
Galloway, N.J. 08205
Diane.DAmico@stockton.edu
609-652-4593
609-412-8069
stockton.edu/media