Stockton Receives Grants for Barnegat Bay Projects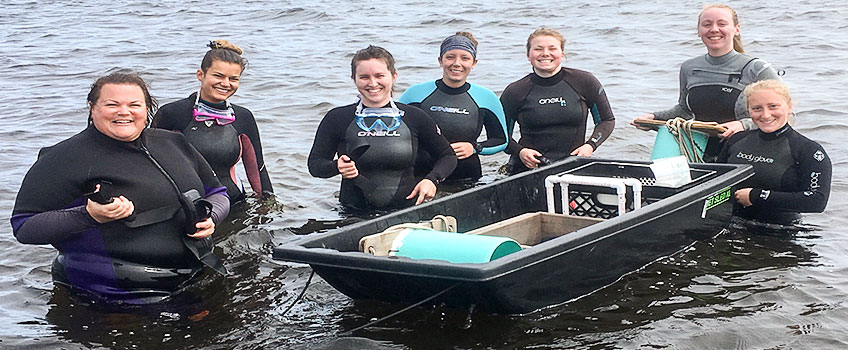 Galloway, N.J. - The New Jersey Department of Environmental Protection (NJDEP) recently awarded Stockton University two grants totaling $525,000 to continue restoration efforts in the Barnegat Bay estuary, the largest coastal bay in New Jersey.
Since 2012, Stockton has been working to improve the ecological health of the bay by focusing on oyster restoration and SAV – submerged aquatic vegetation and seagrass – through grants funded by the Barnegat Bay Partnership.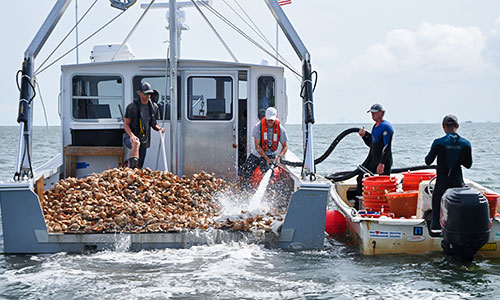 "The restoration, enhancement, and protection of a healthy Barnegat Bay is a DEP priority," New Jersey Commissioner Catherine McCabe said in a recent press release announcing the grants. "We applaud these grant awardees for the passion they have for enhancing and protecting a natural resource that is truly a New Jersey treasure."
The project titled "Barnegat Bay Oyster Reefs: Scaling a Successful Pilot Project to Achieve Water Quality Improvement," led by Assistant Professor of Marine Science Christine Thompson, received $300,000. The project will utilize contracted services from Parsons Mariculture in Little Egg Harbor, New Jersey for aquaculture support to set oysters on recycled shells and plant them on the reef site. Research teams, including students, will monitor the oyster population, water quality, and habitat benefits of the reef.
"This new NJDEP funded project will allow us to continue this effort for the next three years, adding more shell to the current Tuckerton Reef in 2020 and creating a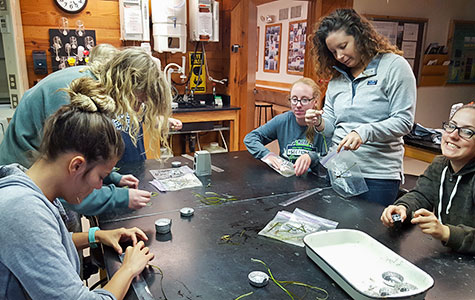 third oyster restoration site in Barnegat Bay, likely around the Manahawkin/Rt 72 Bridge area," said Thompson. "I think it is great that the NJDEP is funding an oyster restoration project, and this will be great news for the growing oyster aquaculture industry in Barnegat Bay that wants to see oysters make a comeback in their natural setting."
A second project titled "SAV Habitat Suitability Modeling and Restoration to Improve Ecological Health and Reduce Turbidity in Southern Barnegat Bay," led by Associate Professor of Marine Science Elizabeth Lacey, received $225,000. In this project, students and faculty construct oyster habitats in areas with suffering vegetation to assist growth. The oysters clean the water and dampen wave activity to allow grass seeds to settle. The grant will support the continuation of this project, as well as the creation of a seagrass mapping model and test plots to see which methods of restoration can be most successful in the southern Barnegat Bay area.
Lacey also anticipates that the grant will be very beneficial for her all-female crew.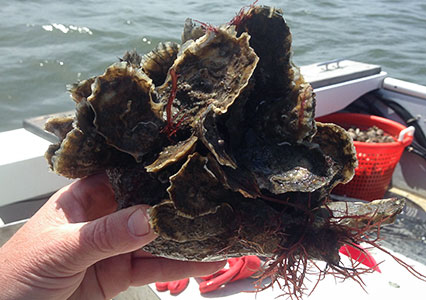 "This funding provides a unique, supportive environment for these future leaders and scientists to work on a project and also see the 'behind-the-scenes' as to what it takes to succeed in this region, which is male-dominated," she said.
Peter Straub, dean of the Stockton School of Natural Sciences and Mathematics, said the grants are great recognition of Stockton's ongoing work in Barnegat Bay.
"The bay needs help and everyone realizes it," Straub said. "These projects have developed over time, and the new grants reflect both their importance and Stockton's success in these areas."
The Stockton University Marine Field Station (Port Republic, NJ) will provide the marine operations support required to meet the project and restoration goals. The Field Station is a facility of the School of Natural Sciences and Mathematics and a member laboratory of the University National Oceanographic Laboratory System (UNOLS), and is used as a teaching and research destination for numerous NAMS' academic programs, including foremost the marine science program, as well as biology, environmental studies, geology, and the professional science masters program.
Reported by Kat H. Wentzell.
# # #
Contact:
Diane D'Amico
Director of News and Media Relations
Stockton University
Galloway, N.J. 08205
Diane.DAmico@stockton.edu
609-652-4593
609-412-8069
stockton.edu/media