Stockton Debuts 'Culture of Respect' Initiative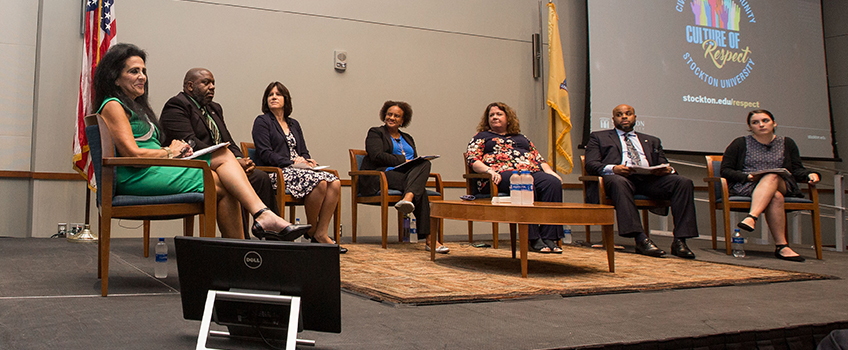 Galloway, N.J. _ The Stockton University community was encouraged to "step up" and get involved as Stockton University debuted its Culture of Respect initiative on Sept. 13 with a town hall presentation in the Event Center.
President Harvey Kesselman told more than 300 students, faculty and staff that National Campus Safety Month in September was approved by Congress in 2009 "to encourage a public conversation on the important topics in violence prevention at our nation's colleges and universities."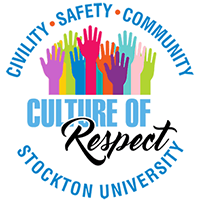 He said almost a decade later, the issues surrounding violence on campus remain critically important.
"It pains me that we are still having the same discussion 10 years later," he said. "But it is a critically important discussion on this campus, campuses across the nation and in society. How can we move forward?"
Kesselman said the Culture of Respect Initiative goes beyond just addressing one issue of sexual assault or discrimination. It is based on the concepts of civility, safety and community for all.
"It is important that all of us work together to make this happen," Kesselman said. I ask all of you: Let's work together to make this a violence-free institution in every way possible."
A Culture of Respect page on the Stockton website also links to services and programs and will include events that support the theme.
Distinguished Professor of Business Studies and Law Audrey Latourette moderated a panel on services and initiatives students can join or access.
"A university is a marketplace of ideas that can be expressed and discussed with civility even if you don't agree," she said. "We are working here as a team."
Director of Public Safety Adrian Wiggins said a student's college journey involves both an academic life and a social life – the key is how to balance them.
"It is important to observe everyone's rights within the law," he said. "We should want to learn more about people who are not like us."
Provost and Vice President for Academic Affairs Lori Vermeulen said Stockton's First-Year Program, precepting and small class sizes are specifically designed so that faculty can interact with and support their students.
Valerie Hayes, the Chief Officer for Institutional Diversity and Equity said a lot of the work her office does involves culture change and compliance with federal law. She said that Stockton embraces inclusion and diversity.
"This is a place that likes to move the needle," she said. "Collaborate with us. Come see me."
Laurie Dutton, director of the Women's, Gender and Sexuality Center at Stockton said when she was a freshman in college a friend was raped, got little support, and attempted suicide. It inspired her to become a victim advocate.
"If you come in, you will be met with empathy and support," she said.
Stockton's Wellness Center offers Green Dot and Safe Zone training, and also trains Osprey Rape Crisis Advocates to work with students. The center is currently promoting "Step Up Stockton" to encourage everyone to take a stand and support those who are being victimized.
Vice President for Student Affairs Christopher Catching said as the first in his family to attend college, he found the community he needed in the Educational Opportunity Fund program. He encouraged students to seek out resources that can help them succeed, and clubs or organizations that will create their community on campus.
"Get connected - with a class, a club, a group of friends," he said. "That will contribute to your success."
He encouraged faculty and staff to also get involved, citing the importance of everyone contributing to a Culture of Respect.
Student Senate President Katie Coburn said individuals can have an impact. She said the Senate promotes democratic living, and that students can bring their concerns to a meeting to advocate for change.
She cited resolutions to protect undocumented students, denounce white supremacy and address sexual assault among the Senate's actions in recent years. The Senate also proposed the food assistance program to help financially struggling students.
"We want every student to feel they are adequately represented and respected," she said. "Our voice matters. Come to a Student Senate meeting. We can have an impact on things that are bigger than us."
All of the panelists encouraged faculty and staff to keep the conversation going, get connected and get involved.
"Step up and get involved," Dutton said. "Be a friend."
View a gallery of photos on flickr.
# # #
Contact:
Diane D'Amico
Director of News and Media Relations
Galloway, N.J. 08205
Diane.D'Amico@stockton.edu
(609) 652-4593
(609) 412-8069- cell
www.stockton.edu/media