Disbursements & Adjustments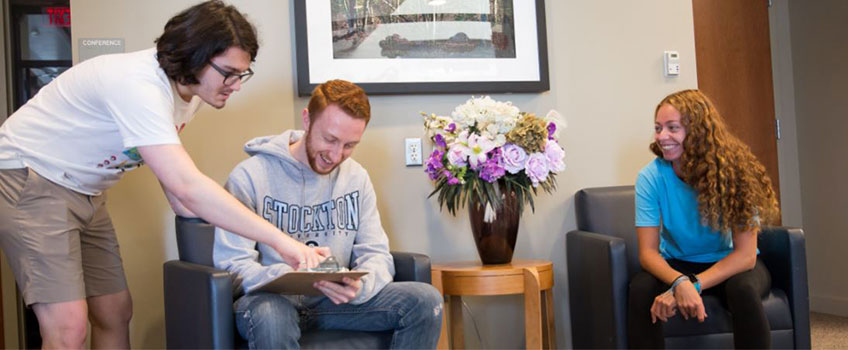 Disbursements:
Financial Aid Disbursement
Financial Aid disbursement is payment of financial aid funds from sources, including the federal or state governments or a private student loan lender to the university.
By federal definition, a disbursement occurs any time the University applies the payment of aid to the student's account. Schools can choose to apply payments of aid and drawdown the funds at different times.
For example, students who are offered and accept Federal Direct Loans show a credit on their bill once they complete loan requirements, but this does not mean that Stockton has received the funds from the federal government. It is only when the student's enrollment is verified that our office certifies loans that authorizes the federal government to disburse (send) the money to the school. This is the process for most aid programs.
Financial Aid is disbursed through electronic systems that work with those of aid partners including the U.S. Department of Education. Financial Aid funds disburse starting in the month of October for the fall semester, February for the spring semester and throughout the summer semester depending on the start of sub-term classes. Once initial disbursement has occurred, disbursements are continuously on-going throughout the semester and notifications are sent to students as these funds disburse.
The Office of Financial Aid informs students by email each semester that Stockton University has received the funds from their federal/state/private sources of financial aid and will be applying these funds to their accounts. No additional financial aid is being offered to students through this process, rather aid that has already been offered to and accepted by the student is being sent to the university and applied to their bill.
Eligible student accounts are credited after the add/drop period and once all requirements are complete and enrollment and attendance have been confirmed. Aid is typically disbursed evenly between the fall and spring semesters. Students who have a credit balance on their bill are issued a refund either through a check in the mail or by EFT for those who have signed up for direct deposit.
If students accepted federal student loans, they will also receive email notifications from the Department of Education notifying them of the name of their loan servicer. Loan servicer information can also be found by logging on to studentaid.gov.
What needs to happen before aid is disbursed?
Before any Federal or State financial aid funds will disburse to a student's account, the student needs to complete the verification process, if selected. No aid will disburse until students complete all required processes and submit all requested documents to our office and the process is completed.
To learn more about the Verification process, visit stockton.edu/verification.
For Federal Direct Loans to disburse to a student's account, the student must complete Entrance Counseling and a Master Promissory Note (MPN) on studentaid.gov.
The federal government requires you to complete Entrance Counseling to ensure that you understand the responsibilities and obligations you are assuming by borrowing a loan.
The MPN is a legal document in which you promise to repay your Federal student loan(s) and any accrued interest and fees to your lender or loan holder.
Once these requirements are completed, the your loan(s) will disburse to your account.
Before financial aid is disbursed, the University must be able to document that a student has begun attendance in the courses for which they will receive funds. We receive this information from faculty members at the start of the semester. We will monitor the academic engagement process, and if necessary, make downward adjustments to aid.
To learn more about Academic Engagement, visit stockton.edu/academicengagement.
Adjustments:
The Office of Financial Aid may have to make adjustments to your financial aid based on changes in your enrollment.
Attention Students: Did you know that completely withdrawing from the University before the 60% point of the term means that your financial aid needs to be recalculated? The 60% point of the Fall 2023 term is November 5, 2023. Depending on your specific date of withdrawal, the Office of Financial Aid will have to return a certain amount of your financial aid back to the federal, state and institutional sources and you could end up owing a balance to the university. Learn more below.
Students who completely withdraw from the university or declare a leave of absence during an academic semester will have their aid adjusted up through the 60% point of the term. This means that some financial aid funds may have to be returned to federal and state governments when a student withdraws. This process is called Return of Title IV and is required by law.
Aid is disbursed at the beginning of the semester with the expectation that the student will successfully complete the enrollment term and thereby earn the aid that was disbursed. If the student withdraws or stops attending their courses before the 60% point, our office must determine how long the student attended and how much of the aid was earned. Unearned aid must be returned to the aid programs. A formula established by the federal government is used to calculate this amount. Professors are required to record the last date of attendance for each student, so that this calculation can be made.
In most cases this will result in a balance owed to the University. After funds are returned, any balance will need to be paid to the Bursar.
Institutional policies regarding refunds differ from financial aid policies. Visit stockton.edu/bursars to learn more about institutional refunds.
Students who decide to drop classes after the add/drop period may see adjustments to their aid. Many aid programs have enrollment criteria associated with them. For example, most state financial aid programs require students to be enrolled for 12 credits or more. Federal financial aid loan programs require students to be enrolled 6 credits or more. For aid to disburse to the school, students must meet enrollment criteria.
If withdrawing from a class will drop you below full of half time status, please contact the Office of Financial Aid at finaid@stockton.edu to learn how this could effect your aid.
Federal direct loans are offered at the beginning of an academic year and are based on expected full time enrollment. Per federal regulations, institutions are required to prorate loans for graduating undergraduate students when their final period of enrollment is less than a full academic year.
Learn more about Federal Direct Loan Proration here.