Dean of Students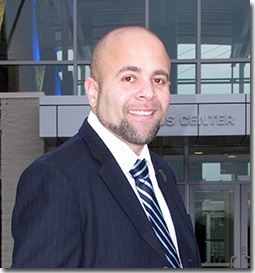 Message from the Dean of Students
Welcome to Stockton's vibrant learning community, which is designed to provide students with an exceptional environment for intellectual and personal development. Our entire campus serves as a laboratory for interactive academic experiences alongside our highly credentialed, accessible and engaged faculty. Stockton's programs are based on the basic precepts of leadership and civic engagement and, as such, Stockton offers its students the opportunity to experience learning on and off campus through our diverse student development and service learning programs.

Our institution has had a long history of commitment to our students and their personal development. The 154,000 square foot Campus Center was designed to meet the growing needs of our diverse student body and offer within it many of the services and programmatic offerings that students will depend upon during their time here at Stockton.
We distinguish ourselves from other institutions by creating meaningful student-centered approaches that attempt to further a student's overall academic, personal and social growth and learning. At Stockton we are committed to living up to our motto, "An Environment for Excellence." This environment is created through the collective work of Stockton students, faculty and staff.
The Office of the Dean of Students at Stockton University is committed to quality and excellence while serving as a primary advocate for student life. In doing so, the office provides programs and services that contribute to total student learning. Student life functions ranging through counseling and health services, athletics and recreation, and career services are available to students as they work toward their degrees. Students are encouraged to become involved in co-curricular programs, leadership opportunities and the residential student experience. Programs designed around issues impacting student life, including residential and commuter concerns, safety and security, personal development, alcohol and drug awareness, interpersonal relationships, and more are part of our campus life curriculum.
I would like to wish you the best for the upcoming year and ask that you join me in supporting our intercollegiate sports teams, arts performances and exhibitions, and community service opportunities throughout the year.
Dr. Pedro J. Santana, Dean of Students
---
Mission of the Dean of Students Office
The Office of the Dean of Students is committed to the development of the whole student. We work to prepare our students for future professional growth, personal development and global challenges. In doing so, the mission of this office is predicated upon the following guiding principles:
Providing an environment that promotes learning, individual safety, wellness and co-curricular involvement in campus life.
Promoting civic engagement.
Developing student responsibility and accountability.
Teaching personal and interpersonal life skills.
Working collaboratively to develop students.