News & Events
School of Business...IN THE NEWS
Stockton's Event Design Certificate Program took place last week at our Atlantic City Campus, bringing together 22 high-profile event planners from various companies. Together, they discussed the future of design using visual mapping to construct and deconstruct events. This was the FIRST EVER Design Certificate Level 3 Program on the East Coast! Huge thank you to Caesars Entertainment, Meeting Professionals International (MPI), and our AMAZING Hospitality Program for putting this together!
Congratulations to Assistant Professor John Boyle and Assistant Professor Barry Palatnik on being named Exceptional Educators at the 2019 NJCPA Ovation Awards!
"The individuals selected met the highest-level standards for each award category, such as significant contributions to the NJCPA, the local community and the accounting profession, as well as commitment to furthering the next generation of CPAs, educating young professionals about accounting, making an impact on the industry, ensuring the accounting profession is open and diverse, and fostering innovation and growth in the business community." 🏆👏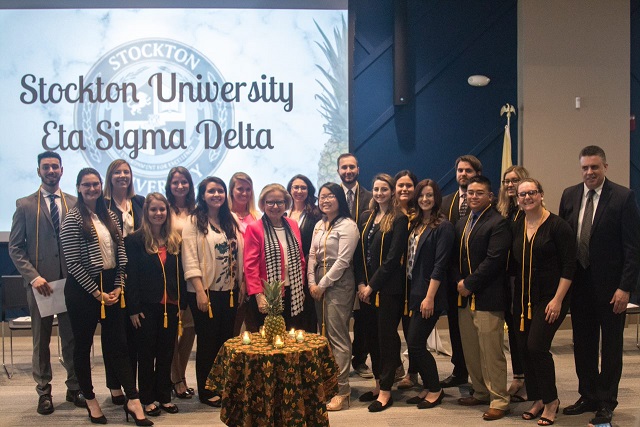 The Eta Sigma Delta International Hospitality Management Society inducted 19 HTMS students in a ceremony held Sunday, April 14th, 2019 in the Atlantic City Fannie Lou Hamer Event Room. Honorary Guest, Linda Mysliwy Conlin, President, World Trade Center of Greater Philadelphia (WTCGP), provided the keynote address for 80 guests in attendance. President Conlin highlighted the significance of travel and tourism and inspired students along with guests on the importance of honor for hospitality professionals. President Conlin served as a member of the Board of Directors as well as Vice Chair and First Vice President for the Export-Import Bank of the United States, Assistant Secretary Department of Commerce, Executive Director of New Jersey's Commerce and Economic Growth Commission, U.S. Travel and Tourism Administration, U.S. Department of State, and the U.S. Information Agency.
Congratualtions, Pineapples!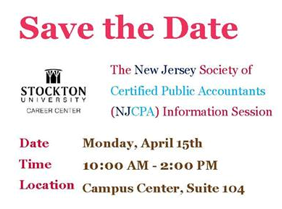 On Monday, April 15th the School of Business and the New Jersey Society of Certified Public Accountants (NJCPA) will be hosting an NJCPA Information Session from 10:00am-2:00pm in Campus Center Suite 104. Learn about the NJCPA Student Ambassador Program, the NJCPA Scholarship Program and the latest CPA Exam application and eligibility requirements.
On Thursday, March 28th, the School of Business is hosting a Diversity in Business Speaker Panel from 4:30-6:00pm in Campus Center Meeting Room 5. Refreshments will be served!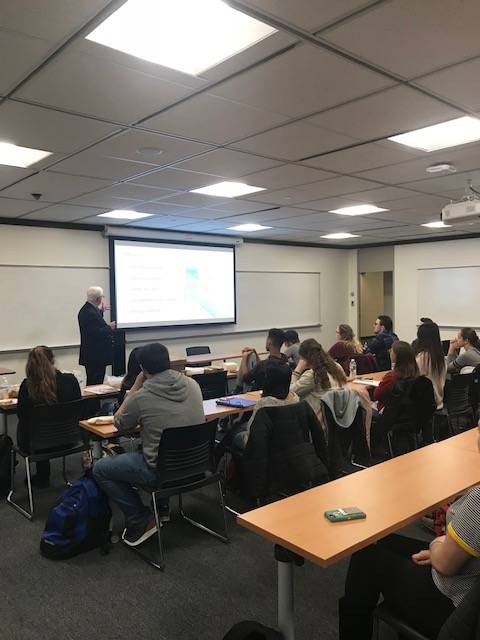 On Wednesday, February 13th two Executives from the AICPA Examinations Team presented an overview on understanding the CPA exam to students interested in the accounting profession. They gave need-to-know details about the profession, the exam itself and what a candidate should expect when pursuing the CPA license.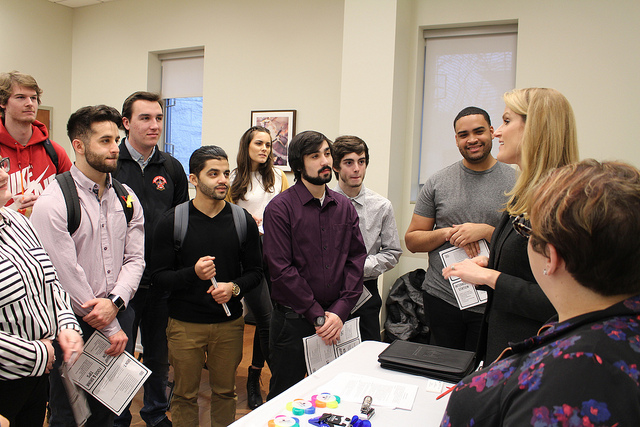 On February 7th, Stockton's Communication Studies program hosted its first ever "Mocktail Hour" where students had an opportunity to network with professionals while also receiving information on etiquette, interview skills, and email correspondence.
Assistant Professor for Business Studies Joy Jones staffed the Greetings Station and offered personal and technological tips for making contact.
Read more about the event here!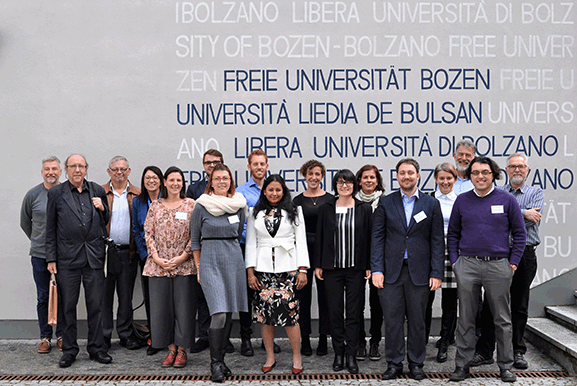 Christina Cavaliere, Assistant Professor of Hospitality & Tourism Management Studies, was a keynote presenter for the international academic event, "Tourism Sustainability and Regional Development," Nov. 4-6, at the Free University of Bozen-Bolzano in Italy. She represented North America at the international event that brought together perspectives from top scholars working on tourism sustainability and regional development from around the world.
PHOTO: Cavaliere is pictured in the back row fourth from the left and represented North America at the international event. She was the only person from the United States.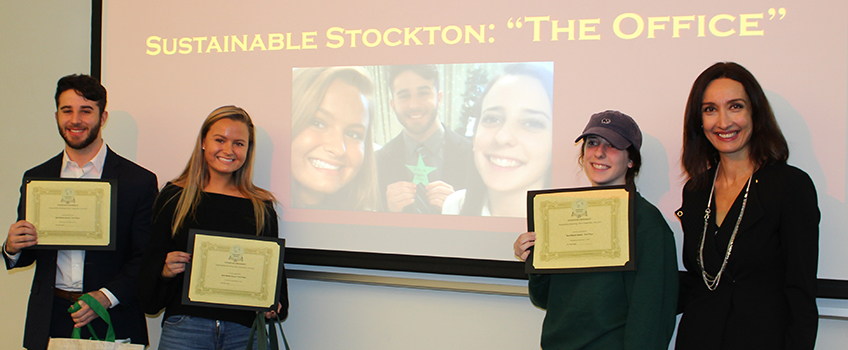 Students Christian Dugan, Amanda Klapatch and Theresa Evoy with Assistant Professor of Business Studies and Marketing, Dr. Naz Onel at the Fall 2018 Sustainabilty Marketing Student Video Showcase.
"The students had to create storyboards and work step by step, and the topic had to be based on something we had covered in class," Onel said. Students were judged on creativity and the information they presented.
Congrats to the winners!
Read the full article and watch the top 3 videos here.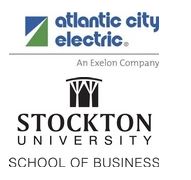 The Power Breakfast Panel Series, presented by Atlantic City Electric and in conjunction with Stockton's School of Business, is a new regular offering of the Greater Atlantic City Chamber. On November 27th they will be presenting panel 2 of 5, entitled "Acquire, Train & Retain Interns" from 8:00-10:00am at Stockton's Carnegie Library Center in Atlantic City.
For more information on how to participate, click here.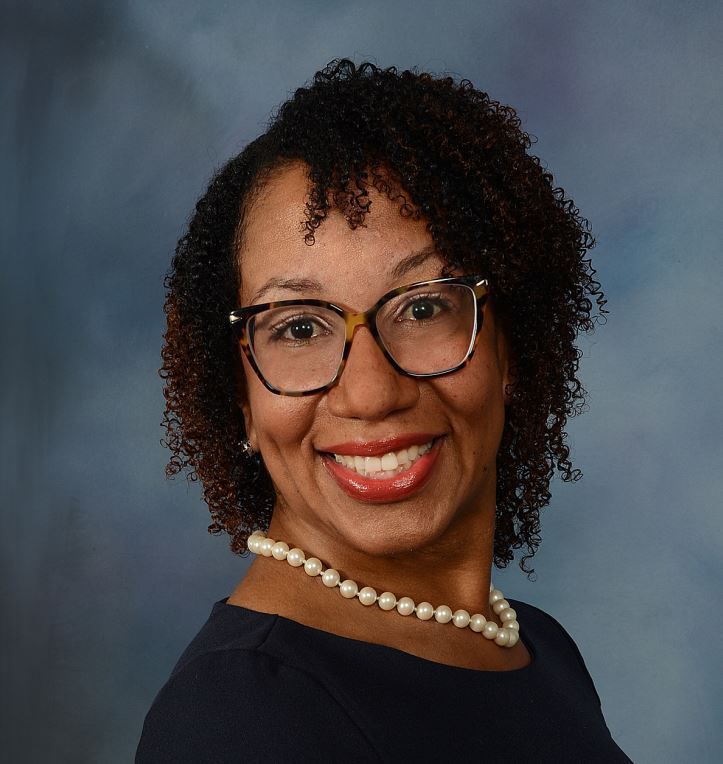 Congratulations to Pamela Fields on being recommended by State Senator Chris Brown for a seat on the Casino Control Commission! If appointed, she will be the first black woman to serve on the commision since 2001.
Read the full article from the AC Press, here.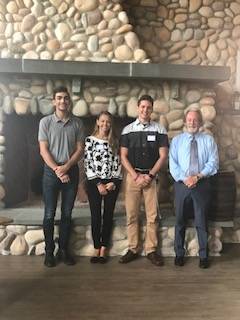 On September 12, 2018 The Southern Ocean Chamber of Commerce hosted the Innovate & Caffeinate – Founded in Family Panel Discussion. The discussion was moderated by School of Business Professor John Boyle and featured three different businesses and their owners.
Jennifer and Ted Saropoulos - Lefty's Tavern & Restaurant, Barnegat, NJ
Charlie and Chelsea Kulp - Shore Brake Cyclery, Brant Beach, NJ
Sheryl Paynter – Economic Development Specialist from U.S. Small Business Administration
Three Business students also accompanied Professor Boyle: Dylan Magee, Matthew Mamounis and Anastasia Ratzlaff (pictured).