Summer Entrepreneurship and Business Academy (SEBA)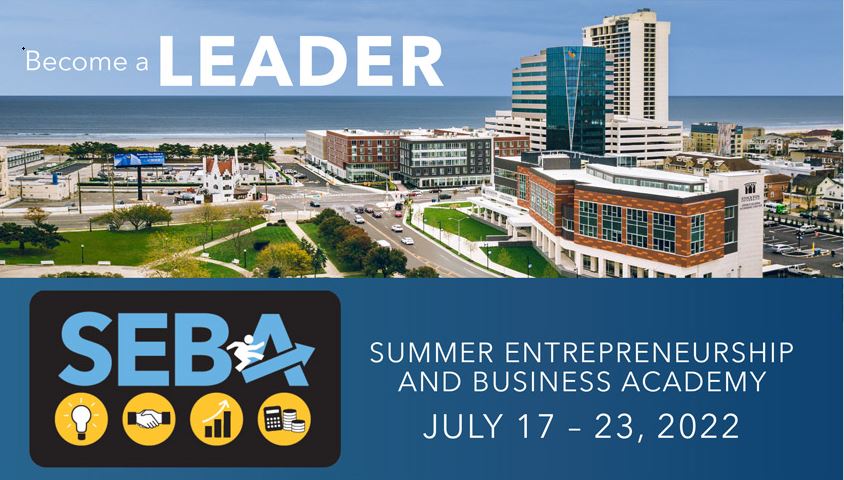 Experience
Get a taste of college life

Work with professors and business leaders

No Cost to Attend
The deadline for applications is Friday, June 17, 2022.
COVID-19 Vaccination is strongly encouraged.
---
The Summer Entrepreneurship and Business Academy (SEBA) at Stockton University School of Business is designed provide a unique platform for area high school students to appreciate and learn about the basics of entrepreneurship and business.
A unique and exceptional learning opportunity

Topics include: accounting, business analytics, computer information systems, computer science, finance, management, marketing and hospitality

Business plan competition judged by faculty, advisory board members and community leaders

For rising high school juniors

There is no cost to attend for qualified and accepted students
---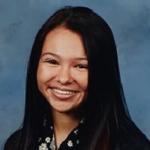 ---
SEBA Corporate Sponsors
---
About SEBA
SEBA is a summer camp focused on the current state of business and entrepreneurship that culminates in a business plan competition among student teams. SEBA is designed to help prepare students for the future by providing a unique and exciting learning experience.
Topics covered during the camp will include: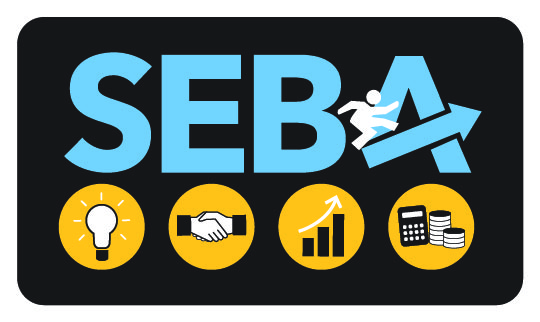 Accounting
Management
Computer/Business Analytics
Marketing
Hospitality & Tourism
Students will be assigned into business teams which will become partnerships in creating proposed new business ventures. They will develop business plans with their new partners and present those plans in a business plan competition. The competition will be judged by Advisory Board members, faculty, and executives from the business community. The 1st Place Team will receive $500, the 2nd Place Team will receive $300, and the 3rd Place Team will receive $200.
Students will also learn about entrepreneurship, business ethics, free enterprise, teamwork, and personal skills.
*Program Details
(*tentative schedule)

Dean, School of Business
Alphonso Ogbuehi
Dr. Alphonso O.Ogbuehi began his tenure as the Dean of the School of Business at Stockton University in July 2019. Prior to his arrival at Stockton, Dr.Ogbuehi served as Dean of the College of Business at Clayton State University in Atlantic, GA and was Founding Dean of the School of Business at Park University in Kanas City, MO. He completed his doctorate in Business Administration at the University of Memphis, and his M.B.A. and B.S. at the University of Kentucky. As a Fulbright Scholar, Dr.Ogbuehi has traveled to sub-Saharan Africa to conduct work on the role of universities as catalysts for regional economic development. He has served as a tenured faculty member at Clayton State University, Park University, Bryant University, Saint Joseph's University and Illinois State University, and has served as a Visiting Professor at universities in Nigeria, Germany, Jamaica, Zimbabwe and England. Dr.Ogbuehi has authored or co-authored over 30 publications, including peer-reviewed articles, books and edited volumes, and has delivered over 35 presentations at national and international conferences.
---

Assistant Dean, School of Business
Esther Lawrence
Assistant Dean Esther Lawrence began in the School of Business at Stockton University in October 2007. Prior to her arrival at Stockton University, she has had various roles in higher education. Ms. Lawrence was an Executive Assistant to the Dean at the New Brunswick Theological Seminary. She served as a Program Coordinator in the School of Nursing and Health Studies at Georgetown University and earlier as an Administrative Manager in the Mailman School of Public Health at Columbia University. Ms. Lawrence is currently a doctoral student in the Ed. D. in Organizational Leadership program at Stockton University. She completed her Master of Arts in Media Studies at the New School in New York City and a Bachelor of Arts in English Writing Arts at SUNY Oswego in Oswego, NY. Ms. Lawrence is a seasoned professional with 15 years of experience in higher education administration. She has a proven record of accomplishment in successful collaborations among various levels of administration as well as internal and external stakeholders. Ms. Lawrence has had success in managing the logistics for events, communications and programs as well as stakeholder engagement within the surrounding South Jersey community. She is committed to student success, staff and faculty empowerment, organizational success, and diversity and inclusion in the workplace.
---

SEBA Program Coordinator
Tara Marsh
Tara Marsh is the Program Coordinator for SEBA, Summer Entrepreneurship and Business Academy. She also coordinates the required internships for the Hospitality, Tourism and Event Management Studies Program here at Stockton University where she has developed various industry partnerships for internships for the students. Tara holds an Associates in Culinary Arts from Atlantic Cape Community College and both her M.B.A. and B.S. in Business Management from Stockton University. She has over 9 years of event planning experience with the Hospitality industry working for both the Sheraton Atlantic City and Columbia University in New York. Tara has a strong passion for student success and loves working with students to pursue their career goals.
---
For more information
Contact Tara Marsh at tara.marsh@stockton.edu or 609-626-3646.