Scholarly Activities

Jaw-dropping Research Reveals Megalodon Mysteries
Fossilized teeth and vertebrae are all that remain from the extinct Megalodon, the largest shark to have ever hunted our oceans. But that was just enough for a team of paleontologists to reconstruct pieces of the prehistoric predator's life history.
Matthew Bonnan, professor of Biology, co-authored a paper detailing one Megalodon shark's story and its dark secret revealing how it grew so large before birth.
Bonnan read the CT scans of three fossil vertebra from a Megalodon that died 15 million years ago. The story they told was that the shark likely ate a sibling while still in its mother's uterus. It was born 2 meters long, lived 46 years and reached a maximum length of 9.2 meters.
Fossils have a lot to say to those who can extract the stories with technology. Complete shark skeletons in the fossil record are rare, but their hard vertebrae and teeth preserve more easily.
"Shark vertebrae are made up of calcified cartilage which is why they were preserved in the fossil record. It's not the rubbery cartilage at the end of your nose or in your ears. It's a special type of cartilage that has minerals in it so it's more likely to be preserved as a fossil. That's why we have fossils of Megalodons," said Bonnan.
---
Chemists Discover Bright Idea for New Lighting Material
Senior Chemistry and Biochemistry major Kathleen Ngo discovered a bright idea for a new type of light source after using an unexpected chemical during her research with Wooseok Ki, assistant professor of Chemistry.
Ki's research looks for alternatives to rare earth elements that can be used to synthesize the phosphors that illuminate organic LEDs, which are used to light digital displays and indicator lights.
The periodic table of elements is where Ki started his search. Tin is an affordable and abundant element that can be bonded to an organic molecule to make a metal complex. When the precursors of a metal complex are mixed with a liquid solution at room temperature, crystals grow within a day. The sparkly crystal is a phosphor, and when UV light hits the crystals, they luminesce.
Ki and Ngo had been creating tin chlorine phosphors, a known compound that glows a dull yellow, until Ngo tried something slightly different--she used one different chemical--that resulted in a tin fluorine phosphor that glows brighter and green.
To observe the glowing property, Ki turns off the lights in his lab and holds a UV lamp above test tubes filled with the phosphors.
---
Meg White Contributes to Book on New Orleans Schools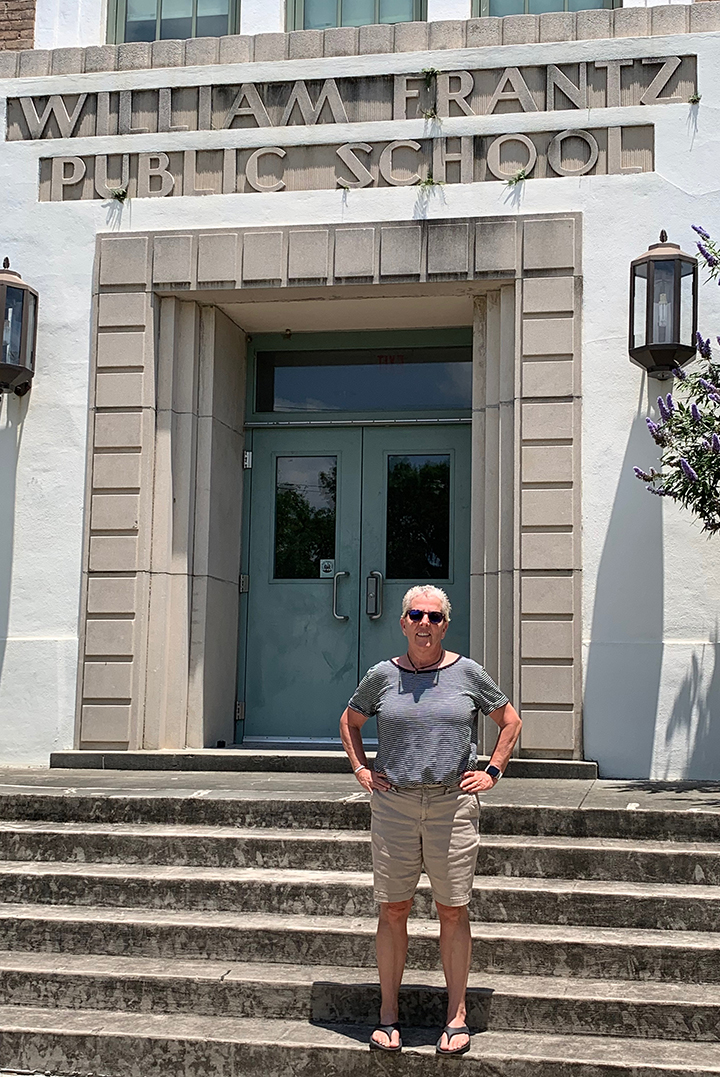 Meg White, associate professor of Education at Stockton, collaborated with colleagues to publish the book, "William Frantz Public School: A Story of Race, Resistance, Resiliency, and Recovery in New Orleans," which highlights the amazing stories of school desegregation in New Orleans and the impact of Hurricane Katrina on public education.
"We have recounted public education in New Orleans from the late 1930s to the present via a place-based narrative centered on this school. The book focuses specifically on issues related to race, poverty and the privatization and charter movements," White said.
White said the research for this book began three years ago.
"What started out as research for an article, soon became an idea for a book. Many people have written about civil rights, segregation, white flight and New Orleans during pre- and post-Katrina. But what we learned in our research is it's hard to isolate these stories," White remarked. "To understand what happened in New Orleans requires one to know the whole story and how it is interconnected. What happened in the 1950s and 1960s had a direct impact on the next 50 years, especially with regard to public education."
---
Grant Funds Sweet Research Opportunities
Early in 2020, Stockton University received a $410,000 three-year United States Agriculture Department grant to promote maple sugaring in South Jersey through research and community outreach.
During Fall 2020, some 20 private property owners in the region joined Stockton in the project and began the process of tapping trees.
The Stockton team tapped a few trees on campus in February 2020, but the fall began a larger project of linking just under 100 red maple in a spiderweb of tubing that delivered sap to a central collection station.
"We heard from some of our partners that they were beginning to collect sap," said Assistant Professor of Environmental Science and lead investigator Aaron Stoler.
Sap develops during "freeze-thaw" weather, when temperatures go below freezing at night, then rise above freezing during the day, causing the sap to run down the trees.
It takes about 40 gallons of sap to make one gallon of syrup. Stockton will also be processing the sap into syrup. View the photostory of the process.
---
Janice Joseph Serves on Domestic Violence Virtual Summit, Recognized for Service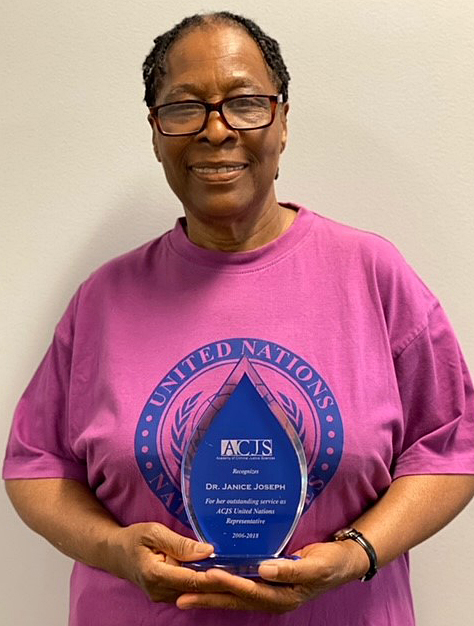 Janice Joseph, distinguished professor of Criminal Justice and coordinator of the Victimology and Victim Services minor at Stockton University, served as a member of the Working Group for Domestic/Family Violence During the COVID-19 Era which organized a three-day International Virtual Summit, Nov. 18-20, 2020.
International researchers, scholars, policy makers, civil society advocates, community/cultural leaders and journalists presented during the Summit, which was sponsored by the United Nations Headquarters (UN) Non-Governmental (NGO) Alliance on Crime Prevention and Criminal Justice. Because Joseph was a member of the working group, Stockton was named a co-sponsor, giving the University international exposure.
The event began with opening remarks from His Holiness Pope Francis and from the United Nations Secretary-General António Guterres. It was conducted in five of the six official languages of the UN: English, Arabic, French, Russian and Spanish. English was the official language of the Summit with simultaneous translation into Arabic, French, Russian and Spanish. Victims highlighted included women, elderly, persons with disabilities, immigrants, children and youth, refugees and migrants.
Joseph incorporated this event into her student assignments for her courses which resulted in over 35 students registering, without cost, for the Summit. Joseph has also requested certificates for all of the Stockton students who participated in the Summit.
This summer, Joseph was recognized for her outstanding service as the Academy of Criminal Justice Sciences (ACJS) NGO Representative to the UN for over 10 years.
Serving as an advocate and activist for victims of gender-based violence, Joseph made history as the first official UN NGO representative for the ACJS. Holding this position has been a remarkable experience in which she has accomplished significant work and research.
"The role of ACJS UN NGO Representative has been one of the major highlights of my professional career. It has been a privilege to meet and work with UN personnel, high ranking government officials, academics, NGO representatives, practitioners, Ambassadors, activists, advocates, survivors of crime and royalty from around the world," Joseph said. "The experiences gained through this role have been very significant. I am extremely honored to receive this award."
View the 2021 Scholarly and Professional Activity book.