Athletics

Ospreys Repeat as NJAC Volleyball Champs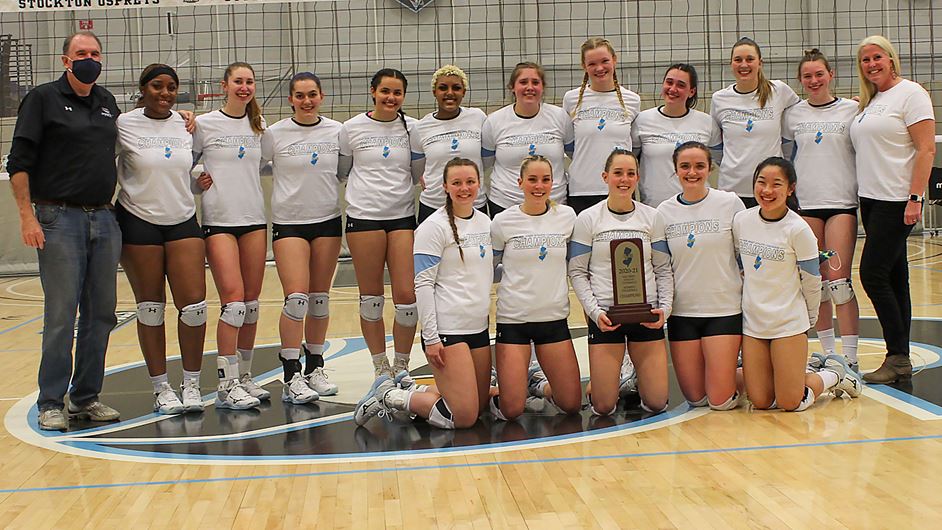 Stockton University captured the New Jersey Athletic Conference (NJAC) volleyball championship in March with a 3-0 triumph over Montclair State. Stockton won by scores of 25-12, 25-18 and 25-13 in winning their second consecutive NJAC title and 14th in school history.
Haley Green led all players with a career-high 14 kills, with Christie Louer registering a double-double of 10 kills and 10 digs.
Stockton finished with a perfect 7-0 record during the COVID-shortened Spring 2021 campaign.
The team collected two postseason awards and five all-conference honors from the NJAC. Senior Emily Sullivan was voted NJAC Player of the Year and selected to the NJAC First Team for the fourth straight time.
Allison Walker was chosen NJAC Coach of the Year for the second consecutive season and seventh time in her career. Walker guided the team to an undefeated mark and Stockton's 11th conference title in her 15 seasons on the bench.
Seniors Julie Kohlhoff and Charlotte Leon and junior Green joined Sullivan on the NJAC First Team. Louer was selected to the NJAC Second Team.
---
Young Atlantic City Rowers Trade City Streets for Back Bay
A cool early-morning breeze swept across the bay behind the Atlantic City boathouse. Rowing coach Joy Lynn Cress's voice cut through the air as she prepared her group of young girls to board their boat for the morning's rowing lesson.
"What do we never do?" she asked.
"Never let go of a floating oar," came the answer in unison.
As two rowers switched out of the coach's boat to an eight-person boat, program coordinator Joe Maguire, men's rowing coach at Stockton, watched the smooth transition.
"We would never have been able to do that with them for the first three weeks," he said of the young rowers. "Not one kid had rowed before they came here. Now they have the confidence."
Building self-confidence is just one of the goals of Stockton's inaugural Summer Youth Rowing Program. The free, six-week camp gave 33 middle school students from Atlantic City the chance to not just learn to row, but also to develop strength, self-confidence, discipline and teamwork – all starting at 7 a.m. four days a week.
The campers admit the early mornings are probably their least favorite part of the program. But none gave up and many said they'd be back next summer.
"It's been fun," said Savannah Days, 11. "I learned how to stay in sync. We rowed all the way to Ventnor."
The program was developed by a group of local rowing enthusiasts who wanted to give Atlantic City's kids the chance to try the sport they love. Funds were raised so there was no charge to the students.
---
Esports Players Take 1st, 3rd, in ECAC Spring Season
Stockton University took first place in the Eastern Collegiate Athletic Conference (ECAC) Esports NBA 2K21 PlayStation season.
Dontae Loveland, a computer information systems major, went undefeated with 10 straight wins during the regular season and playoffs to claim victory for the Ospreys.
Stockton also took third place in the ECAC NBA 2K21 Xbox season. Jordan Davis, a computer science major, won seven matches throughout the regular season and playoffs, defeating Dallas Baptist University to take the bronze.
Stockton esports teams in FIFA, League of Legends, Overwatch, Call of Duty, Valorant, and Smash Brothers Ultimate also finished their spring seasons with playoff runs. Stockton's FIFA team took home the gold in the Fall 2020 semester.
"We couldn't be prouder of our esports community and the amazing competitive student talent Stockton continues to field each semester," said Esports Program Manager Demetrios Roubos, Stockton's information security officer and adjunct computer science professor.
---
Varsity Eight Wins Gold at Dad Vail Regatta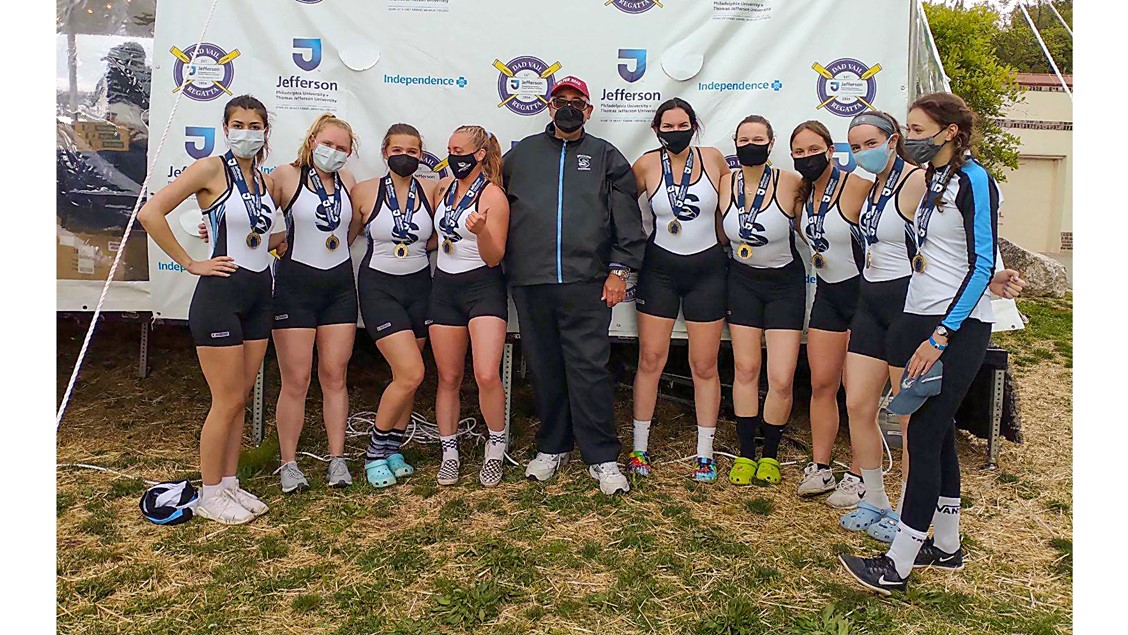 Stockton University finished third or higher to earn medals in all three events in which the Ospreys competed at the famous Dad Vail Regatta, highlighted by a history-making gold medal for first place in the varsity eight. Now in its 82nd year, the Dad Vail Regatta is the largest collegiate regatta in North America.
The varsity eight won the Division III Final by eight seconds, topping the field of four with a time of 7:07.660 to finish ahead of Marietta, Franklin & Marshall and Washington College. The gold medal is the first-ever by a Stockton varsity eight at the Dad Vail, marking another huge milestone for the women's rowing program.
The Osprey varsity four earned a bronze medal by placing third out of five in the Division II/III Final with a time of 7:59.271. Stockton finished behind a pair of Division II teams in Mercyhurst and Jefferson.
---
Stockton Advances to Second Straight NJAC Championship Game
Stockton scored the last seven points of the game to upend previously-unbeaten The College of New Jersey (7-1) 65-58 and advanced to the NJAC championship game for the second straight year March 12, 2021. The 7-0 run snapped a 58-58 tie in a contest that Stockton led by as much as 18 points.
Luciano Lubrano sank three three-pointers and scored a game-high 16 points. Kyion Flanders registered a double-double with 10 points and a career-high 10 rebounds. Nick Duncsak also hit double figures with 10 points.
The Ospreys fell to New Jersey City University (NJCU) 79-77 on a three-point buzzer beater in the NJAC Championship game March 19.
Stockton led by 21 points with 14:36 remaining in the game but could not fend off a furious rally by NJCU and the final three-pointer.
Stockton repeated as the NJAC Tournament runner-up. The game marked the second time this season that NJCU edged the Ospreys on a shot at the buzzer, with both coming on the Gothic Knights' home court.
In his final college game, senior Tariq Baker tied his career-high with 20 points. Baker went 4-8 from three-point range. DJ Campbell contributed 19 points and a season-high seven rebounds.
Baker was voted NJAC Co-Defensive Player of the Year. Campbell and Lubrano earned NJAC First Team selections and Flanders garnered an NJAC Second Team nod.