Tiffany Roach '19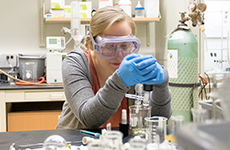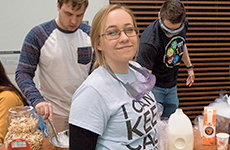 Why did you choose Stockton?
Stockton has a highly respected science department, which weighed heavily on my decision to attend the University because of my desire to pursue a degree in the sciences. Also, I believe making relationships with professors is invaluable. Because of Stockton's small class sizes, I felt getting to know faculty would be easier. I was also accepted into Stockton's Educational Opportunity Fund (EOF) program, which was critical for me to be able to afford college tuition. The EOF program has been exceptionally helpful in helping me establish myself at Stockton and has since been supportive with each of my endeavors.
Why did you choose your major?
My brother, who is pursuing a Ph.D. in Neurobiology, has been a major inspiration and huge advocate for me. We are first-generation college students and share an aspiration to break our family's generational poverty. We aim to achieve this by pursuing our passions for science.
What have you gained through your academic program?
Stockton has given me opportunities to conduct research, present scientific findings and network with my peers and professionals during my time here. Since May 2016, I have been working with Assistant Professor of Chemistry Steven Kalman on projects based in organometallic chemistry. Last spring, I presented my findings at Stockton's NAMS Science Symposium and was humbled to have received honorable mention. In addition to presenting our work, we are currently preparing a manuscript that describes the synthesis of bifunctional nickel catalysts to be submitted to the Journal of Organometallics. These experiences have helped me to mature as a scientist. Having been immersed in the scientific community, I have acquired a strong research foundation in which I intend to build upon in graduate school.
How has Stockton prepared you for the next chapter in your life?
Stockton's inherently natural and uplifting atmosphere has provided a comfortable setting to meet new people and participate in campus life. This, in combination with a quality education, has allowed for personal growth and sufficient preparation for future scientific studies.
What are your future plans?
After graduation, I intend to pursue a Ph.D. in the Biochemical Sciences. I love conducting research and would like to be able to make significant scientific contributions in the future.
Extracurricular activities:
In addition to research, I have upheld a strong presence in the Stockton community. I began by tutoring chemistry for Stockton's Chemistry Society, and was later elected president. As part of my agenda, I have spearheaded society outreach initiatives, some of which advocate for women in STEM (science, technology, engineering and mathematics). The society also hosts fundraisers and scientific workshops that are informative and engaging.
Internship opportunities:
I am excited to have been accepted to the 2018 Summer Undergraduate Internship Program at the University of Pennsylvania. Beginning on June 3, 2018, I will be embarking on a 10-week, full-time research internship where I will be working with a faculty member at the University of Pennsylvania on projects based in the biomedical sciences. More specifically, I will be engaging in the analysis of the epigenome of brain reward regions of rodents exposed to chronic drug and stress paradigms, including drug self-administration, which most closely resembles the human experience. Throughout the program, I will independently carry out experiments and gather data, in which I will present to peers and mentors in the format of a poster presentation.
---