Shawn Chesek '19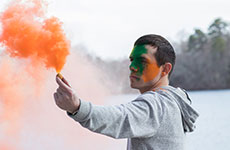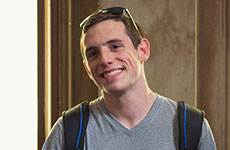 Why did you choose Stockton?
I initially considered Stockton based on the close proximity to my hometown and affordable cost. At first I was unsure about the path to choose when transferring from Coastal Carolina University. While looking at different schools, I found that Stockton offered many excellent programs. The small class sizes and quality of course options were the deciding factor for me.
From beginning the application process to sitting in class, the entire transfer process was simple and welcoming. Everyone I encountered was beyond friendly and helpful. I've had countless wonderful experiences during my time here at Stockton all thanks to our outstanding faculty, staff and students. As a freshman, I never thought I would be where I am today. Each experience has helped me grow as a student and an individual. Stockton is my home and I wouldn't have it any other way.
Why did you choose your major?
At first, like many others, I was unsure about what I wanted to pursue as a career. As a Type 1 diabetic, I knew that the health field was right for me. After speaking with multiple Stockton students, I realized that the Health Science program was the perfect choice.
How did you get into photography?
My interest in photography first sparked about five years ago while visiting Washington, D.C. I decided to take some pictures on my cell phone to remember the trip and capture the beauty of the area. While doing this, I began getting creative with the angles of the photographs. To my surprise, I found myself thoroughly enjoying the process of capturing an image. Following that trip, I started taking more photos using my cell phone, which eventually led me to purchase my first DSLR camera. My interest continued to grow as I researched different topics and techniques to better myself as a photographer.
How did forming the Stockton Photography Club transform your Stockton experience?
Forming the Stockton University Photography Club in 2016 was a game changer for my Stockton experience. At first, I was interested in joining a photography club that existed on campus. After multiple passes through the Get Involved Fair and checking the list of student organizations I found that a photography club did not exist. At that moment, I realized what needed to be done; so the following day I walked straight to Student Development where I began the club creation process.
Thanks to the helpful folks in the Office of Student Development, I brought my idea to life. I, as well as my incredible executive board, created a place where those sharing my interest can meet, discuss, collaborate and learn more about the art of photography. Photography Club has led me to create unforgettable memories with so many outstanding individuals. Watching my idea form into a successful student organization has given me such joy that I never expected.
Thanks to the entire process, I found that Stockton is a place where ideas come to life. Students have the ability to pursue their interests with plenty of help from our many offices. You can truly be yourself here at Stockton University; and for that I will be forever grateful.
What do you want to do after you graduate?
I've realized that health care with a focus in diabetes is the perfect route. Thanks to Stockton, I have worked with many diabetic students and patients. The connection I share with other diabetics is something I cannot put into words. If I can pursue a career that provides the ability to help fellow diabetics, I see myself being truly satisfied long into the future.
Extracurricular Activities:
Stockton offers a wide variety of student organizations to join, all of which provide a rich experience for those who get involved. I am former president of the Stockton Photography Club and current president of the Public Health Society. In addition, I have been a mentor in the T.A.L.O.N.S. program for the past three years. My hobbies outside of campus life include photography and playing piano.
---