The Lounge
The lounge is located in F-103 and is open Monday - Friday from 10am-4:45pm. Closed on weekends. Check our Events Calendar for the latest listings.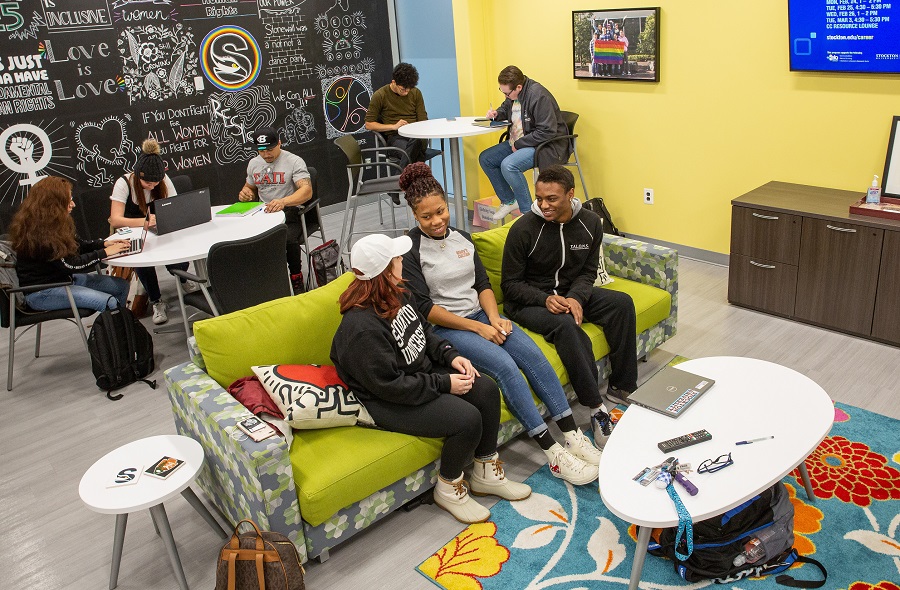 Opened in December 2019, Stockton's hottest spot on the Galloway Campus is your home away from home! Hang in the lounge between classes. Make a cup of your favorite coffee. Catch up with your favorite show. Relax with a book from our library nook. Engage with others about the issues that matter to you. Or attend a, 'Spill the Tea' Feminist Discussion. However you choose to spend your time, the WGSC lounge is the place on campus where you can relax, unwind, and be yourself.
Lounge amenities include:

Fun & colorful room with comfy couches
Round tables for group studying
Watch your favorite program on our huge flat screen tv
Free coffee, tea, snacks
Kitchenette with microwave, Keurig coffee maker, toaster, refrigerator
Reading nook with oversized bean bag chairs
Board Games, coloring books
Chalk wall (great for selfies!)
Lactation Room
All-Gender restroom (aka "The Best Bathroom at Stockton")
Free tampons, condoms and dental dams
Resources
Reserve the lounge for your own event on R25Live!
And of course we have pins, Pins, PINS!