Health Education
The Health Outreach, Promotion and Education (HOPE) Department is available to answer any questions/concerns regarding health and wellness. If you need immediate assistance or need to reach a health educator please email or call:
The Wellness Center at 609.652.4701 or directly contact
Kristen Welsh-Capaldi, MS, CHES:
609.652.4869
Kristen.WelshCapaldi@stockton.edu
College Students Support Group
Join New Jersey's Hope and Healing's workshop Mondays at 5:00 pm via Zoom
Meeting ID: 831 9276 6664
Passcode: 191223
For questions, please contact Jaime Angelini at jangelini@mhanj.org
For more information on all of MHA's groups, visit www.mhaac.info
For more support groups offered by New Jersey Hope and Healing visit New Jersey Hope and Healing support groups
---
How Are You Feeling?
We are often asked this, and we say "fine." But this has been a difficult time lately, and emotions can be complex. You may be feeling sad, worried, or stressed. It helps to stay positive and remind yourself of your strengths. Need inspiration and resources to find what helps?
Visit How Right Now
---
Stay Healthy and Well!
Health Education provides accurate health information to all Stockton students, staff, and faculty in a respectful, sensitive manner utilizing a holistic approach to health and wellness. We promote all Wellness Center services and programs in an effort to engage participants to be responsible and proactive regarding their own respective health and safety needs throughout the life-span. Health related and life skills information is available to student groups or individuals. Most workshops are fun and interactive and can be tailored to the needs of your group. Common topics requested include Sexual Health, Healthy Relationships, Managing Stress, Substance Abuse, and Dimensions of Wellness. Student staff Certified Peer Educators can facilitate most programs.

Students looking to manage stress in positive ways can meet with the Health Educator, Kristen Welsh-Capaldi. She will review what you are currently doing to take care of yourself in the areas of nutrition, fitness, sleep habits and explore ways to improve these areas. If necessary, she can refer to other services provided by Stockton University based on the needs of the individual student.
Health Education services are free to Stockton students, staff and faculty.
---
Need a Health Education program?
Check the list of current programs that are available for students.
Current Programs
If you want to request a specialized program, complete the online program request form below. A minimum of two week notice is needed for all requests.
---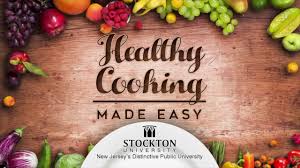 Join our Health Educators and Nutritionist as they team up to show you how easy it can be to cook some healthy dishes. Check out the links to some of our cooking videos below: