Stockton's Pool
By Gabriella Fiorica
Back before L-wing was composed of classrooms, offices, and a beautiful two-story art gallery, something else occupied the wing. Years ago, if you wandered from K-wing to the PAC or N-wing, what you would see to the right, behind a long wall of floor-to-ceiling glass, was a 75-foot swimming pool. The pool was enclosed on all sides by large windows—glass walls really—revealing the crisp, colorful leaves of the Pine Barrens. There was a diving board, with deep water, rows of bleachers, and, while it lasted, just you and the vastness of Stockton's natatorium.
Today, the ability to swim on campus is no longer available, unless you brave Lakes Fred or Pam. Less than fifteen years ago, however, the pool was available to students, faculty, staff, and the local community to enjoy. In an interview which inspired this article, Eileen Conran-Folks, a retired Stockton administrator and teacher, expressed her passion for the pool, stating,

"It was the most beautiful [pool]. It was like a Sierra Club experience when you swam in there . . . you would be swimming as the sun is going down in the Pine Barrens, and it was the most amazing, best kept-secret."
Stockton's pool opened in fall 1975. It was a big hit from the start, and students enjoyed going there for more than a quick, refreshing swim: they would gather for pool parties that featured games, refreshments, and even contests in which they competed for prizes. When speaking about these events, Conran-Folks said, "The students loved it. We used to have dive-in parties. So they would have projectors and we would watch Jaws in there and students would go swimming—it was great fun." It was not simply a pool, but a place to relax, unwind, and socialize. Not only did the Stockton community enjoy having the pool on campus, but Holy Spirit High School used it as well, borrowing the space for their practices and meets. It was a beloved amenity.
The days of pool parties and swimming sessions came to an end around 2009 when Stockton was forced to close the pool due to major leaks. Prior to 2009, the leaking had already become a serious concern. Once a year for many years, the pool was drained, with all its surfaces scraped, patched, caulked and painted, but to no avail. Conran-Folks related ". . . it was leaking terribly. It had major infrastructure issues . . . and we were kinda flooding the backyard, if you will, of Stockton because of the amount of water that was lost there." Allegedly, the pool had been losing 5,000 gallons of water every day. It was said to be frequently monitored by Plant Management, who stated that the leaking was a result of the cement lining, rather than piping issues. Students often commented about the cracks found along the corners of the pool, which management had done their best to paint over. Not only was leaking a main issue, but the pool was also failing bacteria tests. An issue of the Argo from 2006 reveals, "Not only is the pool leaking, but according to sources within the Athletics Department, it has failed at least two bac­teria tests since the spring, including one instance over the summer when the pool was shut down for four days." Between the pool's constant leaking and the failure of these tests, it didn't take long for Stockton to decide it was time to shut the pool down for good.
By 2011, the natatorium that once housed swim meets and dive-in parties was nothing but a ghost of the place it once was. Deserted and abandoned, Stockton students would never again dive beneath its water. However, soon after the pool's closing the university began planning another use for the space. At that time Stockton was seriously underbuilt compared with other state institutions, so naturally the administration started imagining more classrooms, offices, and the creation of a two-story art gallery to take the place of the pool. With the possibility of these renovations floating across the campus, an article from the Argo informed readers that "cement will be added to create a sloped, 2 story art gallery with some offices. The pool deck level will be the first floor, which will have a few classrooms, 2 lecture halls, seminar and meeting rooms, and offices as well." Although Stockton lost a pool, the community was excited to gain new additions to the campus.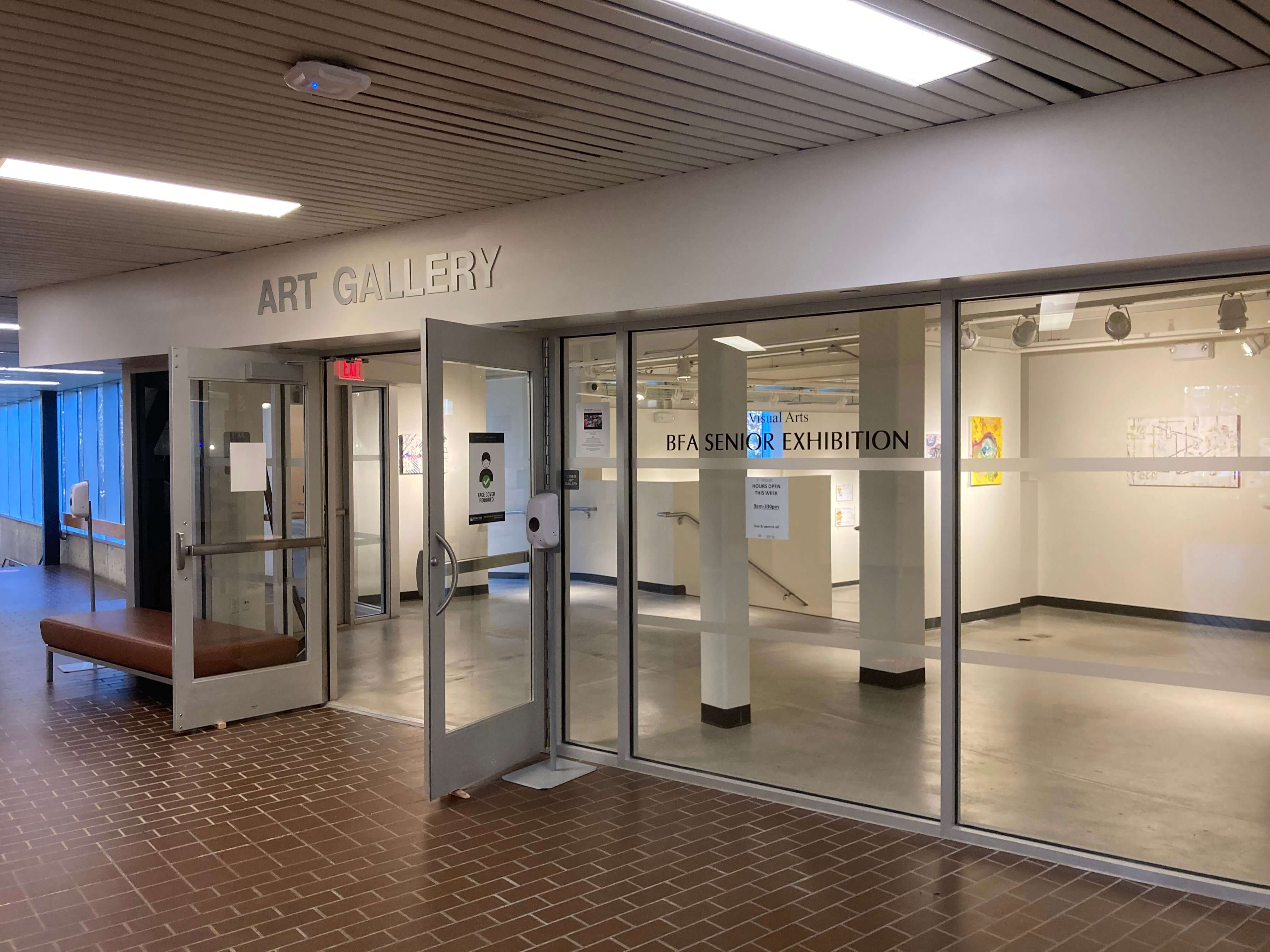 Kate Odgen, Professor of Art History, who is chair of the art gallery committee, discussed the transition from the pool to art gallery: "It was a big open space with a lot of skylights and windows because, you know, pools, they like to have windows around them . . . The administration decided that the pool wasn't viable anymore and they supported us in wanting an art gallery. And it was converted."
In January 2012, the completed art gallery held an inaugural exhibition. Ogden stated that before the gallery was constructed, art was being displayed in an old dance studio in H-wing. Now its current location has both upstairs and downstairs levels, giving the gallery more room and making it possible to plan one major show a year for each level.
Since then the art gallery has served to facilitate student expression, showcasing their hard work and talent. At the end of each semester, the artwork of graduating seniors is displayed in a major exhibition. Pieces that students created over the course of two semesters are presented in the last chance to show their art before graduation.
Furthermore, the gallery often displays work done by local and regional artists. One popular artist featured in the gallery was Michael Graves, the architect who designed Stockton's Arts and Sciences Building. Ogden stated that Graves is "probably in the top five of famous architects of America." The gallery displayed Graves' architectural drawings, which Odgen expressed were "really beautiful," in their use of color and texture. Other well-known artists were Chakaia Booker, African-American sculptor, and John Sabraw, a painter who is known for using recycled material to create his pieces. Wendel White, Stockton's Distinguished Professor of Art, is responsible for introducing through the gallery the work of many well-known photographers, as well. In the past the gallery has welcomed photographers like Judy Dater, Paula Ferraro, Linda Troeller, Linda Connor, Alan Cohen, and many more. Besides simply displaying art, the gallery has been used as a space to house lectures, featuring speakers like Naomi Rosenblum, Lauire Simmons, and April Gornik, who all spoke about their relationship with art, as well as their careers.
It is safe to say that the art gallery gave new purpose to the former pool space. Instead of having a leaking, broken, or empty natatorium, the gallery brings a new vibrancy to campus, making it a place of expression and, once again, student and community enjoyment.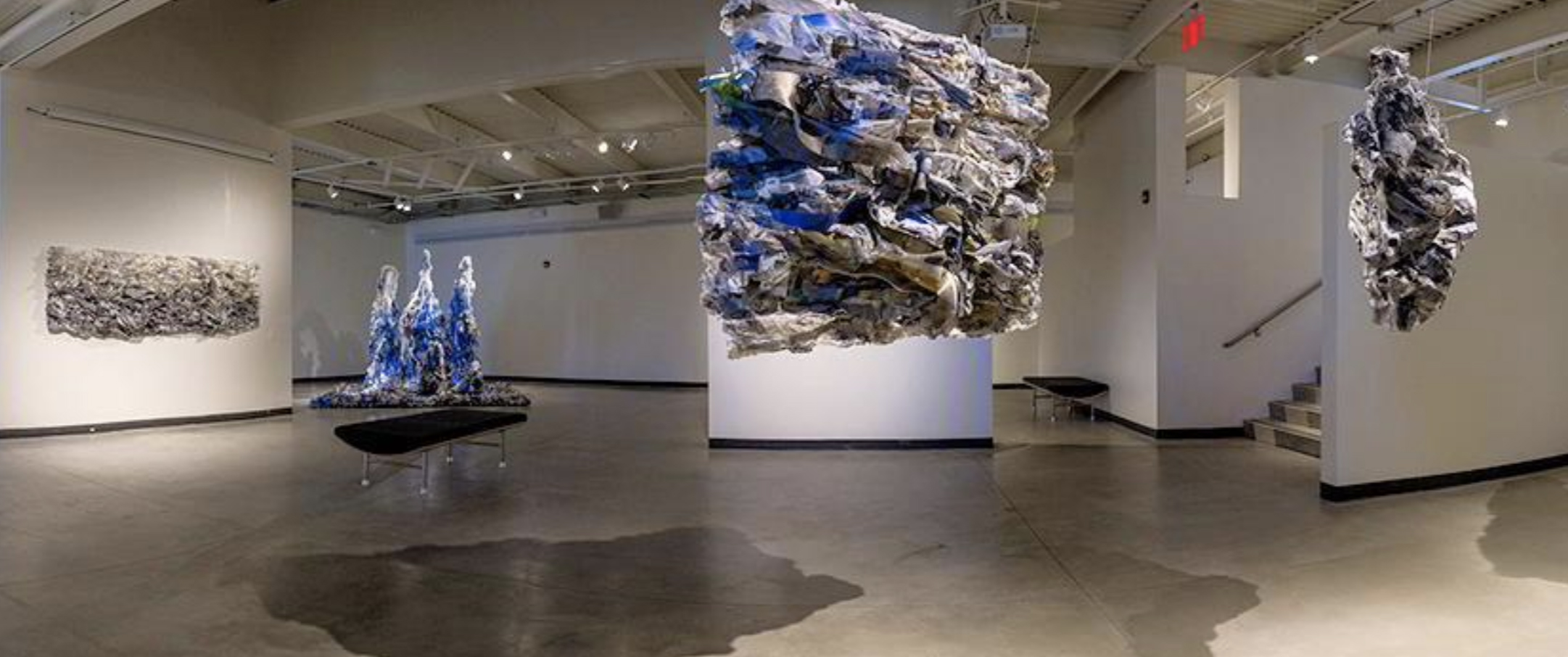 Although the L-wing pool is gone, that does not mean the end of dive-in parties and swim sessions. There are currently plans to construct yet another pool on campus. Presented in Stockton University's Facilities Master plan from 1990, there are plans for a Sports Center Expansion, which hopes to include a new common fitness/wellness center, locker rooms, offices, meeting spaces, team rooms, storage areas, and of course, a new aquatic center. Depending on how large Stockton chooses to build, the area could be used for physical therapy, scuba, military training and certification, as well as a place to host competitions for collegiate swimming and diving teams. Although it may take years for Stockton to begin construction, it provides the community with the hopeful possibility that the aquatic environment captured years ago in L-Wing will return. If so, Stockton's pool can once more be a place where warm, fond memories are created.