Simon Mpondo
By Ken Tompkins and Thomas Kinsella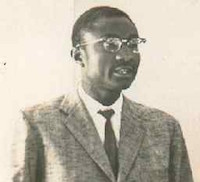 Sometime in the summer of 1973, a young African and his wife moved into an apartment in Atlantic City. Before he came to Stockton University, this gentleman had studied at the University of Washington where he received his Ph.D. There, he met and married Shannon Johnson. He also had a radio show on KRAB in Seattle where he read and discussed African writers. His name was Simon Mpondo.
At Stockton, during the Fall of 1973, Simon taught Advanced French (a LANG course) and The Western Tradition of Literature -1 (a LITT course), as well as Africa and the West (a General Studies course). In the Spring of 1974, he taught How the World Sees the USA (another General Studies course). Also in 1974, he translated and published a volume of poetry, Hamerblows, written by David Mandessi Diop – a Black nationalist intellectual and poet who died in a plane crash in 1960.
Simon became a scholar working within the "Negritude" movement, and in 1971 wrote a book on it: From Independence to Freedom: A Study of the Political Thinking of Negro-African Writers in the 1960's. By Simon Mpondo. University of Washington, 1971.
He was also an excellent poet in his own right; his poem "The Seasons of the Rain" is still included in the Penguin Book of Modern African Poetry:
The Season of the Rains
The season of the rains
Signs its name in a thousand fashions
Those who want to read omens there
Will find their signs
In the flowering beard of the maize
And in the black or red rings of millipedes
Does the swallow's departure for the Margui-Wandala
Announce many storms and floods along the Wouri?
Has the spider woven its web
Stored up insects and light and the sun's warmth
To vanquish a cold season of a thousand days?
Does the plucked chicken speak of hard or easy times?
What says the black millipede?
What says the red millipede?
They say what the omens say
Yes or no or even perhaps
These are the signs
But they tell mainly what happened in the dry season
And not what the rains will bring forth
Plenty of labour in the dry days
Translates itself as maize in the wet
And in the food for millipede's colour
And the largeness of its rings
Which the sorcerer measures in his secret hut
Owe nothing to the season
Those colours will always vary
Some rings will always be large
And some narrow
Let each person make of it what he will
The signs of the rainy season
Say exactly what everyone wants to hear
Surely there will be plenty of water
Plenty of swamps and mud
That's the message we read in the signs
Of the season of rains.
The few faculty who knew Simon Mpondo all remember him as a "sweet" colleague – polite, quiet, bright, and an excellent teacher.
But by the Spring and early summer of 1974, for reasons that are obscure, his visa was withdrawn and he returned to Cameroon. James Hollis, a colleague who was appointed to the LITT Program at the same time as Simon, remembers that Simon had a mild British accent and that the College was reducing faculty positions. Simon – as one of the most recently hired – did not have his contract renewed.
Between 1974, when he returned to Africa, and 1979, little is known about his life. He may well have taught at the Université de Douala across the river from where he lived. We know that he and his wife had two children: Nicholas born in 1975 and Marc-Antony born in 1979.
What we do know is that in the of Fall 1979, he, Shannon, and their two sons were strangled to death in their home!
We don't yet know why. Was it political? Simon had translated Hamerblows for Diop, a man who had strongly supported the ideas behind a black nationalist movement called "Negritude." Was it tribal? Not only was Simon and his family killed, but so was his brother some years later. Was it a random act of terrifying violence? It seems unlikely given the deaths of the complete family. Or was it selective, given his role as an educator? There is an article about a math professor being killed in Cameroon in 2006, an article which mentions Simon's murder.
So far, we have found no comprehensive and objective report on his death. His murderers were apprehended and later sentenced to death by the government of Cameroon, yet no motive was ever released.
Why is mentioning all of this important? In nearly fifty years of LITT faculty coming and going, there have been tragedies and unfortunate deaths of a few. This incident shocks us because of its senseless violence rained down upon an entire family.
Recently, I taught Donne's Meditation XVII which, for us, speaks to why this is important to retell:
No man is an island entire of itself; every man is a piece of the continent, a part of the main; if a clod be washed away by the sea, Europe is the less, as well as if a promontory were, as well as any manner of thy friends or of thine own were; any man's death diminishes me, because I am involved in mankind. And therefore never send to know for whom the bell tolls; it tolls for thee.
Simon Mpondo was headed for an important career as a voice for African freedom and dignity. He would have become a superb teacher influencing generations of African youth. He was a fine poet and, I'm convinced, would have only gotten better.
Thus, his loss is much more then a tiny statistic hardly remembered by anyone. He was here on this campus, in some of these classrooms teaching students very much like all of us.
In a strange way, he was us.