Luanne Anton's Nineteen-Year Journey as Stockton's First Health Educator
By Gabriella Fiorica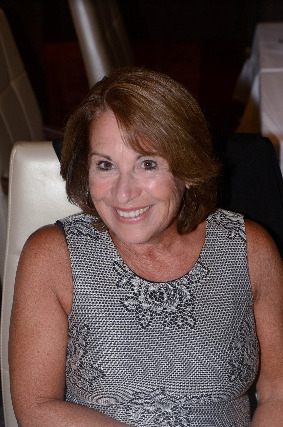 This fall 2020 semester marks nineteen years since Luanne Anton-Usinger first began working as a health educator at Stockton University. Arriving at Stockton in September 2001 Luanne became Stockton's first health educator and as such has helped create many projects and events for the Wellness Center. I recently had the chance to interview Luanne about her journey into health education at Stockton, which was not done in the most traditional fashion.
She confessed, "I came into health education from a different route. Today, most people who want to be health educators would most likely go for a public health degree." Instead, Luanne started as a medical lab technician after graduating from Camden County College as a First Generation student with an Associates Degree in Applied Science in 1977. It was in 1993 that she finally pursued a career in health education at the Atlantic City Medical Center, before moving on to receive her Bachelors and eventually her Masters degree in Psychology in 2004.
Luanne stated that because of her medical knowledge, as well as her experience volunteering for her church and community youth group, as well as creating programming as a youth counselor for the Atlantic County Advocate Program, she was able to secure her first health educator position with the Family Planning program of AtlantiCare. She worked as a health educator for AtlantiCare for eight and a half years prior to coming to Stockton.
Luanne's non-traditional background has allowed her to bring a different perspective to the health education program. She tends to look at the psychological and emotional impacts of health issues, an approach that may differ from other health educators. She explained, "It helps me when working with young people, who are having difficulty achieving their health goals. It helps them to uncover what is standing in the way, maybe emotionally or psychologically, and how to get a hold of that and work to move beyond that to promote good overall health."
Over the years, Luanne has created and provided a variety of workshops, groups, and events that focus on health-related matters as well as promote the Wellness Center services to all students, staff and faculty. The Wellness Center annual report from June 2017 to May 2018 revealed a total of 177 workshops provided to an audience of 3,044 individuals. Forty-two workshops focused on Managing Stress and meditation. Other workshops included Dimensions of Wellness, Sexual Health, Presentation Skills/Public Speaking, Substance Abuse, Teambuilding, Start Semester off Right, Relationships, Sexual Assault, Family Roles, Cancer Awareness/Treatment, Cyber Bullying, and many more. Many of these programs still run today and continue to make a positive impact on Stockton community's health education.
Luanne and the Wellness Center team regularly provide tabling events at Stockton as well as individual sessions for students. Students can access the Wellness Center for health information or to engage a speaker for their organization or class. They are also able to meet individually to learn meditation and relaxation techniques. Common topics presented are Public Speaking and Presentation Skills, Sexual Health, Teambuilding, Dimensions of Wellness or Managing Stress, which is one of the most requested of the topics.
Luanne provides a holistic approach to health education that encourages the participation in workshops on meditation, Reiki, aromatherapy and yoga. She also participates on the committee of the Holistic Health Minor and has created and offered an introductory Aromatherapy class that counts as an elective for the minor. She coordinates, schedules, and hosts some of the fitness courses, particularly Zumba and yoga. Luanne had obtained her certification as a Yoga instructor in June 2015 and began to offer yoga classes for veterans known as Yoga Warriors at Stockton. She also offers guided meditation classes, which have led her to produce her own professionally recorded guided meditation CD which is available in the bookstore.
Most importantly, Luanne has led the Peer Education program and supervises the student peer education employees. She developed and taught a Peer Education course for credit that involves the option of certification. Students complete the course and pass a certification exam in order to apply to become a paid staff peer educator. Peer educators are then qualified to lead workshops as well as provide individual education and referrals to their fellow students.
When I interviewed Luanne about the Peer Education program, she revealed that when she arrived at Stockton the program was much different. She stated that it "was a little bit fragmented." Before Luanne joined the Stockton staff, the program had one counselor advising each separate area of interest, such as sexual assault prevention, substance abuse, eating disorders, nutrition, and sexual health. Prior to coming to Stockton, Luanne had run a successful county-wide high school peer education program in which she learned that peer educators need training in multiple areas to be the most effective, given the interrelatedness of these issues. Therefore, counselors are now trained on all these topics and prepared to consider multiple areas of interest.
Additionally, Luanne has coordinated the popular annual event, Wellness Day, that occurs each spring and brings in numerous vendors in order to expose people to all aspects of health and wellness. Other popular annual events are the educational theatrical production "Night of Sex," Healthy Relationships Day, World AIDS Day, Cancer Awareness Day, Stress Free Zone, the Sweetheart Dinner. Luanne is also responsible for introducing the idea of therapy dogs at Stockton, which continues to be a big hit for both students and staff.
When Luanne first began working at Stockton, she assumed that students would already be well-informed on topics such as sexual health and drugs. However, she found that this was not always the case. Some students arrived at Stockton with significant understanding of these topics, but others knew very little about them. Annual wellness events, as well as classroom, residential hall, or club presentations ensure that the program is providing accurate sexual health information while promoting healthy practices.
Healthy Relationships Day focuses on encouraging healthy relationships at Stockton and is meant to inspire communication between loved ones. It has always been extremely important to Luanne to teach people the importance of connecting emotionally. She explained, "It doesn't matter to me if I have to get up in front of a hundred people and teach about sexually transmitted diseases, if everyone could walk out of there and recite what I just gave them . . . What matters is if there was an emotional connection that motivates you to see if and where you need to make those changes." To her, what matters most is students taking that information and being able to apply it to their own personal lives.
Luanne noted that students are more interested in their health and nutrition than when she first arrived, but stress and anxiety have become more common and significant issues. She is surprised at how many students arrive at Stockton having experienced intense, emotional trauma in the past. Experiences such as losing a loved one to a drug overdose or suicide have become more common over the years. Therefore, a significant objective for Luanne is recognizing students who have experienced these issues, learning how to work with each individual, and then connecting them to the appropriate help needed for them to get better. Divorce also continues to have strong negative impacts on young people. She revealed, "No one comes out of that unscathed, or without some serious stuff. And not that you can't recover and be healthy and whole, but we do people a disservice not to recognize the impact of that. These problems are still very real."
As Luanne approached her nineteenth year, she expressed to me her thoughts on working at Stockton over the years: "It's been a real privilege to be able to come here and create all the exciting programs and events that have been offered over nineteen years and very rewarding to watch things develop." Looking back over her time at Stockton, Anton was immensely grateful, expressing, "So it has been a really good opportunity to affect, I don't know how many lives, in a positive way. It's been very rewarding. Challenging and stressful, at times, of course, but overall very, very rewarding."
Below, flyers for Luanne Anton's various events and courses can be found: