"Le Villain" and the Parking Legacy
By Raymond Dudo
With Stockton University's 50th anniversary approaching, we ask the important question: What is Stockton's legacy? What memories have we passed down among the pillars and pines of our Galloway campus? Obvious legacies include our philosophy of education, our focus on environmental studies, and our involvement in the South Jersey community. But there is one recurring memory that does not receive proper notice. That is the memory of parking at Stockton.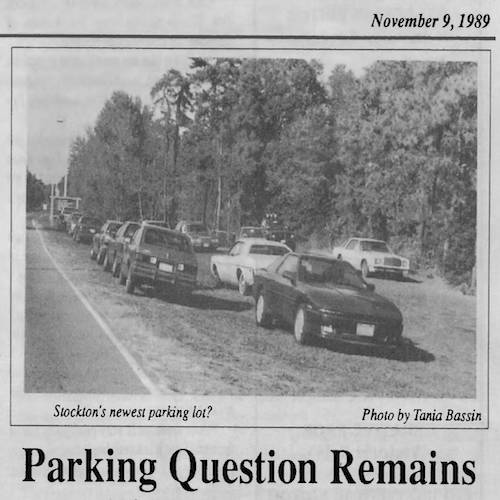 Ask any student, teacher, or administrator about this, and you will hear of parking concerns from the very beginning. At times, parking has been so scarce that students have left vehicles anywhere they could, as you can see in the picture from a 1989 issue of the ARGO (see right).
Stockton Police surely decorated these cars with parking tickets, which students would have found, to their dismay, upon returning from class. Interestingly, eleven years earlier, one community member began a short-lived crusade to deal with Stockton's parking difficulties.
On October 20, 1978, the ARGO interviewed an anonymous student known as "Le Villain" who took justice into his or her own hands by stealing tickets off of cars parked along ol' College Drive and mailing them back to Stockton Police. The hero refused to let fellow students feel the eye-rolling annoyance of a parking ticket under the wipers.
Consequently, this caused a great deal of commotion in the Bursar's Office. Fees for unpaid tickets were piled high, but could not be enforced because of the situation. In the below article, Le Villain claimed to have stolen over 100 parking tickets, and assured students he or she would continue until the parking situation was resolved.

The identity of 1978's judicious thief has been lost in the mists of Lake Fred, but Le Villain's legacy lives on in the history of Stockton. Below, a graphic from a recent issue of the ARGO shows parking is still on the mind of the Stockton community. Next to that is a recent photograph of Parking Lot 2, taken from the new Health Sciences building. Note the two shuttle buses, something not present 40 years ago.