The Art Room: The Nexus of Our Community
What is the Art Room?
By Jessica Chamberlain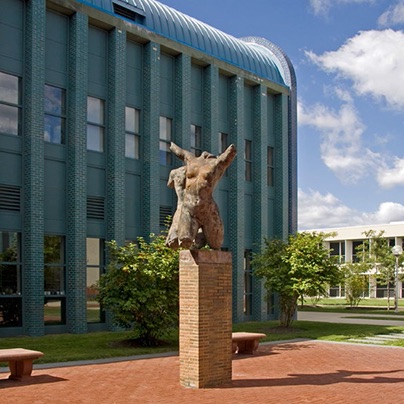 The Arts and Sciences Building, the location of the Art Room.
In fall 2019, I had the opportunity to explore the Arts and Sciences Building on the Galloway campus of Stockton University. If you find yourself wandering the halls of this architecturally appealing building (it was designed by renowned architect and designer Michael Graves), you will find a small room tucked close to the corner of the top floor. That room is one illustration of a Stockton happy place. Immediately when you enter you are greeted by the positive energy that is constantly generated by its dedicated inhabitants. My friend and colleague Ashley Collins was in charge of acquainting me with the room, the art room. She showed me the place where some of the artists kept their toothbrushes and extra clothes … just in case they end up falling asleep there! (The number of hours these artists typically spend in the art room range on average from about six to ten hours per day, every day except Sunday—sometimes eating all three meals in the room as well.)
The typical to-do list for a college student has many items: studying, writing papers, meeting with professors at office hours, going to classes for six hours a day. Yet even with such busy schedules, somehow students still find time to say they have nothing to do. This daily period of "nothingness," which we all experience, requires retiring to some place (whether physical or mental) where we can feel comfortable in our own skin. This is often done at home: we can retire to a bedroom, shower, living room (with mom, perhaps, close by) or even a garage (hanging out with neighbors). These are personal happy places. But what similar spaces are provided on a university campus?
In the Art Room, I received a sneak peek of the artists' projects underway. It is refreshing to see different styles of art lined up next to each other, complimenting each other so effortlessly. That is one of the main themes of the art room: feel free to be your most genuine self without any judgments. While the student artists are painting, they talk about anything on their minds. The reason they love to be there is that they know they can be whoever they want to be. That's what keeps them coming back. When they can be relaxed and fluent in their own bodies, they have easier access to their focus and creativity. All of the positive affirmations cycling around made me realize the true value of the community they have created.
This essay is an attempt to hint at, if not capture, the atmosphere, climate and ambience of the art room, a noteworthy Stockton community, and to document it in some form. Although moments of community are naturally ephemeral, occurring and then dissipating, let us at least acknowledge the existence of this community within Stockton's history. Let us also acknowledge that the many other small communities that populate our campus are equally vital to the success of Stockton's educational endeavor, although not all can be recorded for posterity.
Involvement in a community gives students the opportunity to lift themselves while simultaneously uplifting others. Knowing that you have the ability to rely on friends and colleagues for support through your journey of self-growth provides a form of comfort and reassurance when the inevitable not-so-good days occur. Going through the required life changes college brings will never be an easy chore. But doing so with the support of people whose company you value makes it far more tolerable and even enjoyable.
Art students hang out in their art room for as long as the sun is in the sky. They do this so that natural light can filter into the space as they throw their emotions through the paintbrush and onto the canvas. When I visited, sunlight accentuated the structure of the community they have built. As the art lights the room, their energy enlightens each other.
The community of the art room demonstrates the value of making connections among peers. We better understand the lives of others, and learn about ourselves, when we make the attempt to understand the lives of those around us. The art room provides space that encourages one such community. Fortunately, there are plenty more spots on campus where similar small communities grow and flourish. Such positive community spaces deserve to be nurtured.
Fiftieth Anniversary Paintings
By Ashley Collins
In the painting Blue Buildings, I layered traced line drawings of archival photos of Stockton's buildings chronologically throughout their stages of completion and construction. There are many moments that went into erecting the walls within which students and teachers now discourse and work. All this building was a great effort for, now, fifty years, but it led to a seemingly smaller and equally important moment—the moment of discussion, which is why common chairs from the newest campus in Atlantic City are rendered with the most values at the forefront of this painting. The first drawings of the models and ideas for the initial layout of Stockton lay flat and transparent in the first layers of this painting. But the construction of buildings like the Arts & Science building start to feel more concrete and complete in some moments of Blue Buildings with more values filled in and opaque paint recognizing their physicality. As the drawings move forward in time, the impact of these buildings becomes clearer in the painting. The buildings are a solid house in which to hold our ideas, but the moment of sitting together and sharing ideas with each other remains the true focus of what makes this fifty-year effort so important.
The painting You're Listening To has a similar element of transience and time in its transparent layers melding into each other, but this moment remains more chaotic with paint application left to chance. I made this painting with layered line drawings, like the others, but also by pouring oil and paint and letting the painting sit flat over night for the puddle to be recorded on its surface. This painting is about the messy birth of the radio station—when Lake Fred radio really became WLFR and became tied to the college, ultimately cementing its ability to survive over the years. The oral story goes that someone spilled a soda all over the main frame while DJing—absolutely disastrous—but that because of this spill of fate twenty-five-odd years ago, Stockton took over funding the station and sucked it into the stability of the college. This solid station, that so many people count on still today to get through their commutes, came out of this entirely chaotic accident. Getting to pour paint all over my 2D musical mainframes in honor of this spill was the most authentic way I could show how to also visually appreciate this accident.
Cigarette Fields came out of an idea about community. The smoking gazebos at Stockton and society's feelings in general about smoking remain as a dark smudge—not something to put in the spotlight necessarily. It's gross, it's pollution: it is what it is. Through the years, Stockton went through phases of essentially trying to push the smokers out of the buildings and into smoking ghettos, and in turn created an intense community. The school went through phases of gum fields and gazebos and then empty gazebos when the tobacco age limit rose—but the structures themselves seem to stand like monuments to finding community in unlikely places. This painting started in intense light-valued colors in an attempt to make this moment bright again. And the fluffy pastel accumulation of fake gum and some absolutely real gum builds up into mountains in some areas, being large in some unseemly places. I played with flattening out shapes so that nothing is as recognizable as it easily could be. The cigarette lamp that is painted as a partner to the gazebo structure itself was a piece of art made by a very close friend of mine, Gabriela Siwiec, that ultimately proved to me how much I could love such polluted things in this vibrant community—things I did not expect to love so vehemently.
Zoom Class
By Emily Fuhrmann
In my Zoom Class series, I have embraced the new teaching methods that come with living through a pandemic, applying both traditional and technological methods to each piece. Although attending university through a screen is a new and different experience, especially for an art student, the sense of close community has remained.
We are living in a time when technology is not only very accessible, but we rely upon it to continue intimate conversations and to learn from one another. I decided to encapsulate this strange and fast-paced change using archived photos of lectures across campus. From there, I made digital collages where a computer absorbs the heads of students. I then made these digital collages into photo negatives using Photoshop. I chose to make them into cyanotypes to resemble the blueprint: this new method of professors and students joining Zoom-calls to receive their education and provide information is shaping how students will be taught in the future.
The cyanotype solution used to coat the paper is light sensitive, so once I coated my paper I placed the negative on top and brought it outside of the Arts and Science building to start the development process. Using an on-campus light source allowed the artwork to retain some contact with the physical campus, while being created in our new digital environment.
The combination of technology and in-person resources is something many students, especially the art students, rely upon. In the Zoom Class series, it is necessary. To complete the development, the prints are placed under UV light, then the remaining solution is rinsed away. The part under the negative that is exposed to the light dyes the paper blue, while the remaining solution gets rinsed off and reveals the negative space on the paper, creating the final blueprint.
As for Mask, the same method is used, but instead of using a digitally fabricated image, a physical mask is used. I decided to use the masks to mark the blueprint because we also rely on them for our safety. Masks slow down the spread of Coronavirus. Mandatory mask wearing allows students to come onto campus and utilize resources remote technology cannot provide. The mask allows me to enter the darkroom and continue to create and have meaningful discussions (at a distance), while keeping others protected.
The most rewarding part of working on this project was the creative freedom Tom Kinsella and Ken Tompkins both gave me. They shed light on the University's history in a way I hadn't seen before. I was able to have meaningful discussions, over a computer screen, and learn much about how Stockton got to this point in its development. It makes sense how the University was able to adapt to this change so suddenly, given the foundation of technology and people in place. Ken Tompkins helped pave the way for technology being introduced to campus. Stockton's use of technology has been remarkable and fast-paced because of people like him. Both Tom and Ken gave me the time to explore many different methods of creating art using this technology. I experimented with pretty much every medium, from painting to printmaking, to analog photography, digital photography, and so on.
I am proud that this work will be preserved in the University Archives because it suggests a blueprint of Stockton's ability to adapt to something new and unforeseen. It combines history with modern technology. Embracing history and technological advancements are concepts that, I believe, the University will continue to facilitate among students and faculty.