Stockton A Cappella
By Gabrielle Bibus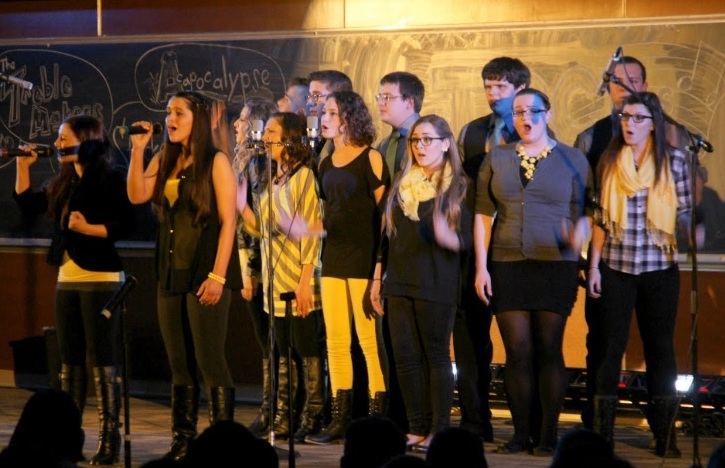 Stockton a Cappella at ICCA in 2013
Legend has it that if you walk through the halls of Stockton University's main academic building around 10:00 PM, you might hear an echoing symphony of disembodied voices coming from the I Wing stairwell. A similar phenomenon has also been witnessed in the staircase near the Campus Center Bookstore, particularly on mornings right before an event is about to commence in the Event Room. If you have ever heard this unexplained stair-singing, don't worry, you haven't experienced a poltergeist, nor are you a sailor being lured in by a siren out at sea: chances are, you simply overheard one of Stockton's three a Cappella groups wrapping up a rehearsal or warming up for an event with the aid of some stairwell acoustics.
To sing a Cappella means to sing without an instrumental accompaniment. In other words, a Cappella singers produce music using only their voices, which can include vocal percussion (better known as beatboxing) and reproducing the sounds of instruments by using syllables such as "den," da," "doh," etc. A Cappella music came into the limelight when the movie Pitch Perfect was released in 2012. However, this style of singing existed far before Anna Kendrick's big screen performance, and in Stockton University's case a Cappella has been on campus since 2007. In this year, a group of eight ambitious singers put on their very first concert as the group cleverly named Stockapella. The following year, Stockton hired Dr. Neil Aaronson as a Physics professor. In 2009, Aaronson, a musician with expertise in acoustics and psychoacoustics, stepped into the position of director and took the tiny singing group, formerly advised by Dr. Beverly Vaughn of the Music department, under his wing. Their numbers slowly increased from eight to about a dozen members. Little did they know that over the next ten years, hundreds of students would audition for a slot in Stockton a Cappella.

With a Cappella music rising in popularity and talent flooding into Stockton, it was inevitable that another a Cappella group would eventually spring up on campus. That left Stockapella with two options: they could either be in competition with whatever new group appeared, or start another group themselves within the same organization. Preferring cooperation over competition, Dr. Aaronson chose the latter, and in Spring 2010 the group Stocktones was born. One year later, Stockton a Cappella welcomed a little sister to the family: an all-female group called Stockata. Although Stockton a Cappella is an umbrella organization, the three groups are all unique. First and foremost, all three groups are NOT called Stockapella. That's only one of us! There are so many ways in which the different groups are individuals! For starters, each group wears different colors for concerts and competitions. Pella wears yellow (though in the past they wore blue then briefly pink), Tones wears blue, and Tata wears purple (after an embarrassing phase of wearing multi colored scarves). Then, of course, there are the adorable nicknames given to each group, as written just now. Each group also sings its own set of songs, with two songs performed by all three groups, one of which is always Happy Ending by MIKA, performed each semester at every concert. Stockton a Cappella alumni are also invited onstage to sing this song.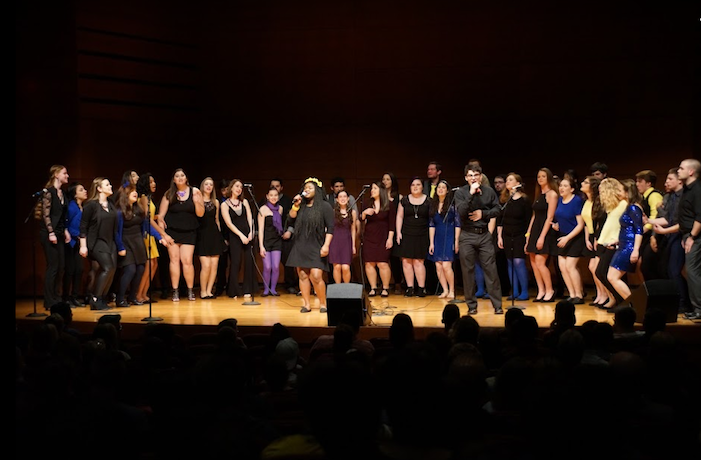 Stockton a Cappella performing one of the two common songs at their concert in Spring 2016.
Over the years, Stockton a Cappella has performed over 200 different songs of varying genres, by artists including Sara Bareilles, Adele, Panic! At The Disco, Gavin DeGraw, Fall Out Boy, Evanescence, and Imagine Dragons. Songs are selected based off of suggestions made by group members, which are then narrowed down by Dr. Aaronson and the executive board (which consists of a President and Vice President for each group as well as one overarching Secretary). Stockton a Cappella only performs original arrangements composed by Dr. Aaronson or one of its members or alumni; we even have our own arrangement of The Star-Spangled Banner! Each group usually performs a set of between three and six songs each semester. Rehearsals are held twice a week for two-and-a-half hours in room H116 where there is access to a piano. In the past rehearsals used to be held in H102, but competition for the room from Music Union and Highest Praise Gospel Choir led a Cappella to reroot in the next hall over. Pella has held rehearsals on Tuesdays and Thursdays from the beginning; however, Tones originally had Mondays and Wednesdays while Tata had Fridays and Sundays: unfortunately ineffective practice schedules, considering they leave nearly an entire week without meeting and plenty of time to forget everything learned at rehearsal. The schedules were eventually modified to be more equitable: Tones has Mondays and Fridays while Tata has Sundays and Wednesdays. These meeting times have been concrete ever since.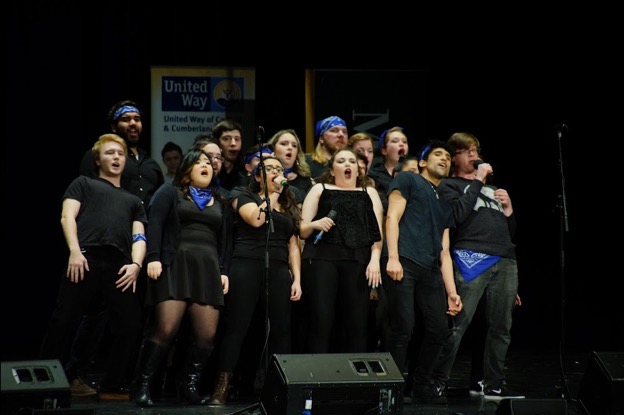 Stocktones performing a choreographed song at the M&T Bank Glee Competition in 2017.
Performances are not limited to the Monday night concerts held at the end of each semester. During the same semester that Stockata was formed (Spring 2011), Stockapella competed for the first time at the International Championship of Collegiate A Cappella, or ICCA. That's the very same competition that the Barden Bellas from Pitch Perfect participated in; yes, it is a real thing! Stockton has consistently sent Stockapella to this competition each year, the only exception being Spring 2019 due to unforeseen circumstances. Although Stocktones and Stockata have never participated in the ICCA, they started attending another East Coast a Cappella competition in Spring 2013: the M&T Bank Glee Competition in Carlisle, Pennsylvania, which is a fundraiser for the non-profit organization United Way. This event isn't exactly around the corner for Stockton a Cappella: it takes approximately four hours to reach Carlisle from Galloway. However, the ride is half the fun! Those four hours in a rented Stockton vehicle provide ample time for members of the three different groups to bond and sing along to the radio, plus the trip back almost always includes a stop at a diner. Even though Stockton has never taken the crown at ICCA, they have earned certificates of achievement in multiple categories, and Pella has nabbed second overall and first for Co-Ed Group at Carlisle. Regardless, it's almost unanimously agreed across the organization that the experience is worth more than a trophy.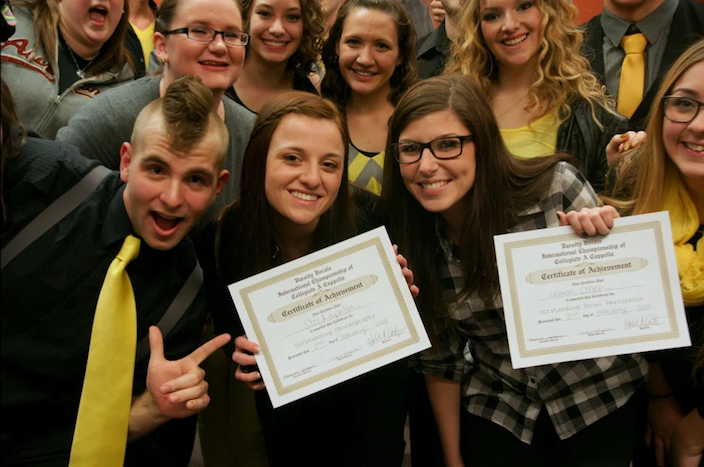 Stockapella shows off their Certificates of Achievement for Outstanding Choreography and Outstanding Vocal Percussion at ICCA 2013.

While Carlisle is a Cappella's big outing for the spring semester, the fall semester comes with an experience that inevitably sticks with every a Cappella alumnus the most. Every October, all three a Cappella groups depart on a weekend-long retreat filled with rehearsals, auditions, workshops, games, and team-building. The first Retreat took place in Fall 2011 at Cape Henlopen State Park in Delaware. The groups stayed in a big dormitory called the Joe Biden Educational Center and had to make all their own food. Nothing says bonding like relying on the cooking of your director and fellow singers! However, the building was eventually shut down, so after three years at the same location, the a Cappella Retreat needed to find a new home. Dr. Aaronson soon found the Spruce Lake Christians Retreat in the Poconos, and this beautiful spot in the mountains has hosted Stockton a Cappella each fall ever since. Not only does this location add an optional opportunity to go on a sunrise hike, but it also includes a dining hall, which means food is provided!
The group sizes have varied greatly over the years. Pella currently has about a dozen members (approximately the same amount of people as the original Stockappella), whereas at one point (around 2012) Tones had as many as 25 members. The number of auditionees also varies from semester to semester. When I first auditioned as a freshman, there were about 60 or 70 other students auditioning, yet this past semester we had a whopping total six people come out to auditions. This wide discrepancy mostly has to do with advertising (or lack thereof). The audition process takes less than five minutes: the auditionee, standing alone before an audience of the e-board and other current a Cappella members either on the Campus Center Theater stage or at the front of H116, repeats melodies played by Dr. Aaronson, sings up and down scales to demonstrate their vocal range, and then sings 30 seconds of any song of their choosing. Sometimes the deliberation among the executives can go as late as 3:00 in the morning, but all auditionees find out whether or not they made it into a group via email within 24 hours.
When I auditioned for Stockton a Cappella, I had no idea that it would be the "niche" that college recruiters insist you'll find in your first year. I knew it would be fun: fun enough that I re-auditioned after not making it into a group on my first try. But I didn't realize that being in a Cappella would be more than just an after-class activity. Stockton a Cappella is an organization that brings people together due to their love of music, and from there it forges bonds that can last a lifetime. I have made countless friends not only in my group Stockata, but also in the other two groups thanks to Retreat. The three a Cappella groups are essentially one big, crazy, musically talented family. Our members' experience levels range from vocal lessons since the age of five to singing only in the shower, and yet everyone is welcomed and appreciated. Whether you're the soloist, the beatboxer, the harmony part, or the ensemble of syllables, you're equally important to the group. Stockton a Cappella has come a long way from the handful of students that founded it over a decade ago, and as long as students keep having fun and being passionate about the groups, it will only continue to grow.