University News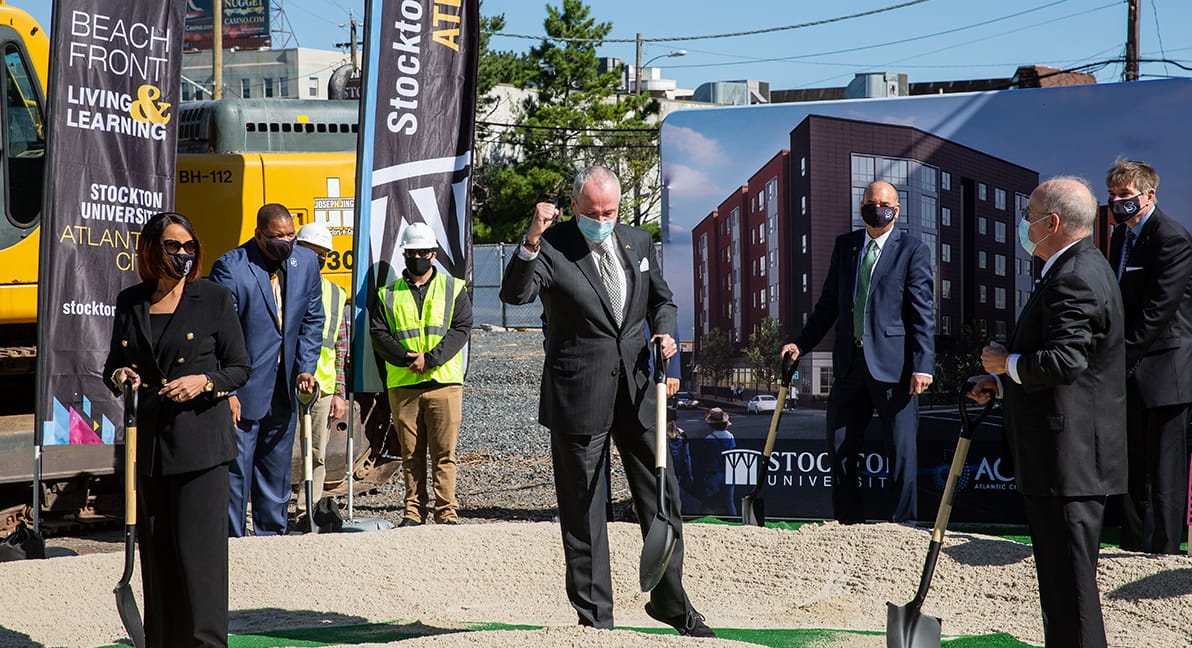 Atlantic City Phase II Residence Hall Project Underway
Stockton Atlantic City is growing.
A groundbreaking for the Phase II Residence Hall at Stockton University Atlantic City in October brought together the myriad of partners helping to make the expansion a reality.
Gov. Phil Murphy told the more than 200 guests at the outdoor ceremony held in O'Donnell Park, across from the Stockton Atlantic City campus, that he couldn't wait to see this take shape. "It will create good jobs today, help prepare the next generation, and diversify the economy of Atlantic City."
Murphy said the future of Atlantic City is powered not just by gaming and entertainment, but by academia, entrepreneurship and the arts.
Demolition began on the Eldredge Building in Atlantic City in June to make way for the Phase II Residence Hall.
The project is being developed in partnership with the Atlantic City Development Corp (AC Devco). Jingoli is the general contractor and construction manager. It is expected to open to students in Fall 2023.
Pictured above, Gov. Phil Murphy celebrates at the groundbreaking for the Phase II Residence Hall at Stockton University Atlantic City.
---
Stockton Names New Provost, V.P. for Academic Affairs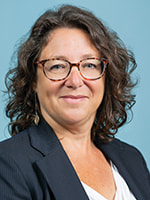 Leamor Kahanov has been named the new Provost and Vice President for Academic Affairs at Stockton University.
Kahanov comes to Stockton from SUNY Oneonta where she serves as Provost and Vice President for Academic Affairs. In her current role, she is their chief academic officer, and oversees four schools as well as the library, registrar, grants and Academic Student Services.
"Dr. Kahanov's experiences as a faculty member, department chair, assistant dean, dean and provost will be of great value to Stockton, and we are excited to have her join our community," President Harvey Kesselman said.
---
New Cannabis & Hemp Research Initiative Grows at Stockton
A new Cannabis & Hemp Research Initiative at Stockton University (CHRIS), announced in April, will provide education, research and resources for the local and national market.
The initiative builds on the Cannabis Studies academic programs at Stockton to develop research focusing on hemp cultivation practices, non-medical cannabis research, lab testing and the creation of hemp and cannabis educational materials
"As the first university in New Jersey to offer a Cannabis Studies minor in 2019, Stockton is poised to do important research into areas that can provide opportunities for our students and emerging industries, and enhance the economy of the state," said Professor of Biology Ekaterina Sedia, coordinator of the Cannabis Studies minor.
---
Small Ceremonies, Creative Venues Make Commencement Possible for Classes of 2020 & 2021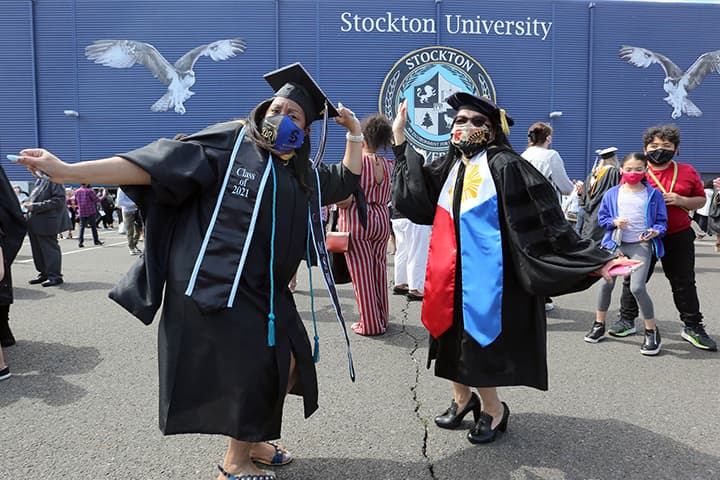 They waited five months to do it, but nearly 1,000 members of the Class of 2020 at Stockton University finally got to walk across a stage and hear their names announced as Stockton hosted eight separate socially-distanced Commencement ceremonies on the Galloway campus Oct. 23, 2020.
The eight smaller ceremonies were held on alternate hours at two outdoor locations on the Galloway campus. Chairs were spaced six-feet apart and face coverings were required.
President Harvey Kesselman referenced the different set-up when he spoke to graduates, "We are socially distant, but we are no less connected. We are joined in fellowship to celebrate this long-awaited moment."
For the Spring 2021 Commencement ceremonies held May 11-13, perseverance, resilience and optimism were the themes that stood out.
More than 2,000 graduates participated in the 12 COVID-19-safe ceremonies over three days in the Sports Center, with a few family members cheering them on in person, and others watching the livestream.
The first graduates of the Stockton University Doctor of Nursing Practice program received their diplomas at the May 12 Commencement; and the first cohort of 23 graduates in the Master of Arts in Counseling program received their degrees on May 13.
---
Stockton Welcomes New Dean of Health Sciences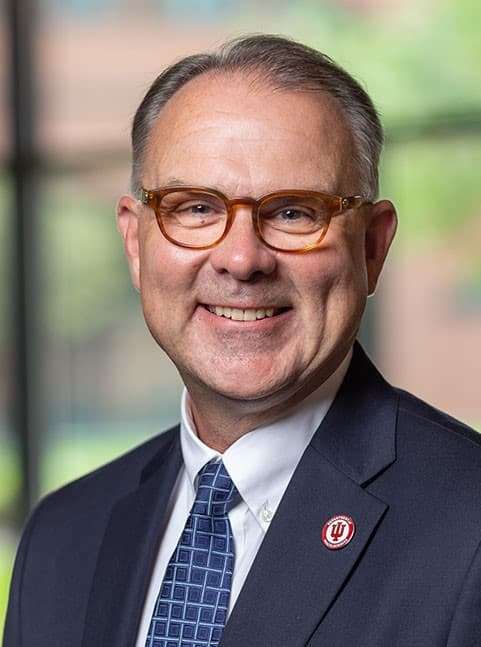 Brent Arnold joined the University as dean of Health Sciences July 1. He comes from the Department of Health Sciences at the Indiana University School of Health and Human Sciences where he was department chair. He successfully led several curriculum changes there and managed academic programs for Indiana University and Virginia Commonwealth University.
Arnold earned a Bachelor of Science in Health and Safety from Indiana University, a Master of Science in Exercise and Sports Science from the University of Arizona, and a Ph.D. in Sports Medicine from the University of Virginia.
He replaces Margaret "Peg" Slusser who founded the Bachelor of Science in Health Sciences in 2012 and retired this year.
In Memoriam
Stephen Dunn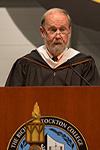 The teaching and writing of Stephen Dunn, Distinguished Professor Emeritus of Creative Writing, inspired thousands of students and poetry lovers. He passed away in June on his 82nd birthday.
Dr. Dunn joined Stockton in 1974, a young professor at a young college, where over a career that spanned more than 40 years he helped define a Stockton education. In 2001, he was awarded the Pulitzer Prize in Poetry for his book "Different Hours." He wrote 15 collections of poetry and received numerous awards, including the Academy Award in Literature from the American Academy of Arts & Letters, and fellowships from the Guggenheim and Rockefeller Foundations.
---
Michael Jacobson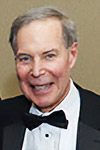 Michael Jacobson, longtime Board of Trustees member, passed away on Oct. 16, 2020, at the age of 77.
Jacobson was first appointed to the board in 1985 and celebrated his 35th anniversary as a trustee in June 2020. He was the longest serving trustee on Stockton's board and among the longest serving trustees of a public college or university in the state.
He served twice as president of the board, from 1994-96 and 2001-2004, and served under three of Stockton's five presidents, Vera King Farris, Herman Saatkamp and Harvey Kesselman. He had also served on the Stockton Foundation board.
In December, the Board of Trustees room in the Campus Center was dedicated in memory of his service to Stockton.
---
Lynne Kramer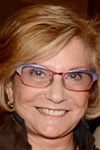 Lynn Kramer, a long-time supporter of Stockton and many important community causes, passed away March 1 at age 78. The Kramer family has played a critical role in supporting the University through their philanthropy and volunteer service. Lynn and her husband, Charles, a member and former chair of the Foundation Board of Directors, have made significant contributions to Stockton including the dedication of Kramer Hall in Hammonton, the establishment of the Arnold and Gertrude Kramer Endowed Scholarship Fund, the dedication of the Kramer Veranda at Stockton University Atlantic City, and generous event sponsorships and other gifts supporting students and scholarships.
She served as Chief Financial Officer for Kramer Beverage Company, the beer and beverage distributor founded by Charles' grandfather Ben Kramer, for more than 30 years.
---
Jo Frances Stow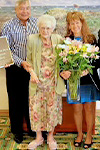 Dr. Jo Frances Stow, former faculty member and long-serving member of the Foundation Board of Directors, passed away Feb. 9 at age 93.
Dr. Stow served in many roles at Stockton for nearly 50 years. She taught Public Health courses from 1979-1988 and was tenured in that program, retiring as associate professor. In 2013, she was awarded Emerita status by the Foundation Board.
She was an active member of the Foundation's Scholarship Selection Committee for 30 years, serving as Chair and Co-Chair. Dr. Stow worked tirelessly to attract financial resources from the community to support students. She was also extraordinarily generous, establishing the Frances N. Christian Memorial Scholarship for Nursing students, the Col. Kenneth R. Stow U.S. Military Veterans Scholarship, and the Dr. Jo Frances Stow Scholarship for Public Health.
Read the latest news from Stockton online and follow us on Facebook, Twitter, YouTube, Instagram and Snapchat.