Perseverance, Optimism Define Class of 2021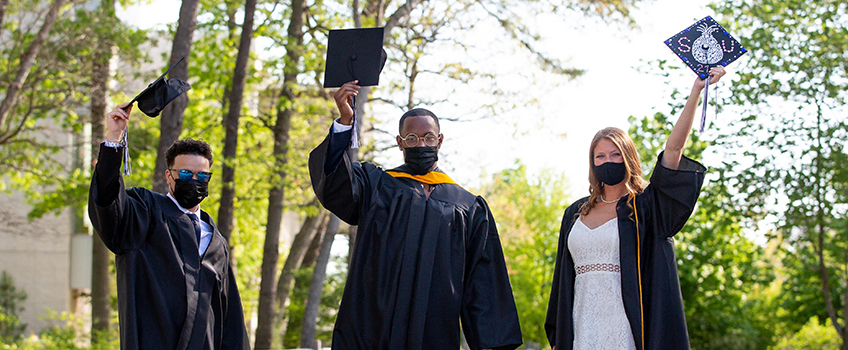 Galloway, N.J. – Perseverance, resilience and optimism are the themes of the Stockton University Commencement ceremonies which are being held on May 11-13, adhere to pandemic guidelines.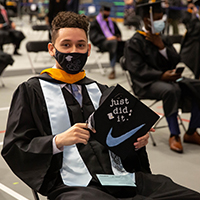 "In the last year you have experienced challenges in our world that have baffled minds and broken hearts," President Harvey Kesselman said. "But, to our amazement, these same challenges have sparked new ways of thinking and generated faith in causes bigger than ourselves."
He said he puts his hope and optimism in the graduates, and advise them to keep learning, and more importantly keep living.
"Don't get so caught up in making a living that you forget how to actually live," Kesselman said. "Because if this past year has taught us anything, it has taught us to take nothing for granted."
More than 2,600 students graduate from Stockton this week, many of them also having overcome struggles, and all of them having grappled with the COVID-19 pandemic.
More than 2,000 graduates are participating in the 12 COVID-19-safe ceremonies over three days in the Sports Center, with a few family members cheering them on in person, and others watching the livestream.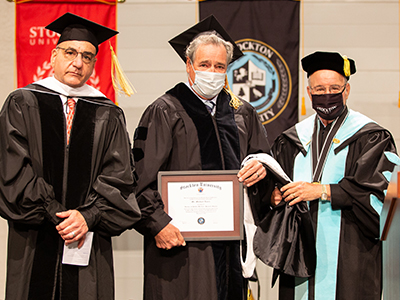 Area philanthropist and businessman Michael Azeez was awarded an honorary doctorate for his community work and support of Stockton.
"He has been an extraordinary partner to this institution," President Harvey Kesselman said. "Not only has he supported the Stockton University Foundation for more than 15 years, but he has led several philanthropic initiatives at Stockton, including the establishment of the Sam Azeez Museum of Woodbine Heritage."
In 2011 Azeez gifted the museum and $5 million toward its support to the university. He is also actively involved in the Sara and Sam Schoffer Holocaust Resource Center.
"Because of his efforts and partnership with this institution, Stockton can share the lessons of the Holocaust with our students and community to continue to honor, remember and educate," Kesselman said.
Emeritus status was awarded to several faculty members: Deborah Figart, Distinguished Professor of Economics; Diane Holtzman, Associate Professor of Business Studies, Marketing; Ellen Mutari, Professor of Economics; Sipra Pal, Associate Professor of Physics; Lisa Rosner, Distinguished Professor of History; Joseph Rubenstein, Professor of Anthropology; and Margaret Slusser, Professor of Health Sciences and former Dean of the School of Health Sciences.
Each ceremony featured graduates of a different school, and a designated student speaker.
CEREMONY 1: 9 a.m. May 11,School of Business
The National Anthem was sung by Joseph Sramaty, Class of 2015.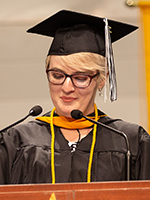 Brittany Barnett of Egg Harbor Township never imagined herself speaking at the Stockton University Commencement.
"As a child, I was diagnosed with autism and my parents were told I would never speak, fit in with others, nor be capable of caring for myself," said Barnett, who earned a B.S.in Business Studies with a concentration in finance.
With help from family and aides, Barnett learned to adjust to outside stimuli, socialize and make friends.
"But it wasn't until Stockton that I figured out who I was and what I wanted to do with my life," said Barnett, who has a summer job at Hard Rock Hotel and Casino in Atlantic City she hopes can lead to a permanent position.
"I never let anyone tell me what I can and cannot do, to the point I surprised even myself in beating the odds to have all the things I thought I'd never have," Barnett said. "I tell my story because I've seen others struggle and persevere: parents, working students, exchange students, people with health issues, heck, just professors trying to figure out how to use Zoom. But despite all of our differences and obstacles, we are here today with our loved ones and the memories of those we wish could be here."
CEREMONY 2: 11:30 a.m. May 11, School of Business
The National Anthem was performed on piano by Gracie Buondonno, an Applied Physics and Performing Arts student.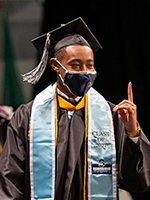 Tre'ron McBride of Glassboro, who received a B.S. in Business Studies was the student speaker. He encouraged everyone to thank someone who helped them during their collegiate journey. He thanked his mother, who raised him as a single parent.
"We did not accomplish this alone," McBride said. "This is an accomplishment that resulted from a joint effort that we have all be striving towards since the day we stepped on campus."

McBride recalled arriving on campus and feeling a bit overwhelmed by the assignment. He called his mom to complain, but persevered.
"The moral of the story is that I soon realized the importance of time management and how to deal with adversity," McBride said.
He is heading to Tulane University in New Orleans where he will work toward a master's degree in Business Administration. His goal is to become a company Chief Financial Officer.
"Our graduation should serve as a launching point," McBride said.
CEREMONY 3: 2 p.m. May 11, School of Business, School of Natural Sciences and Mathematics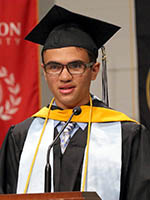 The National Anthem was performed by Taylor Buffa, a 2021 Performing Arts graduate.
Student speaker Ahmed Gawash recalled visiting Stockton as a high school student, and wondering about the "Mickey Mouse head" sculpture in front of the Unified Science Center I.
"You can imagine my dismay as a biology major to later realize the nature of the structure was not a Mickey Mouse head, but a water molecule," Gawash said.
"Just remember that some failure in life is inevitable. It is impossible to live without failing at something unless you live so cautiously that you might as well have not lived at all – in which case, you fail by default," Gawash said. "So set goals. Take risks. Do not be afraid to take the detours that pop up in life."
Gawash, of Howell Township, is heading to medical school at the Rowan School of Osteopathic Medicine.
CEREMONY 4: 4:30 p.m. p.m. May 11, School of Natural Sciences and Mathematics
National anthem performed by Steven Todd, '21 B.S. in Applied Physics and Mathematics.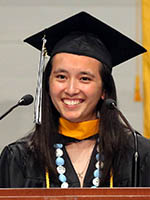 Student speaker Kathleen Ngo of Galloway Township connected the college experience to her major, Biochemistry and Molecular Biology.
"We all have different classes, jobs, hobbies and friends, which naturally created diversity, in all of its forms, because one thing I've learned is that the most pioneering discoveries have been the product of diverse minds collaborating on a single goal of making the world a better place," Ngo said. "Despite our different paths we likely share a few common themes along the way. We all build indispensable relationships with our helpers, or catalysts. These are the peers, faculty or family who guided us in our classes, were a shoulder to learn on and pushed us to be the best version of ourselves."
She advised the graduates to set ambitious goals and not be afraid to do the work to make once unrealistic goals more feasible.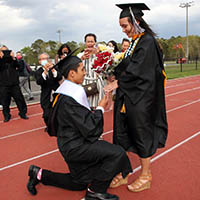 "Remember that true excellence is habitual. Next, find your passions. Be open minded to changing these over time, because I believe when you are truly passionate about something, your most prolific work will come naturally ... Be your own harshest critic, but also your best cheerleader."
After the ceremony, and surrounded by family, Ngo was surprised with a marriage proposal from classmate Daniel Do.
The two began dating more than five years ago as classmates at Absegami High School. Ngo is going to Northwestern for a doctorate in chemistry, and Do is going to Ohio State for a doctorate in food science. Do said it will be difficult to be apart.
"But you'll always be in my heart," he told Ngo.
CEREMONY 5: 9 a.m. May 12, School of Arts and Humanities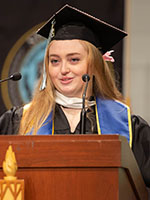 The National Anthem was performed by Taylor Buffa, a 2021 Performing Arts graduate.
Student speaker Kelly Burns, who received a B.A. in Literature, focused her words on the stories of our lives. "History might rightfully fixate on our resilience in completing college during a global pandemic," she said.
"While we reserve our gratification in accomplishing such a rare deed, we must keep in mind that the details that change history are not always the ones that make history. We too often do not pay enough attention to the small moments that make our stories worth reading," Burns said, reminding her classmates these experiences are the ones "that make the triumph of graduation that much more worthwhile."
The Brigantine resident will continue her role as a research fellow at the Alliance Heritage Center at Stockton.
CEREMONY 6: 11:30 a.m. May 12, School of Health Sciences
The National Anthem was sung by Joseph Sramaty, Class of 2015.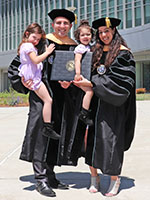 Shawn Denning, a member of the first graduating class of Doctor of Nursing Practice candidates, was the student speaker. Denning is a three-time graduate, having also earned his BSN and MSN at Stockton. He drew upon these experiences in the remarks he shared during the ceremony.
"As I stand before you today, about to graduate with my Doctor of Nursing Practice, I like to believe I left my mark on Stockton. But, in reality, Stockton left its mark on me," Denning said. "Like our society, health care is ever changing and if COVID has taught us anything, it is leadership and perseverance are more important than ever. Let us take our experiences from Stockton and become the change agents and leaders our professions and our society need to progress forward."
Denning, of Waretown, is an orthopedic nurse practitioner in Toms River. His wife, Kelsey, also earned her DNP.
CEREMONY 7: 2 p.m. May 12, School of Health Sciences
The National Anthem was performed by Joseph Sramaty, Class of 2015.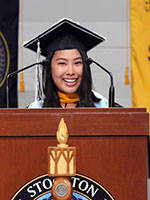 Student speaker Hannah Durning of Barnegat Township, who received a B.S. in Health Science, started at Stockton as a shy, timid freshman focused more on school work than her social life. However, she came to realize "as much as I loved learning about how the body functions in physiology, or that the mitochondria is the powerhouse of the cell, I learned that forming strong bonds is just as important in life as it is in chemistry."
Encouraging her peers to hold on to the best memories from college, she reassured them it was normal not to feel prepared for the next step. "The future is scary because we don't know where life will take us and any plan we have for ourselves could change with the snap of a finger, or, in a more real sense, the spread of a worldwide pandemic," Durning said.
"It's important to continue to persist and persevere through difficult times, find balance in our lives and remain true to ourselves. It's important to trust that our individual and unique experiences at Stockton have prepared us for our futures."
Durning will attend physician assistant school at Thomas Jefferson University.
CEREMONY 8: 4:30 p.m. May 12, School of Health Sciences
The National Anthem was sung by Joseph Sramaty, Class of 2015.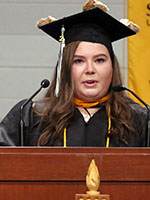 Madelyn Pepe, receiving her B.S. in Health Science, was the student speaker. She touched on the importance of pushing past fears, cultivating a support network and working together to make a positive impact on community health. "The key component I took away from my education at Stockton has been the value of teamwork," she said. "Something seemingly so simple yet has proven to be so critically important in my education."
"We must work efficiently, and effectively, to increase access to quality health care and end health disparities," said Pepe. "We must work together to improve our healthcare system. Most importantly, we must work together, not only help our future patients, but also each other. So, after we leave here today, I encourage you to thank the team of people that brought you to where you are sitting. Remember the team you found here at Stockton. And search for the team that you want to be a part of tomorrow, to leave a positive impact in your community."
Pepe, of Pitman, started her graduate education at Thomas Jefferson University last summer, where she will receive her M.S. in Physician Assistant Studies as part of Stockton's dual-degree BSHS/MSPA program.
CEREMONY 9: 9 a.m. May 13, School of Education and General Studies
The National Anthem was performed by Neil Aaronson, Professor of Physics.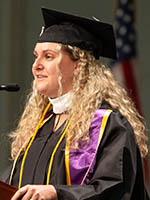 Abby Cohen of Galloway Township, who earned two degrees, a Bachelor of Arts in Teacher Education and Hospitality and Tourism Management, encouraged her fellow graduates to become leaders in overcoming inequality.
"Many of you are earning degrees in education and leadership - I challenge you all, take your moment to celebrate today, but do not turn a blind eye to inequality of any kind," Cohen said. "Young voices are not meant to be silenced. As we take the next steps in our educational and professional journeys, and step into leadership roles, it becomes our duty to foster a sense of inclusion, for the sole purpose of ensuring the success of diverse populations. It is up to us to help create spaces for people to engage in our world critically, to identify injustices, and to participate in the improvement of society."
I call on each one of you to encourage conversation, disagreement, and debate. Teach those around you how to engage in important and meaningful conversations in a healthy way, in a productive way. Help those around you become the most kind and informed global citizens they can be."
Cohen is moving to Alaska with her husband, who is in the Army. She is applying for jobs there and hopes to teach middle school social studies.
CEREMONY 10: 11:30 a.m. May 13, School of Social and Behavioral Sciences
The National Anthem was performed by Neil Aaronson, Professor of Physics.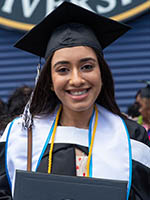 Student speaker Mariam Eskandar, Bachelor of Arts in Political Science talked about creating safe spaces and overcoming failure.
"The most valuable lesson that I will take with me is the importance of creating safe spaces," Eskandar said. "My time at Stockton was the first time that I got to decide and express who I am. Up until then, it felt like other people decided that for me. Whether it was my religion, immigration status, the language I spoke or didn't speak, and so on, I always felt confined by labels that I had no role in choosing.
But, she said Stockton felt different.
"It felt like the first place where I was celebrated and not merely tolerated," Eskandar said. "As we move on to the next stage of our lives, I hope that we all try to do the same - to create safe spaces, and see each other's humanity before any labels. If the past year has taught us anything, it is that it is on us to listen, learn, and elevate each other's voices."
Eskandar, of Egg Harbor Township, was a recipient of the 2020 Alan F. Arcuri Pre-Law Award and plans to attend law school in the fall.
CEREMONY 11: 2 p.m. May 13, School of Social and Behavioral Sciences
The National Anthem was performed by Associate Professor of Music Chris DiSanto.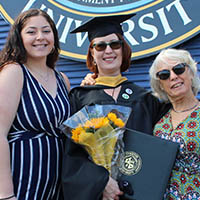 Brittany Farrell, '07, of Mays Landing, who earned a Master of Social Work said Stockton is part of her family history. Her parents met at Stockton as part of the first "Mayflower" class that started at the old Mayflower Hotel in Fall 1971. Her younger brother graduated from Stockton, and her own daughter is an undergraduate student here.
Farrell admitted when she started the MSW Program she was nervous. But the program gave her a renewed sense of purpose and a fresh perspective on ways in which to improve child welfare practice. She currently works as a supervisor with the New Jersey Division of Child Protection and Permanency.
"While change may be something that many shy away from, remember that change is not only inevitable, it is necessary for growth," Farrell said. "It begins with how we treat ourselves, our colleagues, and those for whom we serve. As you're working to change the world, remember to find balance in your life, and take care of yourselves just as well as you take care of others."
She thanked her professors and acknowledged Diane Falk for her efforts and vision in creating the social work programs "that had a ripple effect that positively impacted students, Stockton, the field of child welfare, the communities we serve, and myself."
CEREMONY 12: 4:30 p.m. May 13, School of Social and Behavioral Sciences
The National Anthem was performed by Joseph Sramarty.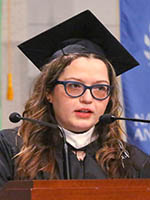 Kathleen Connelly, a member of the first graduating class of the Master of Arts in Counseling, recalled her very first lecture in graduate school when Professor and Director of Counseling Sara Martino talked about "becoming" and the idea that one is never the same as they were before.
"The past two years have not unfolded the way we pictured that first day in Dr. Martino's class," Connelly said. "Our plans changed as the world faced a pandemic. We have all spent more hours on Zoom than we ever could have imagined. To get here today, we found supportive people to help us through every step of the way, especially our professors who wanted us to succeed."
"The time we spent at Stockton has challenged us and pushed us past what we thought we could achieve," Connelly said. We are graduates because of the experiences we had, and the obstacles we faced. We have been shaped by the people who stayed by our side and guided us through."
"We will continue our journey to become ourselves, " she concluded, "taking the memories and lessons with us, as we go out to mold the world the way that Stockton has molded us."
View photo galleries from each day's ceremonies on Flickr.
# # #
Contact:
Diane D'Amico
Director of News and Media Relations
Galloway, N.J. 08205
Diane.D'Amico@stockton.edu
609-652-4593
609-412-8069
stockton.edu/media
Stockton University