Four Nurse Practitioners Earn Doctoral Degrees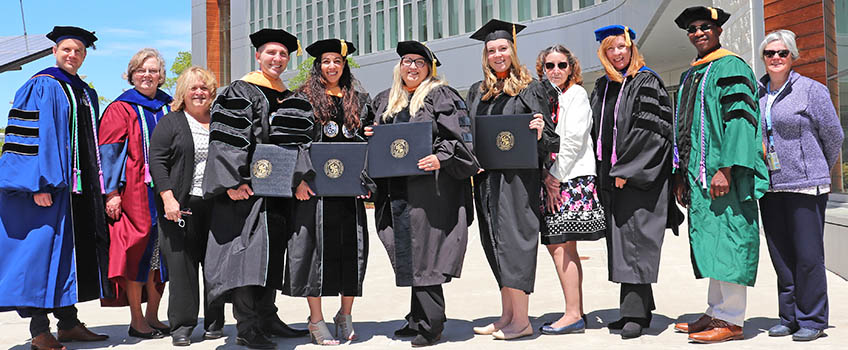 Galloway, N.J. _ As nurse practitioners, Holly Ann Donald, Lisa Mason, and Shawn and Kelsey Denning are used to patients asking if they are doctors.
They can now say yes.
The four are the first graduates of the Stockton University Doctor of Nursing Practice program. They received their diplomas at the May 12 Commencement.
The Doctor of Nursing Practice (DNP) program is geared toward advanced practice nurses such as nurse practitioners, certified nurse midwives, certified registered nurse anesthetists, and clinical nurse specialists, who are already prepared in master's level programs.
The master's level programs have been steadily increasing requirements to meet the complexities of the health care system and diverse populations.
Donald, a Little Egg Harbor resident who works for AtlantiCare, explained that nurse practitioners write prescriptions and diagnose patients without the same level of oversight from a medical doctor. Nurse practitioners work in collaboration with physicians.
"We are in a primary care role. I always wanted to get this," Donald said. "It breaks a barrier and the care is more inclusive and more personal."
All four said when they first began as nurse practitioners, patients did not know much about the role. It took time to develop trust. But, they said, as more patients see nurse practitioners, they appreciate the time they take to get to know their patients.
"The field is growing," said Mason, a Mays Landing resident who works at AtlantiCare in Somers Point. She said she also wants the option to be able to teach in the future.
Kelsey Denning enrolled because her husband, Shawn, wanted to do it and suggested they do it together. The couple, from Waretown, work in different specialties. Kelsey practices in obstetrics and gynecology and Shawn is in orthopedics.
"It just changes the dynamic once you have the doctorate," Shawn said. "Because patients would ask."
All four had final projects that relate to their work and address a healthcare issue in their field.
Donald's project involved going to the homes of patients with congestive heart failure to see if that would reduce their rate of return to the hospital.
"Many don't have transportation, or feel too sick to come to the office," Donald said. "It's been very promising. Patients will ask 'when are you coming back?'"
Mason is working with obese patients, Kelsey Denning improved HPV vaccination rates in young women, and Shawn Denning developed a program to improve osteoporosis screening and treatment to reduce fractures in patients in long-term care facilities.
"They were all very high-level evidenced based projects," Padden-Denmead said.
All four graduates said the fact that they are already working allowed them to also have input into the program as the first cohort and working professionals. Mason, Donald, and Shawn Denning also earned their bachelor and master's degrees in nursing together at Stockton.
The graduates said their nurse practitioner role was a shift from a nursing position where you take direction to one where you are the one in charge. The DNP role is at an even higher level with the focus of taking charge and using current evidence to improve practice with the ultimate goal of improving patient outcomes.
"You have to be confident in what you know," Kelsey Denning said.
The program is open both to students who already have the Master of Science in Nursing and to those with a Bachelor of Science in Nursing. The program is designed for working nurses, with a hybrid class approach that includes both online and in-person classes and the option to attend part-time.
Program coordinator Mary Padden-Denmead said they began the program because the trend is moving to requiring nurse practitioners to have a doctoral level degree.
"The profession now wants that advanced degree and this opens more doors for the graduates," Padden-Denmead said.
More information about the Doctor of Nursing Practice program is at: https://stockton.edu/graduate/doctor_nursing_practice.html
# # #
Contact:
Diane D'Amico
Director of News and Media Relations
Galloway, N.J. 08205
Diane.D'Amico@stockton.edu
609-652-4593
609-412-8069
stockton.edu/media
Stockton University