First Masters in Counseling Cohort Graduates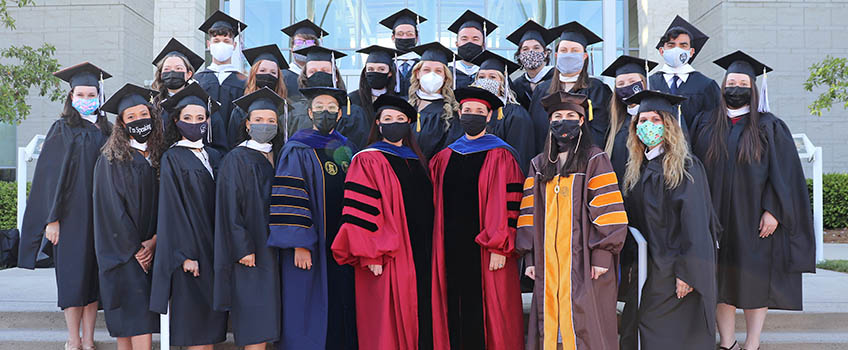 Galloway, N.J. – Abe Velasquez wants to help underserved communities in his hometown of Atlantic City.
Joseph Black of Mullica Township is a Marine Corps veteran who served two deployments to Afghanistan and came home realizing the need for more mental health services for veterans in South Jersey.
Both are in the first cohort of 23 graduates in the Master of Arts in Counseling program at Stockton University who received their degrees on May 13.
Stockton University's two-year Master of Arts in Counseling program is designed to educate students about best practices in mental health and human services and train them in the skills necessary to work with clients in a variety of settings, including hospitals, social service agencies, residential treatment centers, community mental health centers, and other organizations.
The program is based in Humanistic or Rogerian counseling. Graduates will be qualified to take the National Counselor Exam administered by the National Board of Certified Counselors. After passing the exam and doing 4,500 hours of supervised experience, graduates can apply to be a Licensed Professional Counselor in New Jersey.
"Throughout our program, we encourage students to go beyond this and choose their own theoretical orientation as well, but we provide them with a strong counseling foundation," said Sara Martino, program coordinator.
The students meet at Stockton's Kramer Hall in Hammonton and also do internships in community organizations, drug and alcohol treatment centers, private practices and school-based sites.
The graduates said they bonded as a class and grew personally as well as professionally.
"My experience in this program was absolutely life changing," said Jazmin Torres of Somers Point, who was looking for a program that would meet in person and was close to home. "I cannot put into words how much I've grown in the past two years both as a counselor and a person. I have become someone that my younger self would never thought possible and it is almost entirely due to this program."
Ashley Burns earned her psychology degree from Stockton in 2019, then enrolled in the counseling program because she was impressed with the passion and care of the faculty.
"I knew if I joined this program I would gain exceptional resources, professors I can trust and I could be a part of something bigger than myself being in the first cohort," Burns said. "After completing this program I feel as though I am the counselor I have always wanted to be."
Black said the program was inspirational as well as educational, and he has developed a more empathetic perspective as a result.
"Mental disorders and societal struggles do not affect one type of person," Black said. "People of all races, ethnicities, religions, and genders experience trauma, stress, and emotional dysregulation. I have learned the importance of multicultural counseling in a diverse community. I would recommend this course to anyone who feels they want to help those who hurt."
Velasquez said he would recommend the program to anyone "with genuine intentions to create change."
"The professors are incredibly insightful and help you develop into a promising future therapist," Velasquez said.
The members of the cohort for the Master of Arts in Counseling are: Jordan Aughenbaugh, Madeline Barrows, Marina Bednarek, Joseph Black, Nicole Bongiovanni, Ashley Burns, Dylan Carney, Caitlyn Cohen, Kathleen Connelly, Holly Dallett, Brianna Darmanovic, Julia Gallo, Kayla Heline, Jennifer Hickok, Haley McFadden, Luke Morsa, Adam Munsick, Allan Palush Jr., Gabriella Passamante, Heather Rothman, Louis Santos, Jazmin Torres and Abraham Velasquez.
More information about the program is at stockton.edu/graduate/counseling or contact Sara Martino, at martinos@stockton.edu.

# # #
Contact:
Diane D'Amico
Director of News and Media Relations
Galloway, N.J. 08205
Diane.D'Amico@stockton.edu
609-652-4593
609-412-8069
stockton.edu/media
Stockton University