Essential Learning Outcomes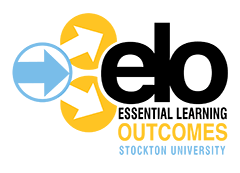 Stockton University's 10 Essential Learning Outcomes (ELOs) combine Stockton's flexible and Stockton's ELO logo distinctive liberal arts education with real-world, practical skills. They guide all Stockton University students from first-year through graduation to the intellectual and marketable talents needed to prepare for personal and professional success in the 21st century. As a set of values shared by everyone in the campus community, students encounter opportunities to develop ELOs in all Stockton majors, career preparation, professional experiences both on and off-campus, and academic as well as social activities.
Program excellence
Students will:
Demonstrate proficiency in the continuum of skills from basic knowledge to advanced synthesis and evaluation of concepts in chemistry, including fundamental theories, methods and multidisciplinary applications.
Critical thinking
Students will:
Be able to analyze data, make interpretations, and draw meaningful conclusions, even if those conclusions are contrary to what was expected.
Develop the reasoning skills to construct valid scientific arguments.
Demonstrate sound problem solving skills applied to both qualitative and quantitative scenarios .
Quantitative reasoning
Students will:
Apply mathematical expertise to analyze and solve real world and theoretical problems.
Information literacy
Students will:
Be able to locate, retrieve, and evaluate information from different sources.
Understand how to include proper attribution of sources in communication.
Communication
Students will:
Produce scientific communications such as posters, oral presentations, and technical papers, suitable for presentation at a scientific forum.