Stockton Receives Record $42.18 Million from State Budget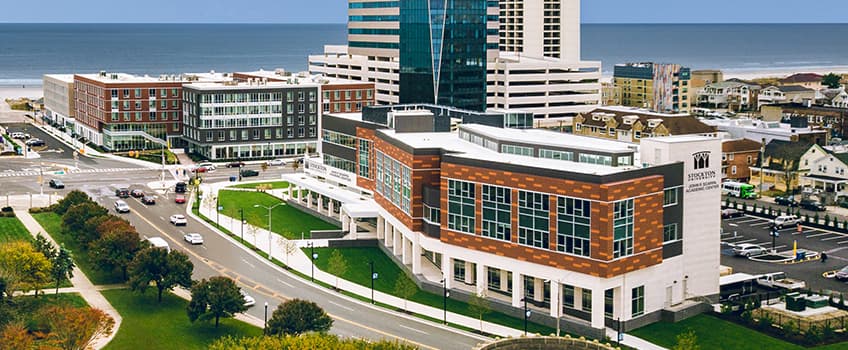 Galloway, N.J. — Stockton University will receive a record $42.18 million in state aid from the fiscal year 2024 budget approved by the Legislature and signed by Gov. Phil Murphy last week.
The funding is a 17.7% increase from 2023's $35.8 million and a 129% increase over the amount Stockton received five years ago, $18.4 million.
"This additional funding will go a long way toward helping Stockton continue to fulfill its students-first mission of developing engaged and effective citizens," said Stockton President Joe Bertolino. "It will allow us to mitigate the cost of higher education and provide more opportunities for first-generation and economically disadvantaged students."
The funding includes $4.6 million for Stockton's Atlantic City campus, $250,000 for the newly renamed Dr. Elizabeth Elmore Center for Economic Development and Financial Literacy and $1 million to support continuing planning for the future of the Atlantic City campus.
The budget also includes Stockton's outcomes-based allocation of $7.9 million — a $5.1 million increase over last year positively reflecting upon the university's initiatives to improve outcomes for underrepresented and economically disadvantaged students, among other criteria.
"This could not have been achieved without the support of our budget resolution sponsors, state Sen. Troy Singleton and Assemblywoman Carol Murphy. We are also grateful for the advocacy of Sen. Vince Polistina, Assemblywoman Claire Swift and Assemblyman Don Guardian who voted in support of the budget containing the Stockton appropriations, and Assembly Majority Leader Louis Greenwald, who shepherded the budget resolution through the Assembly," Bertolino added.
"We applaud Senate President Nick Scutari and Assembly Speaker Craig Coughlin for including Stockton's appropriations in the budget legislation, and Gov. Phil Murphy who signed the budget into law," Bertolino said.
-- Story by Mark Melhorn
# # #
Media contacts:
Stacey Clapp
Director of Strategic Communications
Stacey.Clapp@stockton.edu
609-626-3645
609-412-8069
stockton.edu/media


Mark Melhorn
Associate Director of News and Media Relations
Mark.Melhorn@stockton.edu
609-652-4593
609-569-6026
stockton.edu/media


Stockton University
Stockton University is ranked among the top public universities in the nation. Our more than 9,000 students can choose to live and learn on the 1,600-acre wooded main campus in the Pinelands National Reserve in South Jersey and at our coastal residential campus just steps from the beach and Boardwalk in Atlantic City. The university offers more than 160 undergraduate and graduate programs. Learn more at stockton.edu.