Stockton Included in 2023 U.S. News Top Universities List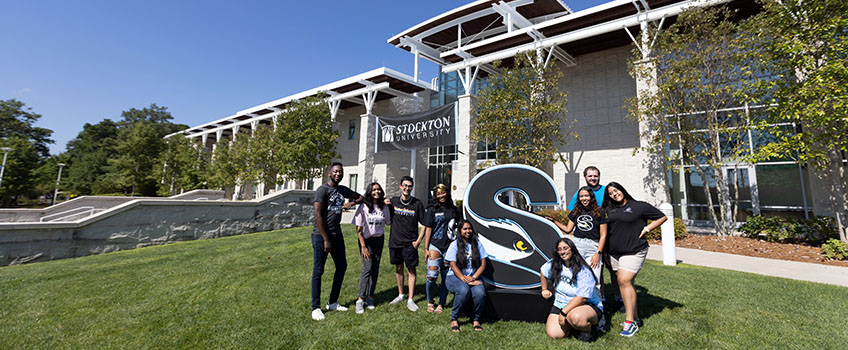 Galloway, N.J. – Stockton University is among the Top 100 Public National Universities, according to the 2023 U.S. News & World Report College Rankings released today.
Stockton ranked 91 out of 227 public colleges and universities in the nation and No. 182 of 440 in the Best National Universities ranking. Stockton is ranked among institutions like Princeton University, Temple University, Columbia University and Florida State University.
Previously, Stockton ranked 7th in the Best Regional Universities-North but is now included in the national rankings for 2023 due to its broad range degree programs and increase in the number of doctoral degrees conferred.
"We have kept our promise to make a Stockton degree more valuable each and every day," President Harvey Kesselman said.
Kesselman said Stockton prides itself on providing a quality education that is both affordable and accessible to a diverse population of students.
The U.S. News and World Report rankings reflect Stockton's growth in the natural sciences and health sciences since 2015. The university has also geographically expanded with the opening of a new Atlantic City campus in 2018 and a second residence hall opening in 2023.
We have kept our promise to make a Stockton degree more valuable each and every day.
Kesselman cited the Stockton Promise and Garden State Guarantee initiatives that help lower-income students receive free tuition and fees, and enhanced student services programs that help students take advantage of all the opportunities the university offers outside of the classroom, including internships, research and travel.
These initiatives led to a 54% jump in applications and 16% increase in new student enrollment this fall, making it one of Stockton's largest first-year student classes ever.
"I'm very excited that as part of this wonderful growth, our first-year student enrollment this fall is the most diverse in Stockton's history, with 46% of students identifying as minority or multi-race," Kesselman said. "We will open a Multicultural Center in the next few months to ensure all of our students have a sense of belonging and feel supported within the Stockton community."
Stockton continues to be recognized as one of the Best for Veterans National Universities and Best Value National Universities by U.S. News & World Report. It was also among the top 75 national universities for Social Mobility, which is based on enrolling and graduating low-income students.
Stockton was included this year in Washington Monthly's 2022 National University Rankings, The Princeton Review's "Best Regional Colleges," the Forbes "America's Top Colleges" listing, Military Times' "Best for Vets: Colleges," and Money magazine's "Best Colleges for Your Money" 2022 edition
The university's two campuses, in the Pinelands National Reserve and on the Atlantic City Boardwalk, offer students opportunities to live and learn in two distinct environments.
Stockton has an Office of Military and Veterans Services, veterans lounge and active Student Veterans Organization, a Women's Gender and Sexuality Center, and more than 200 clubs and organizations that reflect the diverse interests of the student body.
# # #
Media contact:
Stacey Clapp
Director of Strategic Communications
Galloway, N.J. 08205
Stacey.Clapp@stockton.edu
609-626-3645
609-412-8069
stockton.edu/media

--Photo by Susan Allen