Spencer's and Spirit Halloween Donate Additional $250,000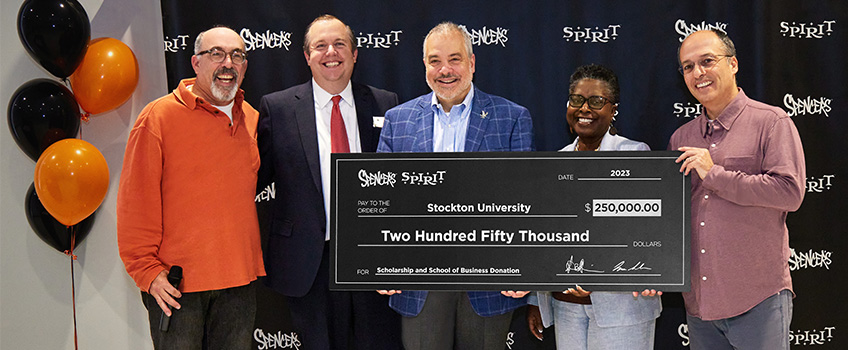 Galloway, N.J. — Spencer's and Spirit Halloween continued its generous support of the Stockton University Foundation on Oct. 25 with a $250,000 donation for the second year in a row.
Announcing the new gift at its headquarters in Egg Harbor Township, CEO Steven Silverstein talked about the close ties between his business and the university — 17% of the full-time home office workforce of 665 are Stockton alumni and about 22% of the company's interns are Stockton students.
"We are very proud and pleased to support Stockton and the School of Business for the second year in a row," he said to a gathering of employees who are Stockton alumni. "But our link to Stockton goes way, way deeper than that. Money is great, and it certainly goes a long way, and I'm sure they are appreciative, but our involvement and engagement will continue to grow. Clearly you guys are very important to us as a resource and a place of learning."
The new donation will go toward three different initiatives at Stockton:
$100,000 to continue the existing scholarship fund for Computer Science and Marketing students
$100,000 to support internships through Stockton's School of Business
$50,000 to support the creation of new programs in the School of Business.
The third initiative is the one that Warren Kleinsmith, the dean of the School of Business, is most excited about.
"Of course, I'm very pleased and greatly appreciate their continued support," Kleinsmith said. "But they are not only offering internships, they are supporting new curriculum development, such as courses in artificial intelligence, cybersecurity and our masters programs. It's a very strategic partnership, and we hope to continue to grow it."
Stockton President Joe Bertolino also thanked Spencer's and Spirit Halloween for becoming more of an integral part of the School of Business beyond just offering valuable internships.
"Members of your team have been visiting some of our information technology and business classes to speak to students about not just the business end but everything from cybersecurity to managing a large organization," he said. "My hope is that we will continue to have your folks come and work and train our students — and our students will continue to have an opportunity to come here and work."
One of the students who has benefitted from the partnership is Maria Stroraci, a Communication Studies major with a concentration in Public Relations and Advertising. She began interning with Spencer's and Spirit Halloween in June for the summer, and the company offered her a temporary job to keep working during the school year.
"I love the company. One of the things that really drew me was their Spirit of Children program," said the senior from Pemberton Township. "They partner with over 150 hospitals across North America to help make hospitals less scary for kids and their families through support of Child Life departments. It has such a powerful impact within local communities."
Stroraci has worked as a public relations assistant — helping out with media relations when new stores open and helping to identify the top Halloween trends for 2023.
"The internship helped me realize that I want to do consumer relations rather than governmental relations. Before I came to Spirit, I really wanted to go to Washington, D.C.," she said. "But I just love looking at different trends and human behavior."
She was thrilled that the company she works for is continuing to support the university she's attending.
"It's awesome. It's showing that they are investing in the community. They want to grow," Storaci said, adding that Spencer's and Spirit Halloween are building an 81,000-square-foot addition next to their headquarters. "The company continues to create a fostering environment in Atlantic County through local partnerships, like the one it has with Stockton."
The $250,000 gift was also used by the Stockton Foundation as a way to challenge Stockton alumni and the community to contribute during Stockton's annual day of giving, Ospreys Give. Dan Nugent, executive director of the Foundation, said this year's day broke a record with more than 1,100 donors.
"A lot of them were inspired by your leadership and your support, so we want to thank you for that," Nugent said to the Spencer's and Spirit Halloween employees. "Thank you for being there to help throughout the event. It really increased the spirit on campus."
The Stockton University Foundation awards more than $1 million annually to over 700 students.
-- Story by Mark Melhorn, photo provided by Spencer's and Spirit Halloween