High School Esports Students Visit Campus Gaming Facility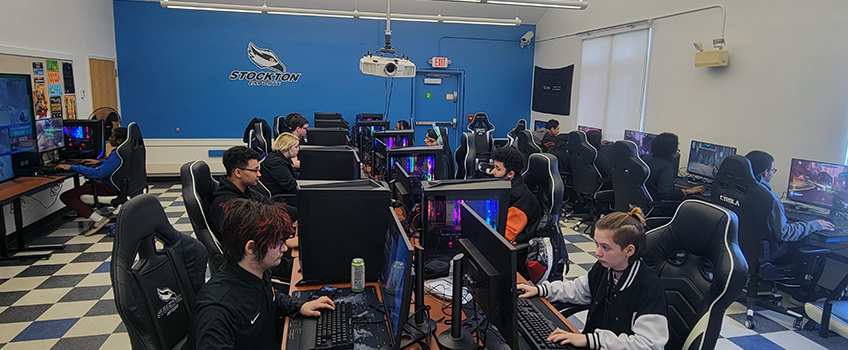 Galloway, N.J. — Going to college hasn't really been on Keyoni Benjamin's mind.
The Middle Township High School senior said she was perfectly content graduating and just getting a job. But that changed on March 6 after visiting Stockton University's esports facility.
"It's really cool here. I think I might go," said the 18-year-old from Vineland who loves playing Overwatch. "At first, I was like I don't really want to go to college and just get a job. But after looking around the campus and seeing the esports team, I think I might come here."
Stockton esports supporters hope Benjamin is the first of many students who see the university as not just a great place to play video games and compete in events, but also to take classes leading to a possible degree or a career in the growing field.
286M
global esports audience by 2024
Stockton hosted 28 kids from Middle Township's esports team, including those taking the university's new dual-credit Introduction to Esports class. The students were given a tour of Stockton's gaming lab and provided with lunch where advisors spoke about the expected launch this fall of the university's new Bachelor of Science in Esports Management degree.
"One of the things we talked about was the size of the industry and the wide variety of opportunities that are available," said Jennifer Aarons, a teaching specialist in Stockton's Hospitality, Tourism and Event Management program.
Aarons said the global esports audience is expected to reach 286 million enthusiasts by 2024 with an additional 291.6 million occasional viewers. She also mentioned that global esports revenue is expected to grow to $1.6 billion by 2024.
The students played games in Stockton's dedicated esports facility, which opened in 2019. But during the tour, Aarons and Demetrios Roubos, Stockton's information security officer and esports program manager, also presented opportunities to learn about the broadcast and technological aspects of streaming esports events and how to create live content with video, voice and in-game analysis.
"The students that came in participated in a tournament either as a player in the game or as shoutcasters or those who comment on the matches," Aarons said. "We also had some students working on the engineering side — making sure the streaming feed was good.
"We went through all the different opportunities within the whole esports ecosystem that they can potentially get jobs in."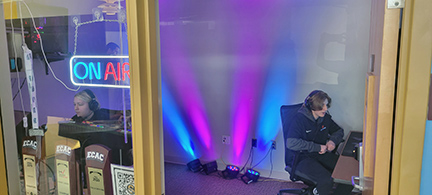 Middle Township High School students get a chance to not just play games put serve as shoutcasters or commentators for the games their fellow students were playing.
The Middle Township teachers and coaches were thrilled their students got to see esports at "the next level."
"It's good for them to see there are opportunities where you can get into esports and not just the game play," said Ryan Freyer, who teaches an esports class at Middle. "Now, they've realized it's not just playing games, but there's a whole industry around it. It's good to get in at the ground level because it's something that's developing."
The event also provided the high school students with a chance to visit a college campus, something that many haven't ever done, said Middle Esports Coach Christopher Castor.
"Several students that we brought today would never have visited a college campus," he said. "Without this program, they may not have the opportunity to ever attend college. This is a passion for them. This opens their eyes. This brought students to higher education for the first time. That's important to me."
For senior Robert Benner, the tour completely changed his opinion of Stockton.
"They are supporting this program, which is great," said the 17-year-old from Cape May Court House. "Having it be a major here is awesome. I'm very passionate about esports and having it be my future job is just awesome."
$1.6B
global esports revenue by 2024
Middle Township is the first school Stockton has partnered with for a dual-credit esports course. Aarons said the university is working with other local high schools, including Atlantic County Institute of Technology, Ocean City and Shore Regional to develop more programs.
"We want to get kids to come to Stockton," Aarons said. "Of the students here today, seven of them raised their hand saying they would be interested in a career in esports. That's just a small portion of the potential that we have."
Castor was definitely excited about his school's partnership with Stockton and the clout it could bring for both schools.
"I can't tell you how many kids I heard say, 'I want to go here,' in the last 20 minutes," he said. "They are amazed that their passion is a legitimate career."
— Story by Mark Melhorn, photos by Jennifer Aarons