AC Chamber Honors Stockton's LIGHT with Tourism Award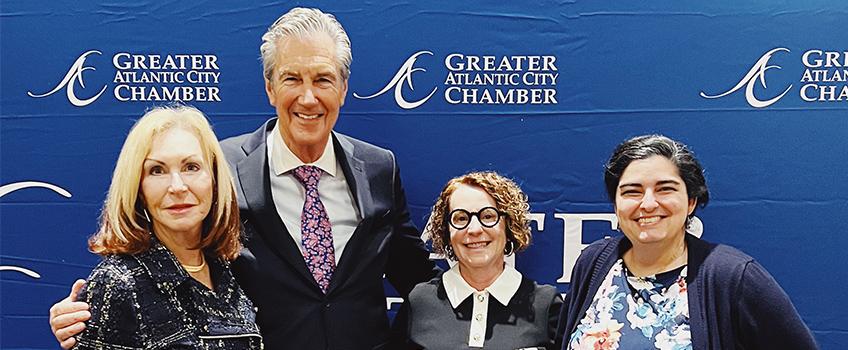 Galloway, N.J. — The Lloyd D. Levenson Institute of Gaming, Hospitality and Tourism (LIGHT) at the School of Business at Stockton University was honored Thursday night by the Greater Atlantic City Chamber at its 2023 Business Excellence Awards.
LIGHT received the Tourism Excellence award during the event at Seaview, A Dolce Resort in Galloway Township. The annual event celebrates the organizations and individuals that are committed to improving Atlantic County.
"LIGHT is a tremendous resource for the statewide tourism industry. They are a critical entity to our region through their research, accessibility, and data that help us forecast and prepare for the future of the industry," said AC Chamber President Michael Chait. "It was a privilege to recognize them with the Tourism Excellence Award at the Greater Atlantic City Chamber's Business Excellence Awards."
LIGHT Faculty Director Jane Bokunewicz said the institute is honored to be recognized by the chamber.
"Sarah Grady, the assistant director of LIGHT, and I work very hard to provide the gaming, hospitality, and tourism industries with expert information to inform sound decision making and a forum for public policy discussion," she said. "This award acknowledges that our research, publications, and events are impactful and contribute to the economic vitality of the region.
"We are grateful for the support of Stockton University, the School of Business, our Advisory Board and our benefactor and founder of the institute, Lloyd D. Levenson."
LIGHT provides a forum for public policy discussions regarding the gaming, hospitality and tourism industries in New Jersey. The institute's activities in support of gaming, hospitality and tourism include professional training and educational opportunities, industry reports and newsletters, research and the annual Jersey Shorecast outlook panel discussion.
-- Story by Mark Melhorn