Daughters of Holocaust Survivors to Speak at Program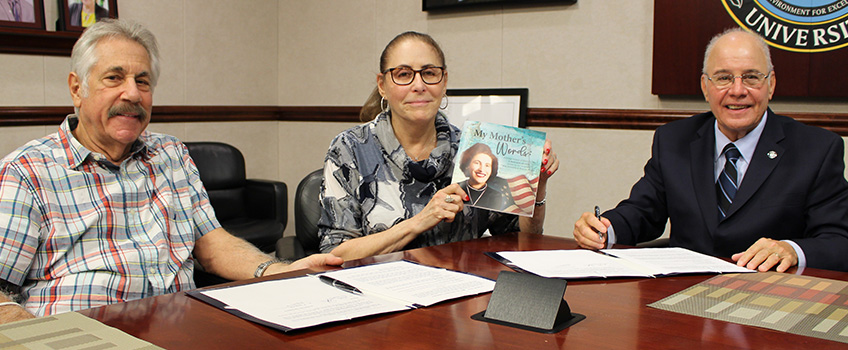 Mays Landing, N.J. — Atlantic Cape Community College and Stockton University will present the 40th annual Holocaust Awareness Program on April 18.
This year's free event, which is designed to bring awareness to the Holocaust's impact on the local community, will feature a dialogue with Linwood sisters Rita Stromfeld and Blanche Powell, whose parents were Holocaust survivors, about their book "My Mother's Words."
Stromfeld and Powell will be interviewed by Peter Murphy of Murphy Writing of Stockton University about the book, which is a loving memoir of their mother Helen Fassler. Fassler and her husband, Murray, were Holocaust survivors from Poland who emigrated to New York City after World War II. The book comprises a series of short anecdotal stories of lessons learned by surviving the Holocaust and coming to America.
The in-person program will be held from 12:30 to 1:30 p.m. on April 18 at Atlantic Cape Community College, 5100 Black Horse Pike in Mays Landing in the Student Center – G Building. The program is open to the public and designed for educators, community members and college and university students from both schools. A question-and-answer session will follow the dialogue.
For more information, contact the Sara and Sam Schoffer Holocaust Resource Center at 609-652-4699.
# # #
Media contacts:
Stacey Clapp
Director of Strategic Communications
Stacey.Clapp@stockton.edu
609-626-3645
609-412-8069
stockton.edu/media


Mark Melhorn
Associate Director of News and Media Relations
Mark.Melhorn@stockton.edu
609-652-4593
609-569-6026
stockton.edu/media


Stockton University
Stockton University is ranked among the top public universities in the nation. Our more than 9,000 students can choose to live and learn on the 1,600-acre wooded main campus in the Pinelands National Reserve in South Jersey and at our coastal residential campus just steps from the beach and Boardwalk in Atlantic City. The university offers more than 160 undergraduate and graduate programs. Learn more at stockton.edu.
Atlantic Cape Community College
Atlantic Cape is a comprehensive two-year community college serving the residents of Atlantic and Cape May counties. The college offers over 40 career, transfer and workforce development programs to more than 8,000 students annually at three campuses in New Jersey: Atlantic City, Cape May Court House and Mays Landing. Visit atlantic.edu for more information.