Gilchrist Urges Students to Move Forward Fearlessly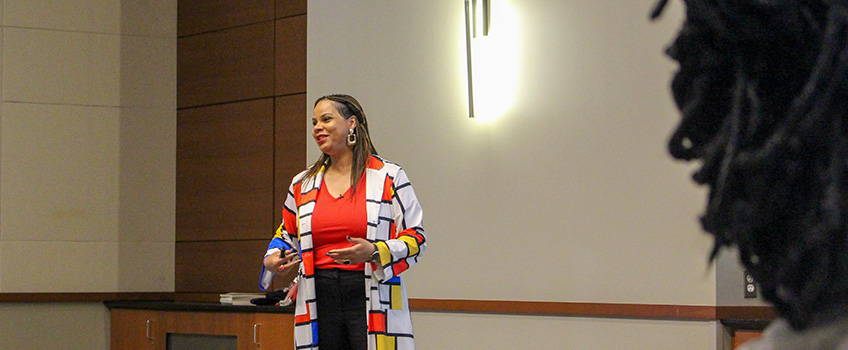 Galloway, N.J. – What's the first thing that comes to mind when you hear, "WTF?"
Well, for motivational speaker Erika Gilchrist, it's her brand and the mantra that she created to empower herself and others: women thriving fearlessly.
The fearlessness and ease that Gilchrist exudes were palpable – the students, staff and faculty who came to listen to her story in the Campus Center Board of Trustees Room on March 20 were enthralled with her confident presence.
"Erika came out, and she helped everybody feel more comfortable and empowered from being her authentic self," Sean Trin, a Finance major who attended the program, said. "She got everybody laughing and that really set the tone for the rest of the presentation."
The presentation, "Moving Forward Fearlessly," was the second part of the power-based personal violence (PBPV) awareness series created by Tierra Houston of the Women's Gender & Sexuality Center (WGSC).
In her talk, Gilchrist began her story with her early years of struggle: she was orphaned by 3 years old, sexually assaulted and abused while under the care of her grandparents, suffered from houselessness and domestic abuse at the hands of two partners and even survived a suicide attempt.
It was after waking up from attempting to take her own life that she had the emotional revelation that ended up saving her life.
"Y'all, I was out of here," Gilchrist explained. "I had mentally and emotionally said goodbye to my family and everything – I was done. But when I came to, I said to myself, 'I don't want to do that again.' My life actually started that day. When I came to and my head lifted, only one word came to my mind: 'unstoppable.' That moment is when the unstoppable woman was born, and I had a lot of work to do."
And work she did: Gilchrist has since become an award-winning keynote speaker, author of 13 books, and owner of Chicago's largest women's business expo (aptly titled the WTF Expo). It was through sharing her story that she was able to find her purpose: help others who experienced personal traumas with PBPV to move from fear to growth while also allowing themselves grace.
"Things you have no control over can completely derail even the best-laid plans," Gilchrist said, revealing that COVID-19's impact on her business made her want to revert back to what's stable and comfortable in her life. However, she also reveals that the need for comfort is "human nature."
"So, when that happens, don't come down on yourself," Gilchrist said. "I'm asking a personal favor: do not do that. Instead, be gentle with yourself and forgive yourself. You're not wrong or falling behind. Some of you, right now, are coming down hard on yourselves, and when you do that, you're opening yourself up to becoming vulnerable, and it'll be easier to find yourselves in (PBPV) situations."
That part of the presentation spoke to Criminal Justice major Tamisha Bruce, who was glad that she came to the program despite feeling tired from work. Bruce is looking forward to more advice from Gilchrist, as she won a free copy of one of her bestselling books "If You Leave… I Will Kill You!: Getting Off the Beaten Path of Domestic Violence," shortly after the presentation.
"I really feel empowered, inspired, motivated and even more confident with my life," Bruce said. "I feel like there's a lot of work that I can do to grow and change as a person."
According to Gilchrist, that work involves exploring opportunities to plant oneself in bigger spaces and seeing your goals for yourself, which she explained with the story of Florence Chadwick, an American swimmer known for long-distance open water swimming.
Chadwick attempted to swim 26 miles – from Catalina Island to the coast of California – in the Pacific Ocean. As she swam, a deep fog set in which made it impossible for her to see the coastline. Weary from the 15-hour swim, she asked to discontinue and join one of the boats tasked with watching for sharks. When she reached the shore, she was immediately asked why she stopped as she had only been 0.75 miles away from the shore.
"She looked out into that water, with all that fog, and she said, 'If I would have seen the shoreline, I would've made it,'" Gilchrist said. "The goals that you set for yourself: you have to see them for yourself. No one else can see them for you. Whether or not someone else sees them is completely irrelevant. As long as you see them for yourself, that is it! Once you see them, you don't care how cold the water gets or how bad the fog is; you'll just keep swimming."
"She did an amazing job," Bruce said. "This was a great program, and I'm excited for (the WGSC) to keep it up!"
"I would definitely pop out to another presentation with (Erika)," Trin said. "Or, if the WGSC hosts another one like this."
The WGSC will, in fact, host another presentation like Gilchrist's: Ray Rice is slated for an "Honest Conversation" on April 5. Rice will be talking with the Stockton community about how losing his NFL career following a publicized incident of domestic abuse has made him take accountability for his actions and turn his life around.
– Story and photos by Loukaia Taylor