Stockton, MTHS Agreement Offers Credits in Esports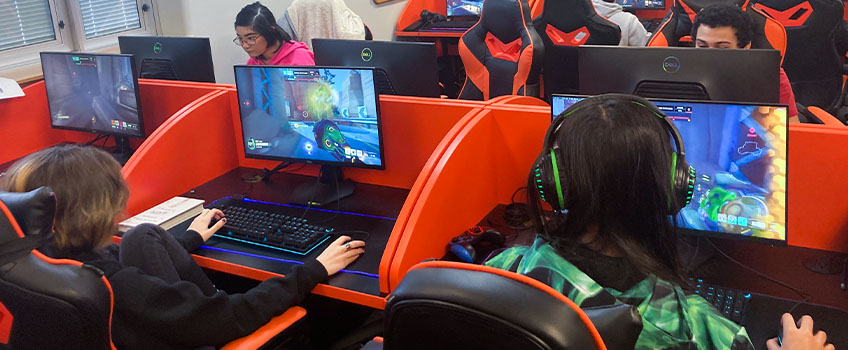 Galloway, N.J. — Stockton University is offering college credit to Middle Township High School (MTHS) students interested in computer gaming through a new agreement.
The new dual credit offering, Introduction to Esports, introduces students to the history, development and current state of esports. Offered through Stockton's School of Business, the course discusses the interconnectedness of esports with traditional hospitality centers, identifies the basic operational aspects of live esports tournaments and reviews career opportunities in the esports and hospitality industry.
"There's a huge connection between esports and hospitality, tourism and event management. Students have to have the fundamentals of what does it mean to execute an event and at the same time what are some of the business management, computer skills and problem solving that are necessary in the emerging esports market and are transferable skills to many other jobs," said Noel Criscione-Naylor, interim chair of the Hospitality, Tourism and Event Management program at Stockton.
Stockton has seen first-hand how quickly interest in esports has grown. The university's esports team swelled from just 12 students in 2019 to nearly 800 today. In 2022, Stockton's Rocket League team finished second in the world in a competition. MTHS currently has 25 students involved with its esports team.
Stockton and Middle Township School District both see an emerging need and opportunity to educate students about the expanding field. In fall 2022, the university debuted its first esports and event planning course. To date, there are 79 students enrolled in esports courses at MTHS, with many interested in pursuing esports at the collegiate level.
The mission of the Dual Credit Program at Stockton University is to provide a community service to college-bound high school students, giving them a jump-start on college by providing the opportunity to earn college credits and complete high school course requirements simultaneously.
Students in the class can choose to earn four college credits through Stockton at a reduced tuition rate of $400 for the course. Fifteen students have already opted to earn dual credit in Introduction to Esports.
"We are thrilled to partner with Stockton on this latest dual credit venture," said Sharon Rementer, principal of Middle Township High School. "Our esports courses teach students about team building, positive communication and interaction, and, of course, careers in the industry and educational opportunities. This partnership takes that to the next level, advancing student learners in a field that continues to grow. This is a tremendous opportunity for our students and one we are excited to offer."
Introduction to Esports is the 13th course available for dual credit for Middle Township High School students with Stockton University.
# # #

Media contact:
Stacey Clapp
Director of Strategic Communications
Galloway, N.J. 08205
Stacey.Clapp@stockton.edu
609-626-3645
609-412-8069
stockton.edu/media