New Exhibit Focuses on Armenian Genocide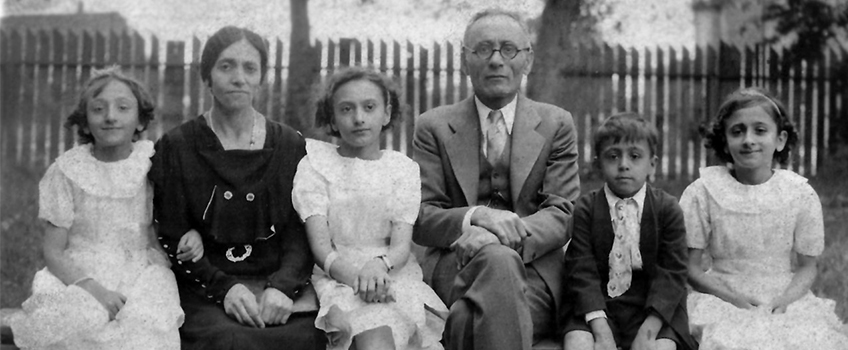 Galloway, N.J. — A new exhibit on display at Stockton University's Richard E. Bjork Library traces the life of an Ottoman Armenian family and their journey of survival, migration and reemergence in the United States due to the 1915 Armenian Genocide.
"The Armenian Genocide, One Family's Story" follows the Zakarians through the family's personal photos, memoirs, musical instruments, artifacts and artwork — all of which serve as a backdrop to the broader history of the Armenian Genocide and related issues, including cultural loss and collective memory.
The exhibit, curated by Ryann Casey, exhibition coordinator at the Stockton University Art Gallery, will be on display at the library through May 31. A public reception with guest speakers, Armenian food and music, will take place 3 p.m. Jan. 28.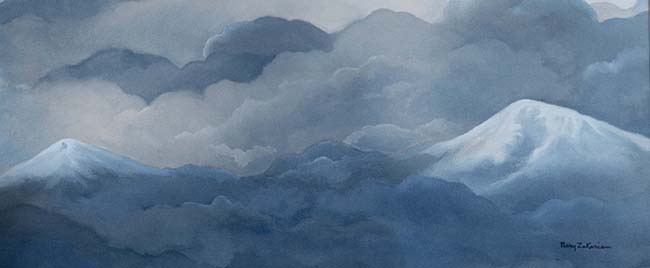 Mural installation of Mount Ararat, based on a painting by Mary Zakarian.
This exhibit is made possible through the donations of the grandchildren of Arek and Moses Zakarian, who settled in Philadelphia and whose descendants continue to live in the area today. Two grandchildren who spearheaded the project, Susan Arpajian Jolley and Allan Arpajian, are the authors of the book, "Out of My Great Sorrows: The Armenian Genocide and Artist Mary Zakarian" (Routledge Armenian Series, 2017). The book documents the life of their aunt, Mary Zakarian, the daughter of Arek and Moses Zakarian, against the backdrop of the Armenian Genocide survivor experience in the United States.
The book came to the attention of Stockton through Cynthia Ruggerio, an attorney and a graduate of the Masters of Arts in Holocaust and Genocide Studies (MAHG) program. Ruggerio also serves as scholar advisor for the exhibit. Since then, the university has established a relationship with Jolley and Arpajian that has led to extensive public programming on Armenian history and the Armenian Genocide and the development of the Armenian Studies Initiative at Stockton under Dr. Raz Segal, director of the MAHG program.
While "The Armenian Genocide, One Family's Story" recounts the difficult history of the attempted annihilation of the Ottoman Armenians, it also documents a legacy of survival, resilience and reemergence. The Zakarian family's legacy holds a broader meaning, connecting in various ways to the experiences of other survivor and refugee communities in southern New Jersey and the Philadelphia area. The exhibit will include a video component that prompts visitors and students to consider the ways these communities have shaped what it now means to live in this region, highlighting our common humanity and belonging.
In addition to the new exhibit, Curator Ryann Casey has coordinated with Jolley and Arpajian to develop a long-term related exhibit featuring some of Mary Zakarian's paintings and sketches, which is also on display at the Richard E. Bjork Library.
For questions about the exhibit or to schedule tours, please email raz.segal@stockton.edu.
Please RSVP for the public event and reception at surveymonkey.com/r/OneFamilysStory