New Class Gets Students' Hands Dirty Digging into Archaeology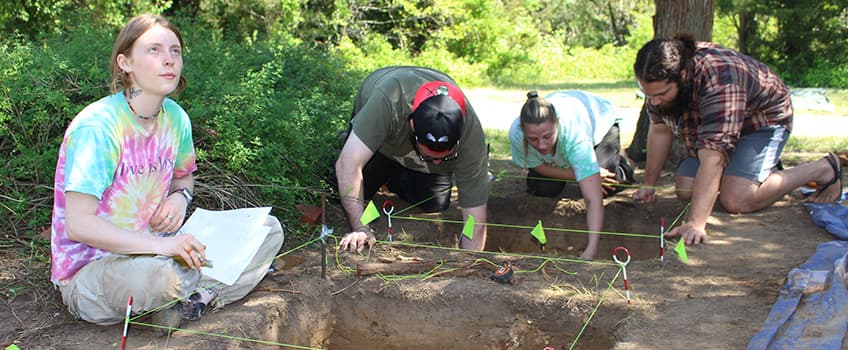 Cape May Court House, N.J. — Mackenzie Kornbluth often feels "disgusting" after her Archaeological Field Methods class.
But she's still having the time of her life.
The freshman from Cherry Hill is part of Teaching Specialist Bobbi Hornbeck's class this spring that was given a unique undergraduate opportunity — to work on an archeological dig in Cape May County.
"I love it. Even though we are on the ground digging for five hours and it's really tough working with all the dirt," said the Anthropology major with a concentration in Archaeology after trying to remove a buildup of brown smudges by wiping her hands on her pants.
"I really love archeology and it has given me a taste of what I'm going to be getting into when I get to my career. Even when I'm in the mud."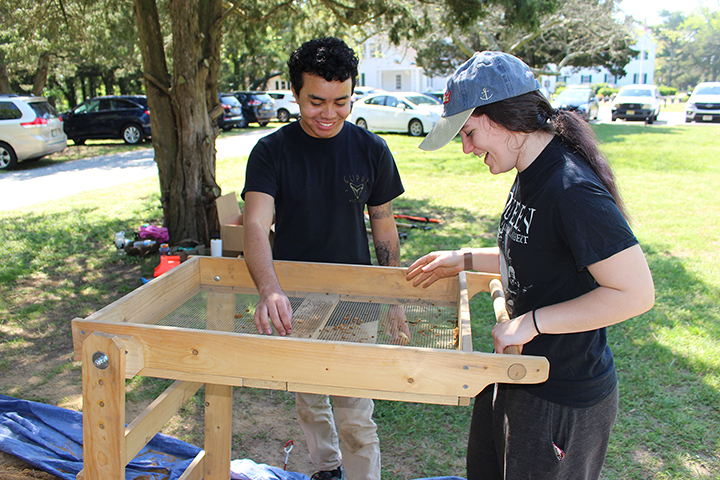 Undergraduate students Alex Rivera, left, and Katelyn Muller run some dirt through a sifter screen.
Hornbeck created the class as part of the Digging History Project for The Museum of Cape May County, which is run by the Cape May County Historical and Genealogical Society. She's the society's vice president.
Students spent the first half of the semester in the classroom learning the background and techniques on how to carry out a dig, such as creating an archaeological field report. For the remaining eight weeks, the class met at the Museum of Cape May County and got dirty.
"It's easier to understand the lectures when I've had hands-on experience. So I'm not completely lost," Kornbluth said as she reached into a small dirt pit to measure the size of a piece of earthen pottery. "I like getting in the ground and finding stuff. I've always loved history, and this is a really good way for me to get hands-on."
Last summer, the project began investigating how the museum property was used by its former owner John Holmes. Holmes lived on the property from 1776 to 1791 and was a slave owner and wealthy merchant. He ran a salt works in Cape May County during the Revolutionary War. There's an existing home on the property and there used to be a nearby barn that has since been torn down.
The class is gathering clues to try and answer three main unknowns about Holmes:
Where did the slaves owned by Holmes reside? He owned four at the time of his death. Did they live in the Cresse home that still stands today?
Was the barn standing in the 18th century? If so, what was it used for?
Was Holmes involved in any other Revolutionary War efforts, such as shipbuilding? Is there evidence of war-period activities on the property?
In July, Hornbeck developed a two-week pilot study with Stockton junior Alex Rivera and another student. They did a series of surface surveys, or shovel tests, around the property — including a wooded area across the street from the museum where Holmes built a home, spots around and in the crawl space of the existing Holmes-Cresse home, and a spot next to the museum where the barn is believed to have been.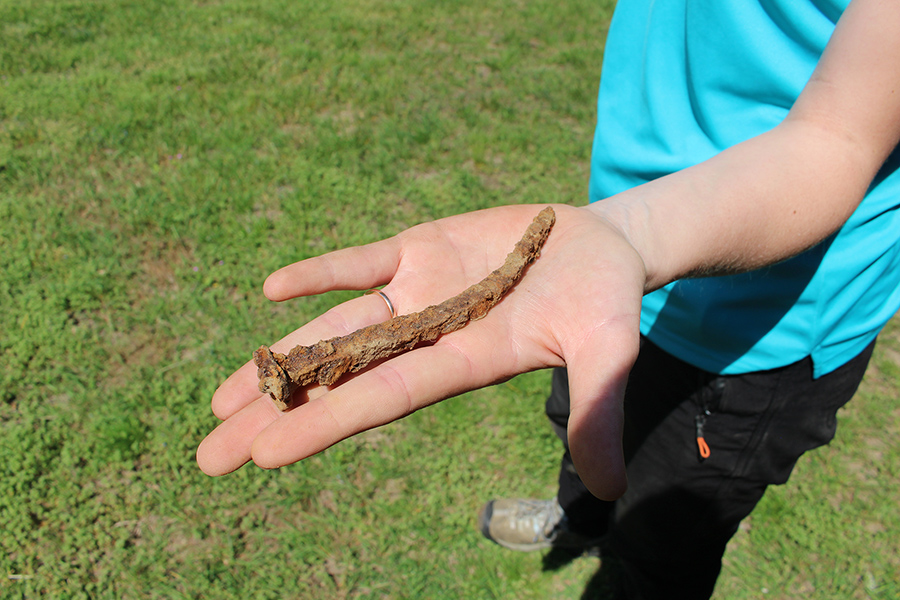 Bobbi Hornbeck shows one of the historic nails the students in her Archaeology Field Methods class found during a dig site at The Museum of Cape May County.
The pilot study located significant human activity areas on the property and led to the next step — the excavation.
The dig consists of four units in the vicinity of where Hornbeck thinks the barn is located. So far, the class has found pieces of crude earthen-ware, evidence of a burn pit and a lot of rusted nails of varying sizes, including some copper spikes that could be associated with ship building.
"Whatever was happening in the barn was not activity that we would associate with families sitting down for dinner on fancy plates," Hornbeck said. "It is definitely more of work-focused, labor area."
For Rivera, it was his first dig and an amazing opportunity to get out and utilize some of the techniques he's learned in the classroom.
"I've always known myself to be the type of person who doesn't want to be stuck in an office 9 to 5," he said as he shook collected dirt through a sifter screen. "I've always wanted to be in nature, close to the world, doing stuff with culture."
Rivera is a Sociology and Anthropology major with a concentration in Archaeology and a minor in Environmental Studies. He feels like the work on the dig is the perfect combination of his interests, specifically history and the environment.
"You are not just digging holes, you are also learning about the area, learning about the property and learning about the culture," said Rivera, of Egg Harbor Township.
Hornbeck agrees the best way to learn archaeology is by doing it.
"You can read it in a textbook — how to make a unit square and how to use a trowel. You can explain it, but you learn it best just by doing," said the 2008 Stockton graduate.
And as far as she knows, the dig is a unique experience not only to Stockton but to undergraduate students.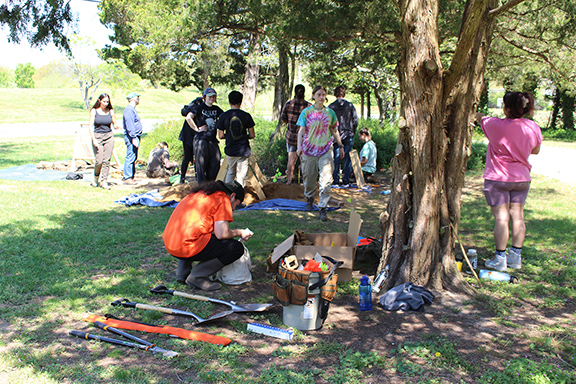 The Archaeology Field Methods class spent eight weeks digging at various locations at The Museum of Cape May County in Cape May Court House.
"I'm excited that I was able to put this together for these guys because it gives them a really big leg up," said Hornbeck, wiping the sweat from her brow on an unusually warm April morning. "In archaeology, most of the time you don't get to get your hands in the dirt until you graduate. That's something you get to do in field school, maybe your senior year, but most often after you graduate.
"For me to be able to give them an equivalent experience like this, that's huge," she said. "I don't think they realize it, but that's a big deal."
Junior Mae Gant understands the significance. She transferred to Stockton this spring semester from Drexel University and didn't know anything about archaeology before taking the class. Now, the Sociology and Anthropology major is thinking about getting dirty more often.
"Being able to do this my first semester here as an undergrad is incredible because I can add this to a resume and talk about it in grad school applications," said the Egg Harbor Township resident. "I really hope they offer it again because it's helped me find my path, and I'm sure it can help other people find theirs."
— Story and photos by Mark Melhorn
# # #

Media contacts:
Stacey Clapp
Director of Strategic Communications
Galloway, N.J. 08205
Stacey.Clapp@stockton.edu
609-626-3645
609-412-8069
stockton.edu/media


Mark Melhorn
Associate Director of News and Media Relations
Mark.Melhorn@stockton.edu
609-652-4593
609-569-6026
stockton.edu/media