State Committee Views Stockton as part of A.C.'s 'Rebirth'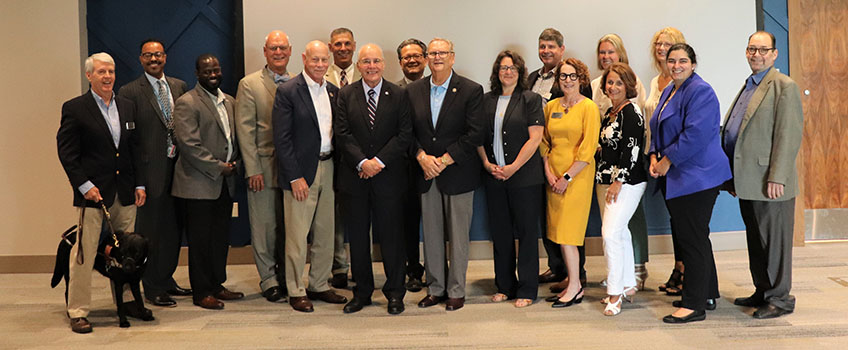 Atlantic City, N.J. – Stockton University Atlantic City has helped lead a "renaissance" in the resort and provided a significant boost to the area's gaming and tourism industry.
"It's absolutely startling to see the improvement that's taken place and what a valuable institution this is," said New Jersey Assemblyman Ralph R. Caputo, who is the chair of the State Assembly Tourism, Gaming and Arts Committee. "It's a wonderful plus for this region."
Stockton President Harvey Kesselman joined faculty and staff on June 8 to host Caputo and other members of the committee for a tour of Stockton Atlantic City.
During the tour, the members of the committee – including assembly members Donald A. Guardian, James J. Kennedy and Antwan L. McClellan -- were briefed on how several university programs are helping to boost tourism and gaming in the resort and the state.
"We are a traditional liberal arts and sciences college, but we've grown," Kesselman said. "We have a responsibility to be a part of the tourism industry in this region, and we take that responsibility very seriously."
Donna Albano, a professor of Hospitality, Tourism and Event Management Studies in Stockton's School of Business, outlined the economic impact of tourism in New Jersey and how the university collects data through various institutions such as the Lloyd D. Levenson Institute of Gaming, Hospitality & Tourism.
"We always want to talk about the tourism industry and the impact on this particular region," Albano said. "We use this data to connect our students to what's going on (in the region). They are all going to live, work, earn in this community, and it's important they know what's going on. … We use this information in our coursework so students can focus on a particular area of interest."
Stockton Provost Dr. Leamor Kahanov told the committee about the new Atlantic City Summer Experience program where about 150 students live on Stockton's Atlantic City campus for free over the summer while getting paid to work at an area business and take a free four-credit work readiness course.
"There's a willingness from the partners to help us grow the workforce in (the tourism) area so that (students) stay in the area post-graduation," Kahanov said. "So, they can potentially grow into a full-time position after they graduate."
We are a traditional liberal arts and sciences college, but we've grown. We have a responsibility to be a part of the tourism industry in this region, and we take that responsibility very seriously."
Kahanov also mentioned Stockton's extremely successful
dual-credit program
, the largest in the state, where more than 1,000 area high school students can take a college class through Stockton.
"We are embedded in the school system," she said. "That's a nice way for students to see the pathway to college."
Caputo recognized the impact that Stockton's programs are having on the local tourism industry.
"Prior to (Stockton in Atlantic City), it was just gaming," the North Jersey Democrat said. "That's the only emphasis we had, so when gaming collapsed (during the recession), the town collapsed. This is a protection that's laying a foundation that if there's a dip, there will be a way to keep this entire area out of depression."
In addition to boosting current and future students, the university has also had a huge cultural and economic impact on Atlantic City, according to Brian K. Jackson, the chief operating officer of Stockton Atlantic City.
A lot of that impact has focused on the Chelsea section of the resort as Jackson said more than 20 businesses have opened in the area surrounding the John F. Scarpa Academic Center. The university has partnered with the Atlantic City Development Corporation to help establish the Chelsea Economic Development Corporation, Jackson said. Among the ideas the group created to promote the neighborhood are bike patrol ambassadors, and the Chelsea Eats program where up to 50 students took walking tours of the neighborhood and were able to experience restaurants in town.
"It's our way of branching out to get our students, faculty and staff to become familiar with the neighborhood, as well as support the neighborhood," Jackson said.
Another example where Stockton is "really taking a lead in culture and arts in Atlantic City" is with a new mural project to be completed in time for this summer's NAACP Convention from July 14-20. One will feature a "Civil Rights Wall of Fame" while the other will include "Education Trailblazers," including former Stockton President Dr. Vera King Farris and Dr. Juanita High, a member of the Stockton Foundation board.
"It's wonderful to hear how active you've been in the community," said Guardian, a Republican who was mayor of Atlantic City from 2014 to 2017. "As my colleagues have pointed out, 80% of all students at Stockton work in New Jersey. That's wonderful. We need to provide an educated workforce as we move forward."
After the presentation by faculty and staff, Alex Marino, the director of academic operations for Stockton Atlantic City, took the committee members on a tour of the residential building, which has housing for more than 500 students. The tour included the future Esports Innovation Center, located on the Boardwalk.
Caputo said his committee has primarily focused on gaming but is planning to place more of an emphasis on tourism and Stockton Atlantic City is a good example of a "new foundation for the future."
"This is the beginning of something that will go way beyond us," he said. "There's a tremendous amount of expansion that will take place. Once all this starts to work, you are going to see a rebirth of Atlantic City."
-- Story by Mark Melhorn, photo by Stacey Clapp