Lynn Nottage to Students: Replace Judgment with Curiosity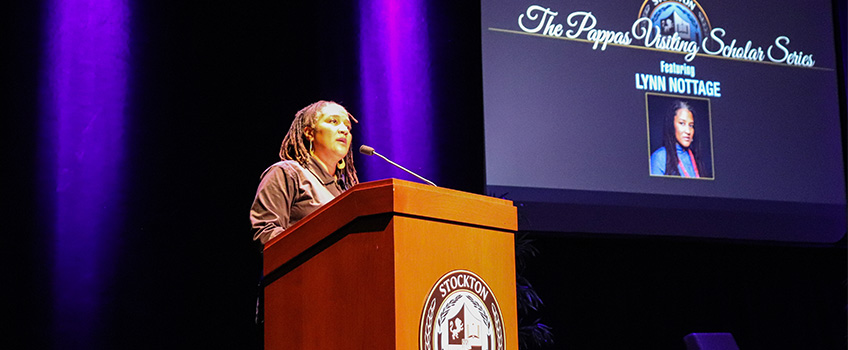 Galloway, N.J.- On the Performing Arts Center mainstage in front of hundreds of students and faculty, Lynn Nottage captivated and surprised them all with her first story about getting forcefully escorted off of the premises of a mega-church after a heated altercation with the pastor.
"Rather than using his stage to spread love, foster community and make it a sanctuary of healing, he decided to use God as a wedge, hammer and eraser," Nottage shared. "I felt compelled to let him know that what he was saying was dangerous. I felt compelled to loudly question his hatred."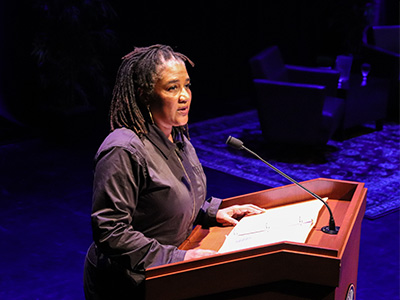 After the exchange, Nottage had a revelation about her complex identity and how that impacts the way she tells stories, which she shared with the audience on Oct. 26 during the annual Pappas Visiting Scholar Series.
"My experience is very complicated, and diverse, and doesn't always adhere to the traditional paradigms," Nottage said. "As such, I'm really interested in creating theater that explores the cultural tensions inherent in being a Black woman living in this multicultural society that's still struggling very much with the painful legacy of racism and sexism. I toy with popular assumptions about race and gender with hopes of arriving at an entirely fresh perspective. Subverting expectations is part of my artistic mission."
Nottage's journey to writing the play "Sweat" started with a commission from the Oregon Shakespeare Festival, asking her to write about the American Revolution. She says that it was a challenge that, along with her good friend struggling financially, "awakened her to her own complacency." This led her to begin asking the hard question: "How and why was my friend in such a crisis in a country as wealthy and powerful as the United States?"
She spent the following two years interviewing the disillusioned people of Reading, Pennsylvania, where the play takes place. Inspired by the stories of factory workers who worked diligently for years, even decades, only to be locked out of their factory and deal with dead-end union negotiations, Nottage faced a perspective different from hers.
We must be disruptors, even if our gestures are gentle pebbles that are tossed into still water... truth, whether it is ugly, confrontational, untidy or beautiful, is the center of great storytelling.
"It was then that I decided to replace judgment with curiosity and allowed myself to really listen and hear what they had to say," Nottage said. "They were not only willing to share their stories with me but to cry in front of me. And, as such, I wanted to write a play that captured the honesty and the contradictions of our conversations as well as reveal ugly truths, and ask these very uncomfortable questions about race, caste and class."
This birthed not only "Sweat," but a multimedia performance installation entitled #ThisIsReading as well. The project, which took place in an abandoned railroad station, created a space "filled with music, stories and dance that examined the past and present of Reading."
"The aim was to create this beautiful work of art and storytelling that invited people into each other's lives, and we felt that it was important to make something that reflected and illuminated the complexity and diversity of that struggling city. We wanted to move from articulating the disillusionment and frustration with that and do something to confront and transform that city."
The impact of this project was tremendous: the railroad station became a healing space where the local people who didn't commonly see each other (eg. A mayor and an unhoused individual) sat with each other and "cried and danced together."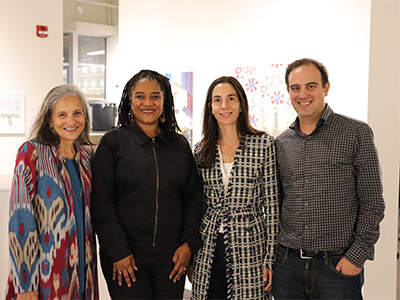 "And after we left the train station, which had been abandoned since 1981, people saw possibility. It was leased and rented to a restaurant and brewery as well as used by the city council for their meetings."
In her conclusion, she shared how she encourages her students to write and become storytellers themselves.
"We must be disruptors, even if our gestures are gentle pebbles that are tossed into still water because I do believe the old adage that truth, whether it is ugly, confrontational, untidy or beautiful, is the center of great storytelling. And to me, there is nothing more exhilarating than the moment when new work is taking shape."
Susan Davenport, executive vice president and chief of staff, explained to the crowd what the Pappas Visiting Scholar Series was, saying that it was established in 2012 by the late Trustee Dean C. Pappas and his wife Zoe to recreate the transformational experience he had when he heard Dr. Martin Luther King, Jr. speak as an undergraduate.
"The Pappas Visiting Scholar Endowment Fund supports days like this one, bringing noted scholars and thought leaders to the university to expose our campus community to a diverse array of leaders in their fields."
This is also the first time the series served as a first-year convocation, something that Leamor Kahanov, provost and vice president for Academic Affairs, thought was fitting for the most diverse group of first-year students in the institution's history.
"The first-year seminar is integral in our students' first semesters and their experience," Kahanov said. "It's the first intellectual experience shared by the entire incoming class. Each member of the class has read 'Sweat' and/or seen it performed and hearing directly from the author today will deepen your knowledge about it."
Following Nottage's keynote, Geoffrey Gust, associate professor of Critical Thinking and First-Year Studies, moderated her Q&A. Questions included how her background informed her work, how "Sweat" would unfold in a different city besides Reading, and how she overcomes writer's block.
When facing writer's block, Nottage looks towards author Toni Morrison, who gave a lecture similar to Nottage's when the latter was in school and answered the same question. Morrison's advice: honor the block.
"What she was saying is that she understands that when she's blocked, it means that there's work that has not been done," Nottage shared. "You have to go back to reading and spending time with your characters, not necessarily on the page but in the ways in which you're exploring who they are."
-Story by Loukaia Taylor
-Photos by Eliza Hunt