The Dean and Zoe Pappas Visiting Scholar Series

Providing transformational experiences at Stockton University
Established in 2012 by Zoe S. Pappas and the late Stockton University Trustee Dean C. Pappas,
the Pappas Visiting Scholar Series brings noted scholars and thought leaders to the University.
Anna Deavere Smith
The nationally known actress, playwright and educator recreated moments from conversations she has had with 250 people, sparking a variety of emotions and points of view on timely issues.
Best known for her works on stage and screen:
Fires in the Mirror
Tony-nominated Twilight: Los Angeles
Let Me Down Easy
Showtime's Nurse Jackie
The West Wing
Black-ish
Madam Secretary
A notable professor at both Stanford and NYU, Deavere Smith has received distinguished recognition for her groundbreaking work:
2013 Dorothy and Lillian Gish Prize
The National Humanities Medal
MacArthur Foundation "Genius" Fellowship & Grant
Two Obie Awards
---
About the Pappas Series
As an undergraduate college student at Dickinson College in 1961, the late Stockton University Trustee Dean C. Pappas underwent "a transformational experience" when he heard the Rev. Dr. Martin Luther King, Jr. speak to the student body.
"Until that point I was sort of drifting my way through college, but Dr. King's message was very impressive. It made me start to think more seriously about my future. Basically, his message was to act responsibly. It was a moment that changed my life."
Mr. Pappas, who was a member of the Stockton University Board of Trustees since 2006, wanted students at the University to have similar access to outstanding visiting scholars. To that end, Mr. Pappas and his wife, Zoe S. Pappas, donated $1 million to establish the Dean C. and Zoe S. Pappas Visiting Scholar Endowment Fund. The Pappas Visiting Scholar Fund will be used to bring noted scholars and thought leaders to the University for classes, workshops and public events.
---
Past Visiting Scholars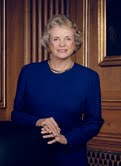 Sandra Day O'Connor (Retired), Associate Justice, was born in El Paso, Texas, March 26, 1930. She married John Jay O'Connor III in 1952 and has three sons - Scott, Brian, and Jay. She received her B.A. and LL.B. from Stanford University. She served as Deputy County Attorney of San Mateo County, California from 1952–1953 and as a civilian attorney for Quartermaster Market Center, Frankfurt, Germany from 1954–1957. From 1958–1960, she practiced law in Maryvale, Arizona, and served as Assistant Attorney General of Arizona from 1965–1969. She was appointed to the Arizona State Senate in1969 and was subsequently reelected to two two-year terms. In 1975 she was elected Judge of the Maricopa County Superior Court and served until 1979, when she was appointed to the Arizona Court of Appeals. President Reagan nominated her as an Associate Justice of the Supreme Court, and she took her seat September 25, 1981. Justice O'Connor retired from the Supreme Court on January 31, 2006.
Justice O'Connor was the inaugural speaker in March 2014 on the Galloway campus of Stockton University. Over 3,000 students, faculty, staff and community members were in attendance at this remarkable event.