Author Keisha N. Blain Wants to Expand Our Vision of Freedom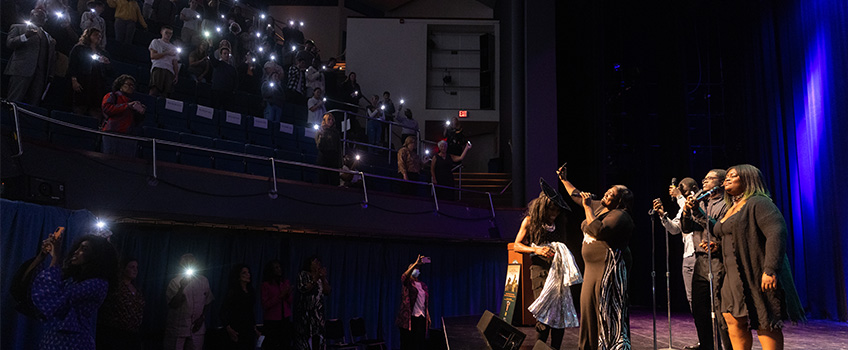 Galloway, N.J. — The story of Fannie Lou Hamer usually ends with her fiery speech at the 1964 Democratic National Convention in Atlantic City.
Rather than ending there, author Keisha N. Blain challenged students and guests to look beyond at the 19th annual Fannie Lou Hamer Human and Civil Rights Symposium on Oct. 11 in the Stockton University Performing Arts Center.
Blain is a professor of Africana Studies and History at Brown University, a columnist for MSNBC and former president of the African American Intellectual History Society (AAIHS). Blain's most recent book, "Until I Am Free: Fannie Lou Hamer's Enduring Message to America" (2021), was nominated for an NAACP Image Award and selected as a finalist for the 2022 National Book Critics Circle Award in Biography.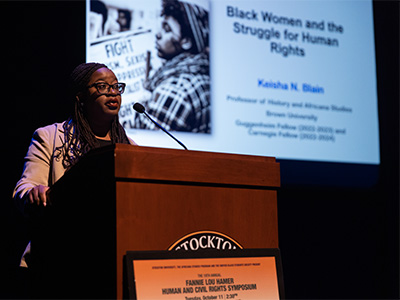 "In 1964, Ms. Hamer went on a life-changing trip to Guinea with the rest of SNCC (Student Nonviolent Coordinating Committee) after then-president Ahmed Sekou Toure invited them," Blain said. "He wanted to motivate them after they faced some setbacks."
Blain said the trip was transformational for Hamer. She and SNCC were treated like guests of honor, which was a "moving experience" for her. When they met with Toure, they learned that a lot of the problems African Americans faced in the United States were present in Africa as well. It was at this meeting that Hamer started to recognize the connection between African Americans and Africans, which began to inform her leadership.
"Everybody uses the quote now: 'Nobody's free until everybody's free,'" Blain said. "But not a lot of people can tell you that that came from Fannie Lou Hamer. Her fight for freedom was intersectional and excluded nobody."
Hamer went on to tackle global struggles in the 1970s. She was a part of an effort to boycott Gulf for its oil operations in Angola, a Pan-African initiative, and openly denounced the Vietnam War, despite her activist peers like Martin Luther King Jr. not doing the same until much later.
Today, her all-inclusive leadership style can be seen in leaders like Ayo Tometi, who was part of the group of women who first used the hashtag #BlackLivesMatter in the early 2010s. Tometi and her cohort worked together to make the movement an international one rather than local or national — protests erupted everywhere, from Japan's #TokyoforFerguson protests of solidarity to ones in London, Paris and Amsterdam.
"By linking local and national concerns, Hamer set a precedent for future generations of Black activists," Blain said in her conclusion. "Those who heard Ayo Tometi speak before the United Nations in 2016 caught a glimpse of it."
From that moment on, we said that we would become known as the school that celebrates the legacy of Fannie Lou Hamer... We want you to learn about how much she serves as a role model for many people who never thought that somebody coming off a plantation in Mississippi could become a national figure and inspire so many people."
Blain was introduced by Vanessa Bauwah, the public relations chair for the Unified Black Students Society. Bauwah said the program "strives to bring out the diversity on campus by collaborating with other multicultural organizations, putting on events that cater to the minority and providing safe spaces for people to surround themselves with others who look like them."
Ian Marshall, dean of Arts and Humanities, said events like the symposium are what inspired him to come to Stockton. He later introduced Leamor Kahanov, provost and vice president for Academic Affairs.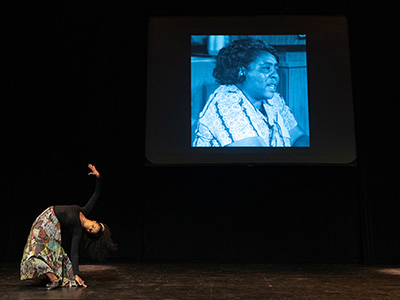 "You do not get this everywhere," Marshall said. "You should savor this, this is special."
"I'm proud to be a part of Stockton's rich history," Kahanov said. "As educators, we have a responsibility to engage our students, faculty and staff in our communities to better understand our history and capacity to improve the future."
Pat Reid-Merritt, distinguished professor of Social Work and Africana Studies, coordinated the program this year as well as in years past. She reminisced about the beginning of the symposium and why it started in 2004.
"We were asked by the state of New Jersey's office of African American History as well as the secretary of the state to host an event that celebrates the 40th anniversary of Fannie Lou Hamer's historic speech at the Democratic National Convention in 1964. They picked us because we were the closest four-year institution, and we said yes," Reid-Merritt said. "From that moment on, we said that we would become known as the school that celebrates the legacy of Fannie Lou Hamer."
Reid-Merritt also emphasized the importance of Black art and how it became part of the Black rights movement in the 1970s. Black artists were in a unique position in that they could create works of art that inspired, engaged and validated their communities in a way that traditional activism didn't, she said. She then introduced one of her dance students, Khaia Hall, who portrayed Hamer in an interpretive dance.
"People began to say, 'Hey, I need you to express what I'm feeling. I want to be able to go and participate in this movement as well.' And that is what artists did," Reid-Merritt said. "They created theatre, dance and poetry companies. We were active, and that activism inspired a lot of people."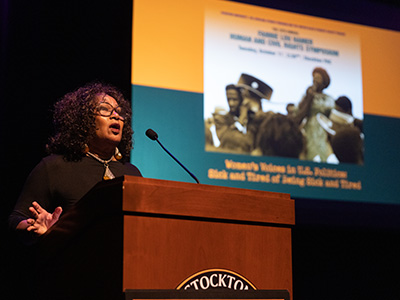 Other performances included Professor of Music Beverly Vaughn and her Freedom Singers singing "Let It Shine" and "Freedom Over Me," and a short clip of Aunjanue Ellis reciting Hamer's 1964 speech.
Following Blain's presentation, the symposium held a panel discussion moderated by Olutoyosi Aboderin, the coordinator of dual credit for the Africana Studies program. The panelists included Blain, Shawn Donaldson, associate professor of Sociology; Audrey LaTourette, distinguished professor of Business Studies; and Pleasantville Mayor Judy Ward. Students and guests also got a chance to participate in a question-and-answer session.
Student Ashley Ramirez, who sees herself in Congress one day, asked the panel how women of color can get involved in politics. Blain's answer: "Be and stay authentic."
"We are doing this program because we want you to learn about Fannie Lou Hamer," Reid-Merritt said. "We want you to learn about how much she serves as a role model for many people who never thought that somebody coming off a plantation in Mississippi could become a national figure and inspire so many people."
-Story by Loukaia Taylor
-Photos by Susan Allen