Entering a Budding Industry: Fall Cannabis Career Fair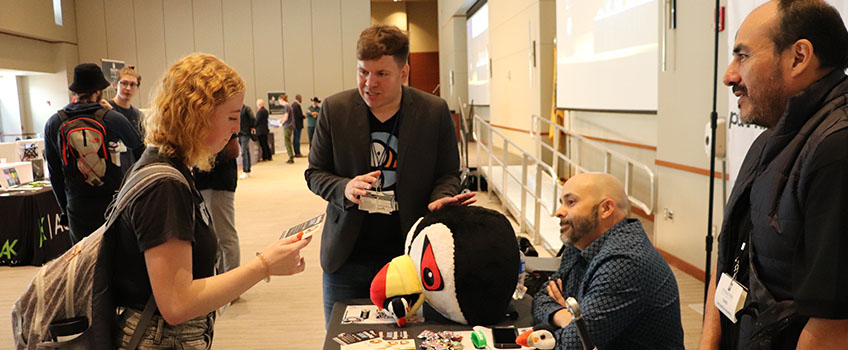 Galloway, N.J.- Vendors from all over New Jersey came to talk to Stockton University students about the cannabis industry and how to get involved on Nov. 1 in the Campus Center.
In partnership with the New Jersey CannaBusiness Association, the third annual Cannabis Career Fair and Business Expo offered job and internship opportunities for interested students.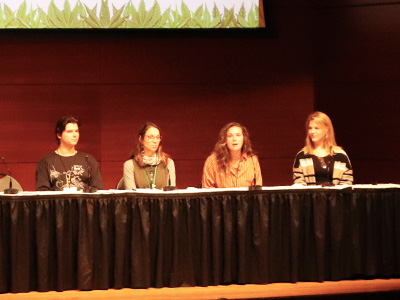 Robert Mejia, a teaching specialist in the Cannabis Studies program, considers the Student Employer Panel to be one of his favorite events of the fair since it is where students and employers are able to really connect and learn from each other.
The panel (pictured), which Mejia moderated, included:
The panelists were asked various questions about the industry, including how to transfer from other industries, what kinds of jobs are available and how the minor in Cannabis Studies, which currently has more than 130 students enrolled in it, helped them in their careers now.
For Fiero, whose company is currently looking for cultivators and post-harvest processors, getting hired in the industry requires skills outside of direct and practical experience with the plant. For example, their farms are multi-tiered, meaning that cultivators should be good with heights or with using heavy machinery.
"Anybody can learn how to defoliate or prune a plant; those things come from doing and seeing it," Fiero said. "It's more so about getting used to the environment, having a passion for the plant and seeing value in your work."
Mecca underscored those points, emphasizing the need for transferable skills. She recognizes that the industry is still relatively young, so it's harder for applicants to get the type of experience that someone in a field like medicine could.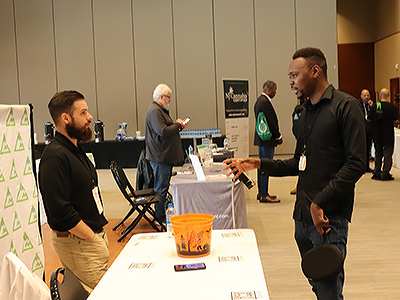 However, according to Mecca, "It's sort of just like any other job: go on Indeed (or Handshake, for Stockton students) and apply for the job!"
"A lot of our entry-level jobs are at the technician level. There are cultivation technicians; harvest technicians; order fulfillment, etc. How do you move up from there? Well, just like any other big business: come to work, be on time, know the rules, find your mentor and learn as much as you can."
Luterek and Nolan both agreed that the minor program prepared them for growing the plant as well as the business side of the industry.
"My independent study was working on One Acre Farm, so I was able to get the hops plant and tower and that showed me what it was like to be a farmer or, AKA, a cultivator, in this industry," Nolan said. "I was able to learn more about plant care, micronutrients and whatever else the plant needed."
"I have used a lot of what I learned for my job in terms of the history of cannabis, the current laws and regulations here in New Jersey," Luterek said. "We are always talking about what's going on in the news and staying current about the trends in my classes."
Their answers to one question, what their proudest moments were in the industry, all demonstrated why they believe in the cannabis industry.
Nolan, who helps patients with pain management, was most proud of being able to help her father's knee pain. Her father never used cannabis in any capacity, so his trust in her to help him was worthwhile for her. For his treatment plan, Nolan utilized the "inside-out combo theory."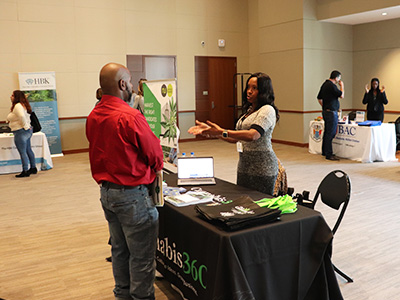 "I like having a lotion that you're using your senses on for that (outside) knee pain and utilizing flower (cannabis in its physical, green state) or an edible for that inside pain," Nolan shared. "It gives that placebo effect for both of those aspects as well as stimulating your senses."
Fiero's proudest moment was her full circle moment during the fair: she was a previous student of Mejia's, and she's now an adjunct professor for the Cannabis Studies program.
"I feel like I'm surrounded by students that are also so passionate about (the industry)," Fiero said. "I've built such a great community with everybody who's a part of this cannabis networking community in New Jersey."
Luterek's proudest moment was finding out that he's the second-youngest at his current company, Advanced Nutrients. He came in with a different set of skills than his colleagues: what he lacked in practical experience was made up for with his knowledge through the Cannabis Studies minor.
"Just from getting to talk to my colleagues, I have learned so much through all of them, and it's been an incredible experience," Luterek said. "And getting to network as well; I have connections across the country now with different people involved in the cannabis industry in different and unique ways."
Mecca was just joining the industry overall. Prior to Green Thumb, Mecca worked in the pharmaceutical and metal manufacturing industries. She likened the current cannabis industry to a "movement," in terms of community relations and diversity within her current company.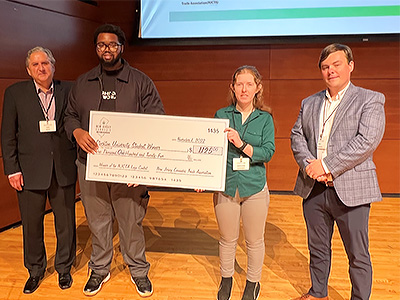 "Their vision is to support the communities that they serve. It's not just about making new products, but about being good to our employees and giving back to the community," Mecca said. "Seventy percent of our people identify as non-white, 42% identify as being female or non-binary, and a good amount of our people live in impact (from the War on Drugs) zones."
The winners of a logo design contest for the New Jersey Cannabis Trade Association were also announced during the expo. Winners received a cash prize of $1,500 for first place, $750 for second place and $250 for third place.
Students Sarahann Schreiber of Estell Manor and Lord'Kala Dawson of Trenton (pictured) tied for first place, receiving $1,125 each. Third-place winner, Amy Kaszuba, received $250. The three students were among 18 who participated in the contest, which was exclusive to Stockton students and organized by Mejia.
The Cannabis Studies minor program helps prepare Stockton students interested in jobs in the cannabis and hemp industries. The program currently has about 60 alumni and is growing rapidly.
CHRIS, the Cannabis & Hemp Research Initiative at Stockton, was founded to conduct hemp cultivation research, offer non-medical research opportunities to businesses and develop cannabis and hemp educational materials.
Additionally, the Office of Continuing Studies developed the Online Certificate of Cannabis Studies for adults interested in the field.
-Story by Loukaia Taylor
-Photos by Stacey Clapp and Robert Mejia