Cannabis Businesses Ready to Hire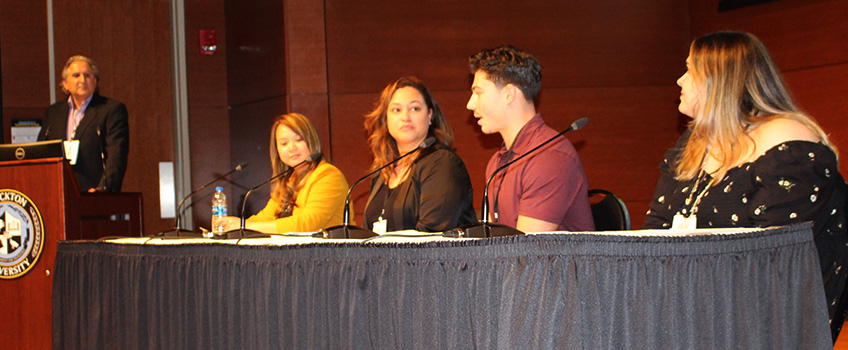 Galloway, N.J. – Business owners and vendors collected student resumes, a photographer offered free professional portraits, and visitors to the April 5 Cannabis Career Fair and Business Expo walked away more educated about the programs in Cannabis studies offered at Stockton University.
More than 300 people attended the day-long event, held in the Campus Center and co-sponsored by Stockton University, the New Jersey CannaBusiness Association and NJ Cannabis Insider.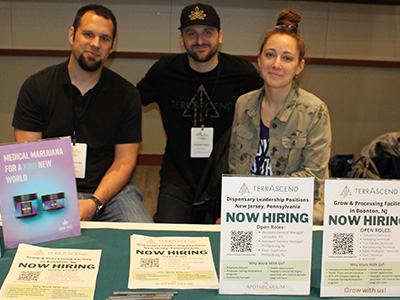 Expo visitors – many with resumes in hand – spent the day shaking hands with cannabis business owners, filling out employment applications, and getting the scoop about open employment.
Employers are looking for workers in 2022 at rates starting at $15 and $16 an hour. Salaried positions for managers in the cannabis field are between $70,000 to $80,000. The idea of the expo was to match cannabis job seekers with the information they needed.
"I think what Stockton is doing is phenomenal. I was so glad we came to Stockton for the Cannabis Expo last November because I left with 50 to 70 resumes – and another 30 people who scanned our employment code," said Anthony Lotti of Freehold, a vendor for Earth & Ivy at the Expo.
Lotti is one of three University of Penn alumni who developed Earth & Ivy, which also is an aspiring New Jersey dispensary licensee looking for workers when they open up their New Brunswick location.
"Stockton did it right by getting all of these companies together under one roof at the Campus Center. This time I hope to go home with 100 resumes and when things open up this year, I'm going to go through these resumes and start calling every one of these people personally. This is a terrific venue," he said.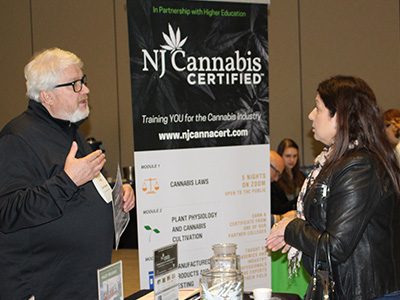 He said salaried positions for managers in the cannabis field at Earth & Ivy will be between $70,000 to $80,000.
"The day that is licensing day, we will start interviewing," Lotti said.
Rob Mejia, Stockton adjunct professor in Cannabis Studies, said he is keeping his eye on April 11 which is the date the Cannabis Regulatory Commission is scheduled for a 1 p.m. special meeting – and possible vote on opening medical dispensaries. Nine townships in New Jersey so far have agreed to allow dispensaries, according to Mejia.
"That's a small number considering New Jersey has 565 townships," Mejia said.
New Jersey voters overwhelmingly approved legalizing recreational marijuana in November 2020.
Sales have not started, and applications from marijuana growers, manufacturers and testing laboratory operators opened on Dec. 15 last year, and more than 500 applications were filed. In February, Gov. Phil Murphy said New Jersey is "within weeks" of having medical weed dispensaries sell recreational cannabis to adults 21 and older.
Mejia believes once New Jersey opens the dispensaries, it will see many of its first customers come from out of state.
"New Jersey will see people coming from New York and Delaware. That's always what happens. When one state opens a dispensary, people come from neighboring states," Mejia said, using California and Colorado as examples.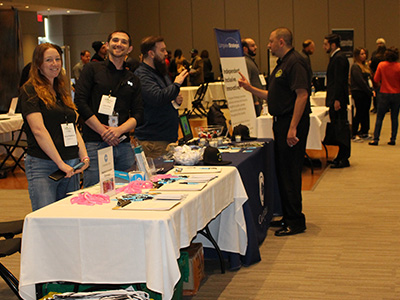 Mejia also moderated a panel that included Stockton student Alexia Grillos of Basking Ridge and Stockton Class of '20 graduate Michael Scaffidi of Hammonton, representing Curaleaf, and Alwilda Navarro of Ascend Wellness Holdings and RuthElla Swing of TerrAscend in New Jersey.
"I got my foot in the door by attending the fall expo at Stockton last November," said Scaffidi, who minored in Cannabis Studies at Stockton. "You have to get your name out there if you want to land that job. It's a little tricky to get your foot in the door, but it all pays off when you see your career kick off."
Scaffidi started at Curaleaf, a national medical and wellness cannabis operator, as a dispensary associate. He currently is the company's Outreach Coordinator, a management position.
Grillos said her father suffered from terminal esophageal cancer and was unable to get on the list of people allowed to use medical marijuana before he died. "That's what got me started in the cannabis field," Grillos said.
She's encouraged by advances in cannabis every day.
"I see the emergence of smoking lounges, and that's one of the things that is important is to have a safe place to consume cannabis. Having a safe consumption area is something I would like to see all the townships do," Grillos said.
Stockton has more than 100 students minoring in Cannabis Studies and more than 160 students have graduated since the inception of the program in 2018, said Ekaterina Sedia, coordinator of the Cannabis Studies Minor.
"Students are interested in taking a class on cannabis because there are so many related fields such as hemp, accounting, sales and marketing," Sedia said. "A lot of business majors take the cannabis classes to get to see how a business is built from the ground up."
CHRIS, the Cannabis & Hemp Research Initiative at Stockton, was founded to conduct hemp cultivation research, offer non-medical research opportunities to businesses, and develop cannabis and hemp educational materials.
The Cannabis Studies minor program also helps prepare Stockton students interested in jobs in the cannabis and hemp industries.
Sedia said Stockton students are being offered a chance to design a new logo for the New Jersey Cannabis Trade Association. Winners get a cash prize of $1,500 for first place, $750 for second place and $250 for third place. Students should submit new designs to Robert Mejia at Robert.Mejia@stockton.edu before June 30. Winners will be announced in September.
Robin Nolan, Stockton Class of 2019, found employment after graduation as a growth specialist at Verano Holdings, a national licensed cannabis cultivation facility.
Nolan, of South River, N.J., majored in Biology and added a minor in Cannabis Studies.
"My emphasis was in Paleobiology, which combines both methods and finds in the earth and life sciences, so when I heard about the cannabis courses, I immediately wanted to know the science side of it," said Nolan, of Basking Ridge. "I wanted to know why people put their lives on the line, get arrested, and use marijuana. So, I took a New Jersey Medical Marijuana class."
She credited Stockton with helping her land the job through the Cannabis Studies program.
"Stockton's classes on cannabis and the job fairs they provide were a big help. I had teachers at Stockton asking me how they could help me out or direct me to a job. I had more professors putting my name out for people to contact. It was amazing," Nolan said.
She's also proud she learned so much about cultivating marijuana.
"I tell students to take one class. Start early, even if you don't use cannabis," Nolan said. "Tomatoes are in the same family. If you can grow a Jersey tomato, you can grow a great Jersey bud (the term used to refer to the cannabis flower before harvesting)."
The Continuing Education Department at Stockton developed the Online Certificate of Cannabis Studies for adults interested in the field.
Courses are priced between $79-$499 each for a total certificate cost of $1,995, said Diana Strelczyk of the Office of Continuing Studies
"Getting a certificate is a no-brainer for adult education and has a cost savings," said Strelczyk who presented a slideshow about certificates being offered. "If you have a college degree, taking one of the certificate courses is also a good way to see if you are ready to move on to a master's or a doctoral program."
New courses being offered in the Cannabis Studies Certificate Program include Environmental Issues and Sustainability in the Cannabis Industry (March '22), Social Justice and Cannabis (Oct '21) and Risk Management and Insurance for Cannabis Businesses (Nov. '21), Strelczyk said.
Companies represented at the event included: The Botanist, ATH NJ, HBK CPA, Colum$bia Care, Puffin, TerrAscend, NJ Cannabis Certified, Earth & Ivy, New Jersey Cannabis Trade Association, and LongviewStrategic.
# # #
Media Contact:
Diane D'Amico
Director of News and Media Relations
Galloway, N.J. 08205
Diane.D'Amico@stockton.edu
609-652-4593
609-412-8069
stockton.edu/media