'Secret Sisters' Collect Gift Bags for Students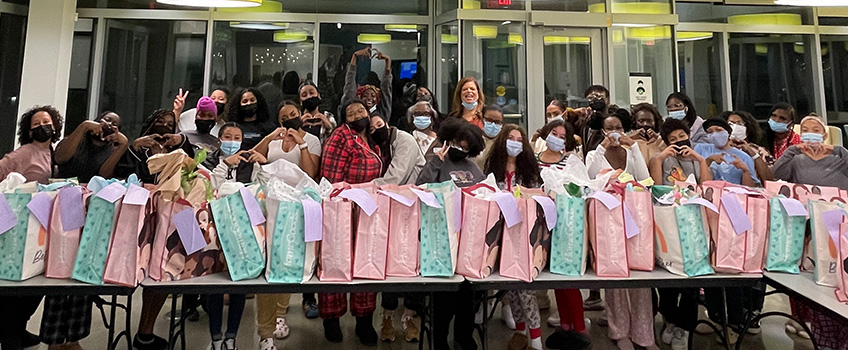 Galloway, N.J. - More than 30 female students of color started the winter break with gift bags of self-care and personal supplies provided by professional women of color at Stockton through the retention initiative TogetHER.
"What started out as a call for 15 professional women to sponsor 15 students grew into a wonderful response by 31 professionals from across divisions and departments," TogetHER co-advisor Ana (Rodriguez) Edmondson, Director of Student Transition Programs, said of the Secret Sister Self-Care Bags project.
"I am so happy and thrilled to participate in this new special touch connecting our TogetHER sisters during the holiday season," said Associate Director of Admissions Services, Jessica Grullon, who participated in the project.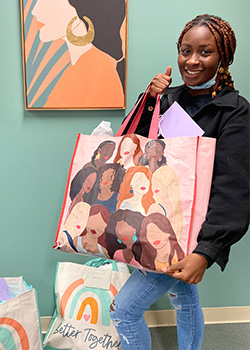 Students completed surveys where they requested items ranging from cooking supplies to hair and face products and personal items like knitting and painting supplies. The bags were distributed on Dec. 3, and the sense of camaraderie and support from faculty, staff and fellow students had as big an impact as the gift bags.
"I immediately felt a sense of belonging and comfortability once I entered the room," a student said. "Once all of the staff had left, the girls were able to engage with each other and be themselves. It truly was a load off of all the stress that is built from finals week."
TogetHER was founded in fall 2018 by 10 professional women of color at Stockton to mentor and empower undergraduate womxn of color. Edmondson and Assistant Director of Student Development Shedia Laguer, serve as co-advisors.
"Our aim is to close the gaps that exist in graduation rates between students of color who identify as Black and Latinx, and students who identify as White. We promote resources, services, and opportunities to tackle factors that commonly influence attrition like lack of academic preparation, college knowledge, financial hardships, and family obligations. However, one factor that we are strongly influencing is students sense of belonging," Edmondson said.
This semester the group held nine programs on topics ranging from health and wellness to domestic violence. A mentor directory with 31 contacts and biographies of faculty, staff and administrators was created to encourage students to connect with professionals for advice. Students reported that they met new professionals and were able to network and build relationships. They also said the TogetHER group provides a safe space where they are welcomed, encouraged, and challenged, but not judged.
"The beauty of the TogetHER sisterhood is the space it creates for womxn of color to be seen, heard, understood and believed," Laguer said. "As the slogan says, 'TogetHER is my favorite place to be'"
Laguer and Edmondson also presented on the TogetHER initiative at the NASPA Multicultural Institute on Dec. 9.
More information on TogetHER is on the website stockton.edu/together.