New Tradition Celebrates Students, Advances Equity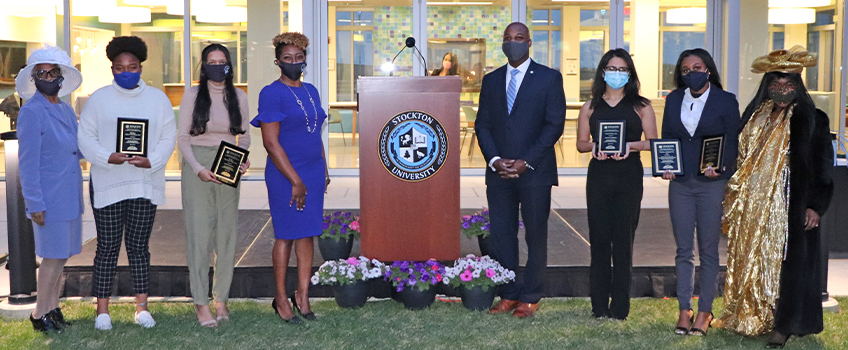 Atlantic City, N.J. - As the sun set, staff, faculty, students and alumni celebrated the accomplishments of students of color engaging in high impact practices at Stockton University, shining a light on the power of creating impactful experiences for underrepresented communities during the inaugural Equity in Academic Achievement Award Dinner and Fundraiser on April 23 in the Atlantic City Residential Complex Quad.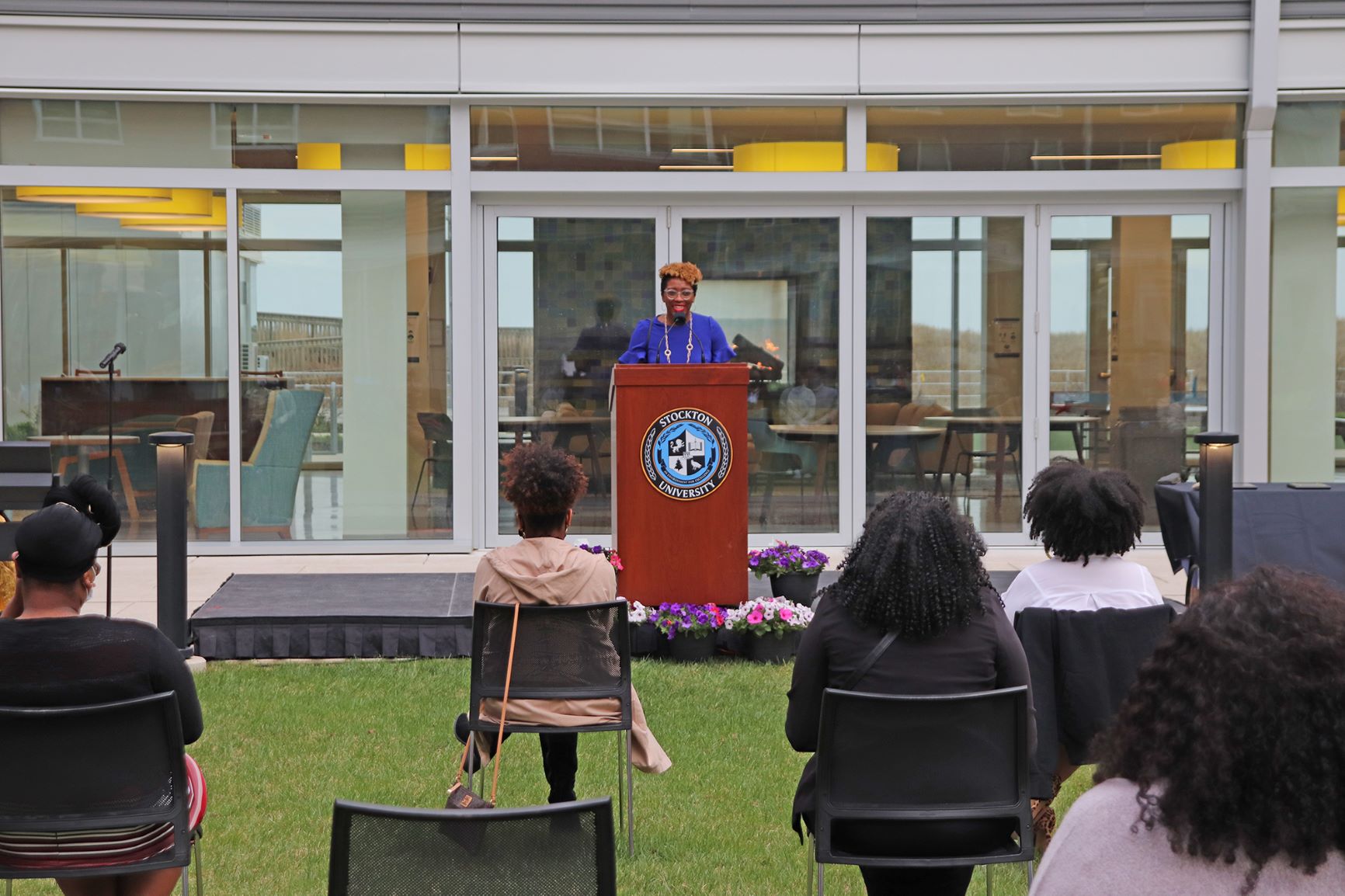 "It's because of you why we continue to do this work," said Nordia Johnson, director of Academic Achievement Programs, to students present in the audience and tuning in online. "We pour into you, so you can go out into the world and pour into those around you." High impact practices, or HIPs, are teaching and learning practices, such as study abroad, internships, undergraduate research and service learning, that benefit students from diverse backgrounds.
Michelle McDonald, chief academic officer for the Atlantic City campus and associate vice president for Academic Affairs, spoke about the importance of engaging underserved student populations through HIPs and the power of those experiences in her welcome remarks, particularly as a path to continue forward as a university through these trying times. "All students have the potential to make a high impact," said McDonald. "Our goal as a university is to support them."
Students Alize Thompson and Brian Odhiambo showcased their research and creative projects, speaking about the experiences that have helped them bridge equity gaps by engaging in high impact practices. Through her work as a Board of Trustees Fellow, Thompson hopes to help "close equity gaps by increasing the number of students that look like [her] engaging in HIPs."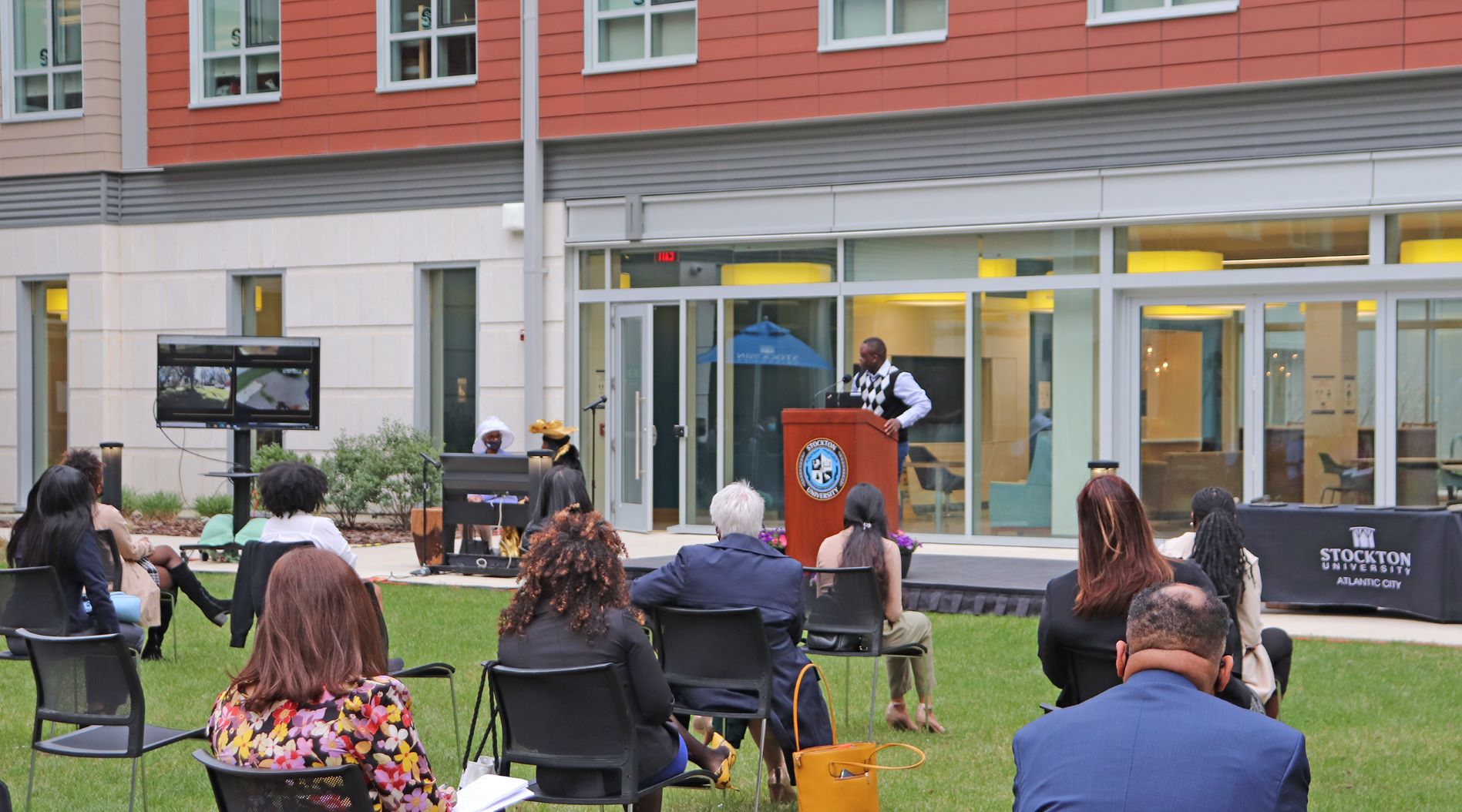 Odhiambo discussed his hardships as an international student from Kenya when the pandemic hit, which prevented him from returning home to his family. However, after meeting Johnson and learning about high impact practices, Odhiambo developed the McClain AI Project with support from the Board of Trustees Fellowship and demonstrated it for the audience. The software would allow authorities to watch livestreams of police body cameras, giving viewers the power to quickly intervene to potentially problematic situations and prevent the loss of life.
Additionally, students complemented the program with their talent. Nyle Scott read "The Rose That Grew From Concrete" by Tupac Shakur before performing his own spoken word poem, titled "To The Roses Blooming in Darkness."
"Just because we have these obstacles, doesn't mean we have to give up on what we do have," said Lillian Nickens before her musical performance accompanied by Professor of Music Beverly Vaughn, a reminder for her peers to pursue their dreams no matter the challenges.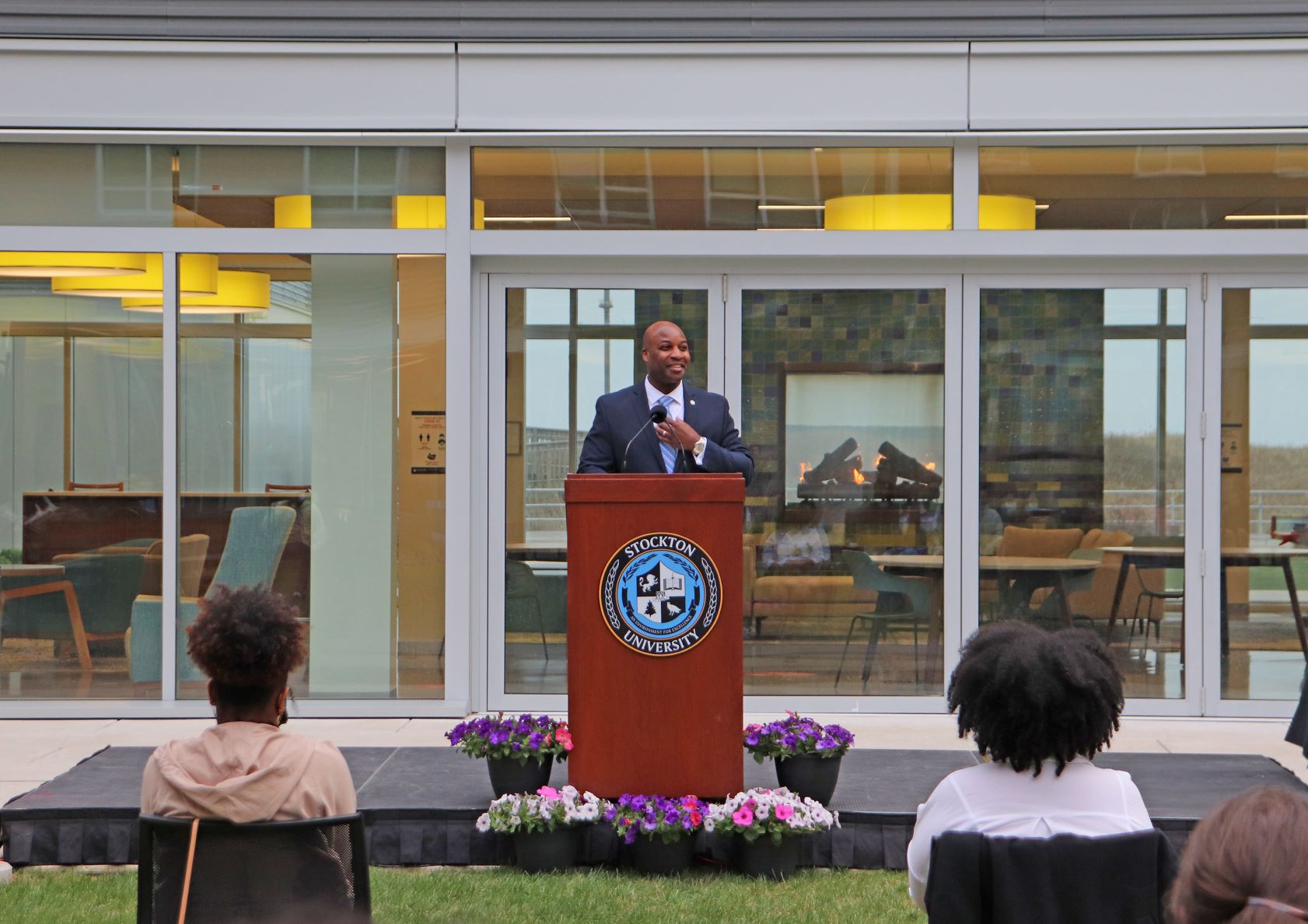 "What you accomplish or achieve doesn't stop here...you have to turn around and give back," said keynote speaker Terry King '96, captain of detectives in the Camden County Prosecutor's Office. King, who has served in law enforcement for the past 25 years, told students there are three parts to advancing success: "Push harder, achieve and accomplish, then turn around and push others toward success. That is the key to the first step for achievement in the bigger picture." Inspired by Odhiambo's speech earlier in the evening, King also touched on the need to humanize others, to treat everyone like a family member and continue to impact others by giving back.
"Take this moment with you. It's bigger than you," added Johnson as she expressed to students the importance of their work and achievements, not only for themselves, but for all marginalized communities at Stockton and beyond.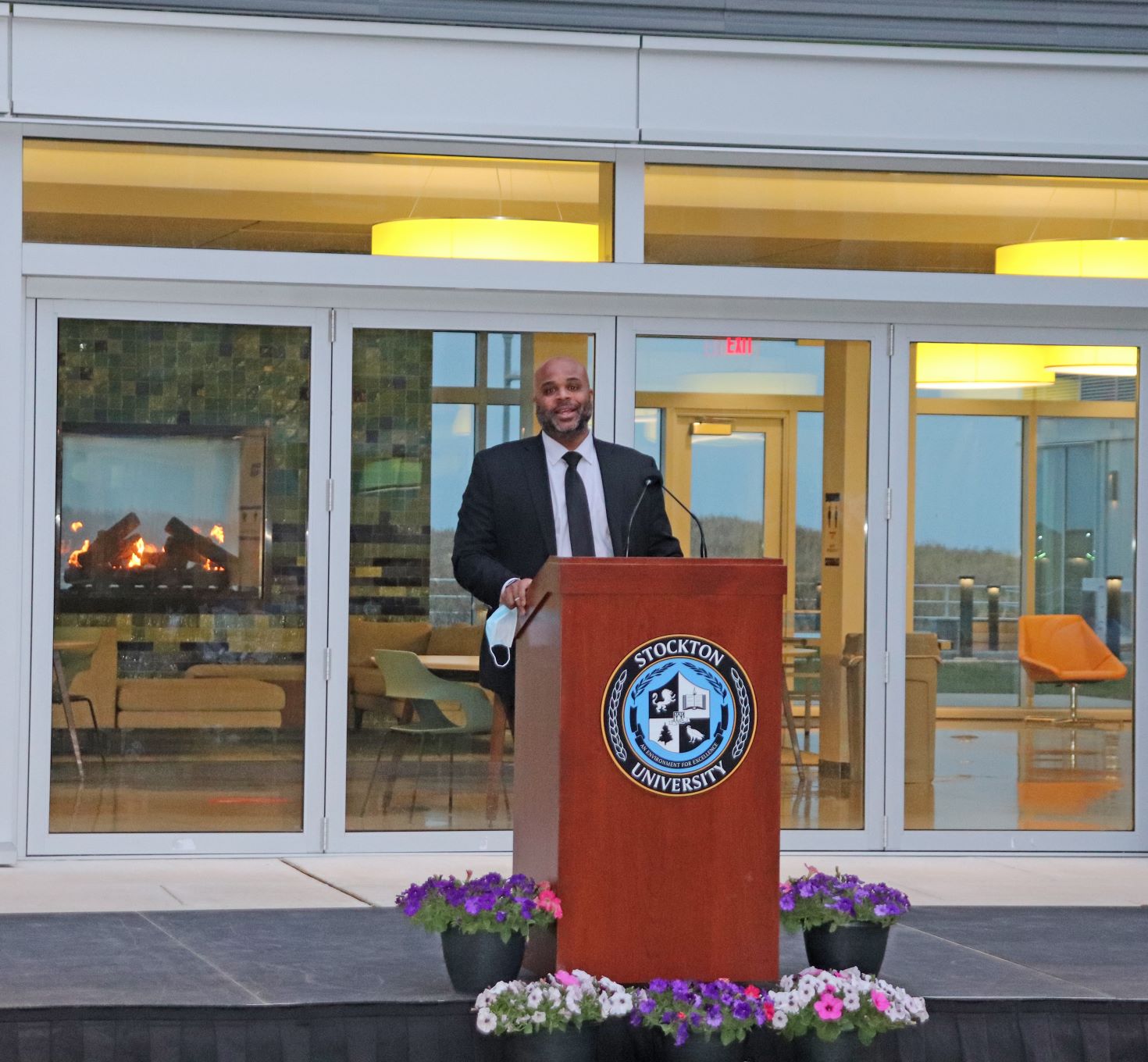 In his closing remarks, Chris Catching, vice president for Student Affairs, stressed the importance of engaging students in HIPs early in their college experience to set the stage for later success. "Exposure is everything," said Catching, reiterating the need to highlight and elevate the achievements of students of color at Stockton. "Many of our students that come in aren't thinking about all of these [high impact practices], especially our first-generation students...it's up to us to create these experiences and opportunities for them."
Award recipients were introduced by the faculty or staff member who nominated that student for the award. The list of awards and honorees include:
Academic Excellence: Mariam Eskander, Diana Ramirez
Leadership in High Impact Practices: Divya Rajput, Axavier Dennis
Leadership in Equity and Racial Justice: Danielle Combs, Kristina Mitchell
Outstanding Multicultural Student Organization: Stockton University Chapter of the National Association for the Advancement of Colored People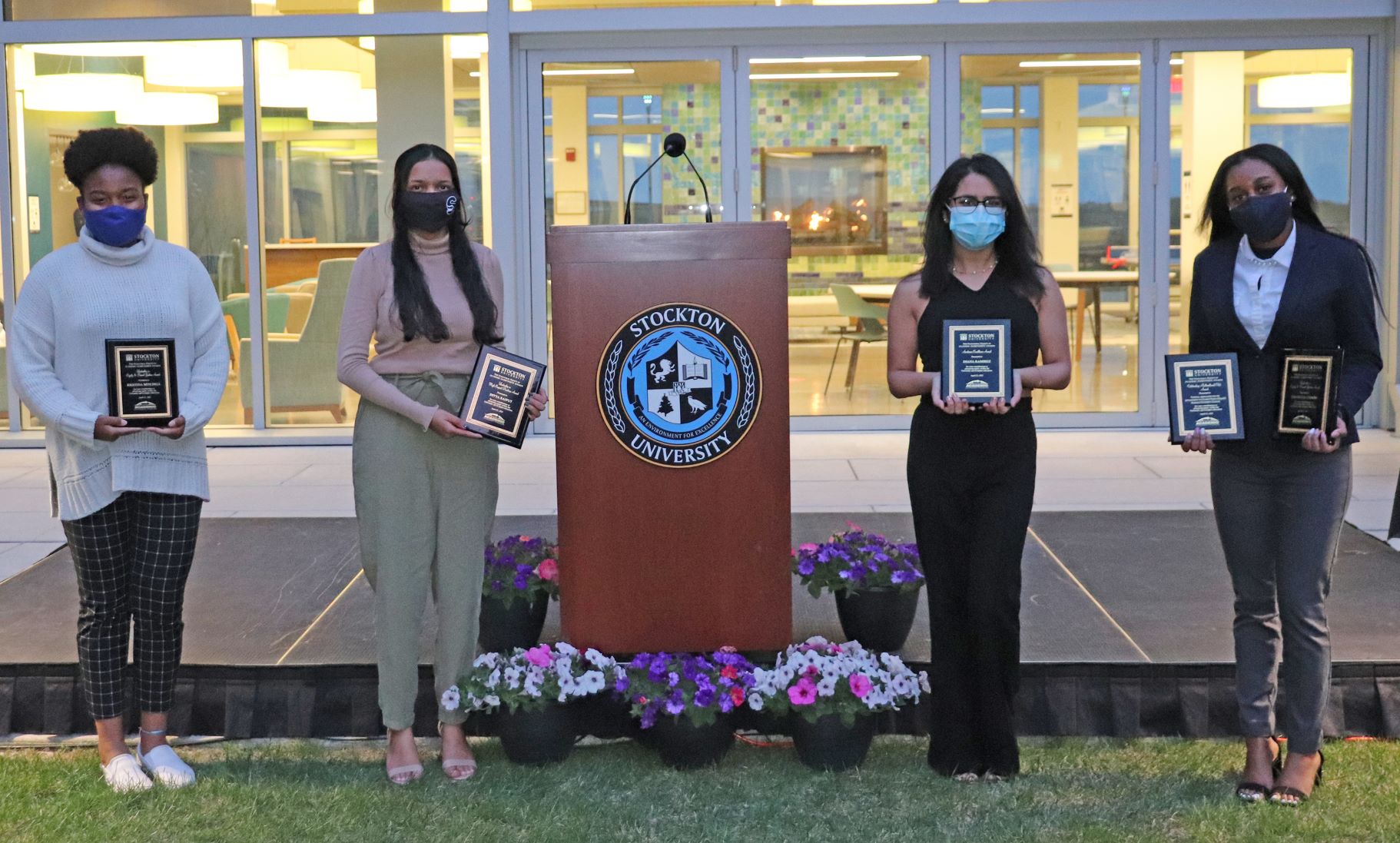 Marques Johnson, director of Residential Education and Student Services, served as the master of ceremonies for the night. A total of $3,375 was raised by donors and event sponsors, which will support scholarships for students of color to continue engaging in high impact practices during the 2021-2022 academic year. For more information about high impact practices, visit the Office of Academic Achievement Programs' website.
Click here to view a gallery of photos from the event.
Reported by Eliza Hunt