Black Lives Matter Series Ends on a High Note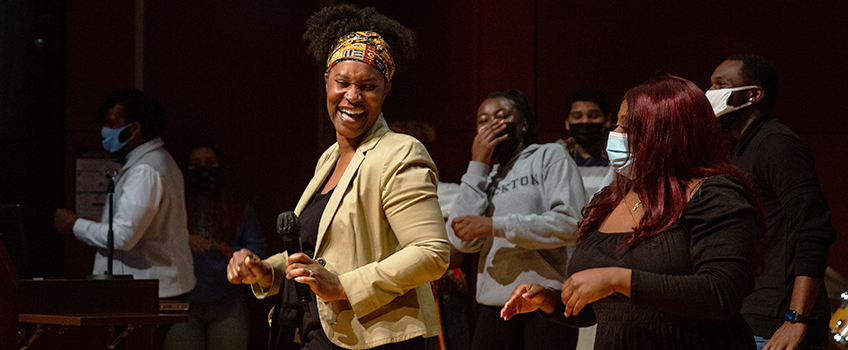 Galloway, N.J. – The Black Lives Matter lecture series covered serious topics through lectures and discussions during the spring semester.
So it was fitting that it ended April 15 with a party – albeit an informative party, that highlighted the influence of Black Culture on American culture.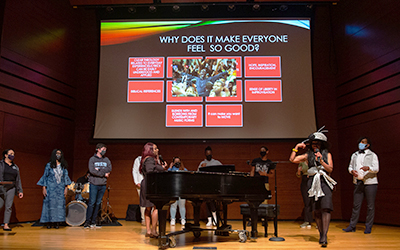 "So much of pop culture came from Black folks," said Professor of Africana Studies and Communication Donnetrice Allison, who led off the program with a review, and some demonstrations, of the dances and music that started among Blacks but became popular throughout America, including the Bop, Cakewalk, Charleston, Lindy Hop and Swing.
"With all we have to worry about, we still have this joy and we share the joy," Allison said. "Black joy is an act of resistance."
Allison shared clothing trends, language trends and music influencers who helped create trends.
Professor of Music Beverly Vaughn shared the history of gospel music, rooted in the responsive church singing of the south.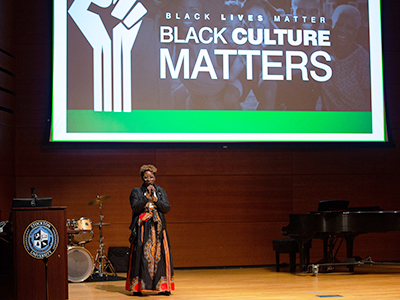 "It had hope, inspiration and Biblical references," said Vaughn who also accompanied singer Lilly Nickens. "And it can make you want to move."
Student Nyle Scott presented a spoken work piece, saying he does not want to be a product of his environment.
"I want my environment to be a product of me," he said.
Student Alize Thompson created an exhibit titled "See Us: An Incomplete Collection of Black History in America," that was displayed in the Performing Arts Center lobby. Thompson, a TALON at Stockton, received a Board of Trustees Fellowship, which included a trip to the African American History Museum in Washington, D.C. When the museum closed for the pandemic, Thompson worked with her project advisor, Ana Rodriguez and created her own mini-museum around themes including Societal Impact, Slavery and Horrific Injustice, Movement Leaders, and Migroaggressions, including an open area where students could write examples of microaggressions they have experienced.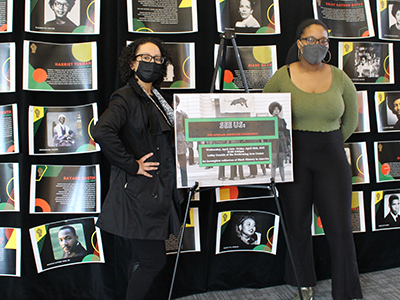 "I really want people to see that Black History is American History," Thompson said. "I want them to get a taste here, then keep learning after they leave."
She said she learned a lot doing the project, which contains more than 225 posters. She cited Claudette Colvin, who was arrested for refusing to give up her seat on a bus to a white woman, and Bayard Rustin, an organizer of the March on Washington in 1941 as unsung heroes of the civil rights movement who were overshadowed by the more famous Rosa Parks and Martin Luther King. Jr.
The Black Culture program was the last of four presented throughout the spring semester. The first, in February, was Black Innocence Matters: The Stolen Childhood of Black People, followed by Black Physical Health Matters, and Black Mental Health Matters in March. Each featured Stockton faculty and staff talking about their own experiences along with expert discussion of the topics.
The programs were coordinated through the Office of Academic Achievement Programs, Nordia Johnson, director, the Africana Studies program, Donnetrice Allison, coordinator, and the Office of Student Affairs.
The complete programs, each about an hour long, can be viewed on YouTube.
Black Physical Health Matters: https://www.youtube.com/watch?v=Yo543xq534I
Black Mental Health Matters: https://youtu.be/JqLz-BrJ-Aw.
Black Innocence Matters: https://youtu.be/A-YKySE3a7U
Black Culture Matters: https://youtu.be/8fbEU_CxpQE
- Reported by Diane D'Amico