Wildlife Survey Finds Pine Barrens Tree Frogs on Campus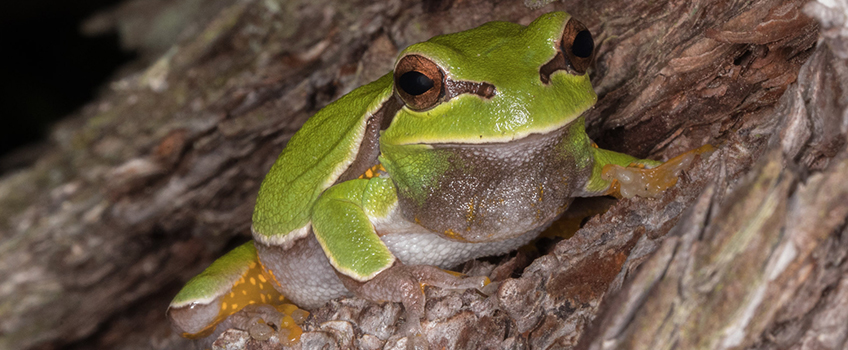 Galloway, N.J. - Greg Fischer reached for his phone to make a call just before midnight. He was deep in the woods and could hear the rumbling of a fast-approaching thunderstorm.
Rapid, nasally noises, a cross between a quack and a honk, came out of his phone speaker as he played a video of a male Pine Barrens Tree Frog calling in search of a mate.
A real-life frog answered in the trees behind Fischer, who is a 2020 Environmental Science graduate now in the Professional Science Master's program and leading a Pine Barrens Tree Frog survey on Stockton University's campus.
Moments after he heard the frog answer, "the skies opened up and it began to pour," he recalled.
Fischer headed back to his car without a visual sighting but came back again the next night and was able to see a frog and capture detailed images with a macro lens.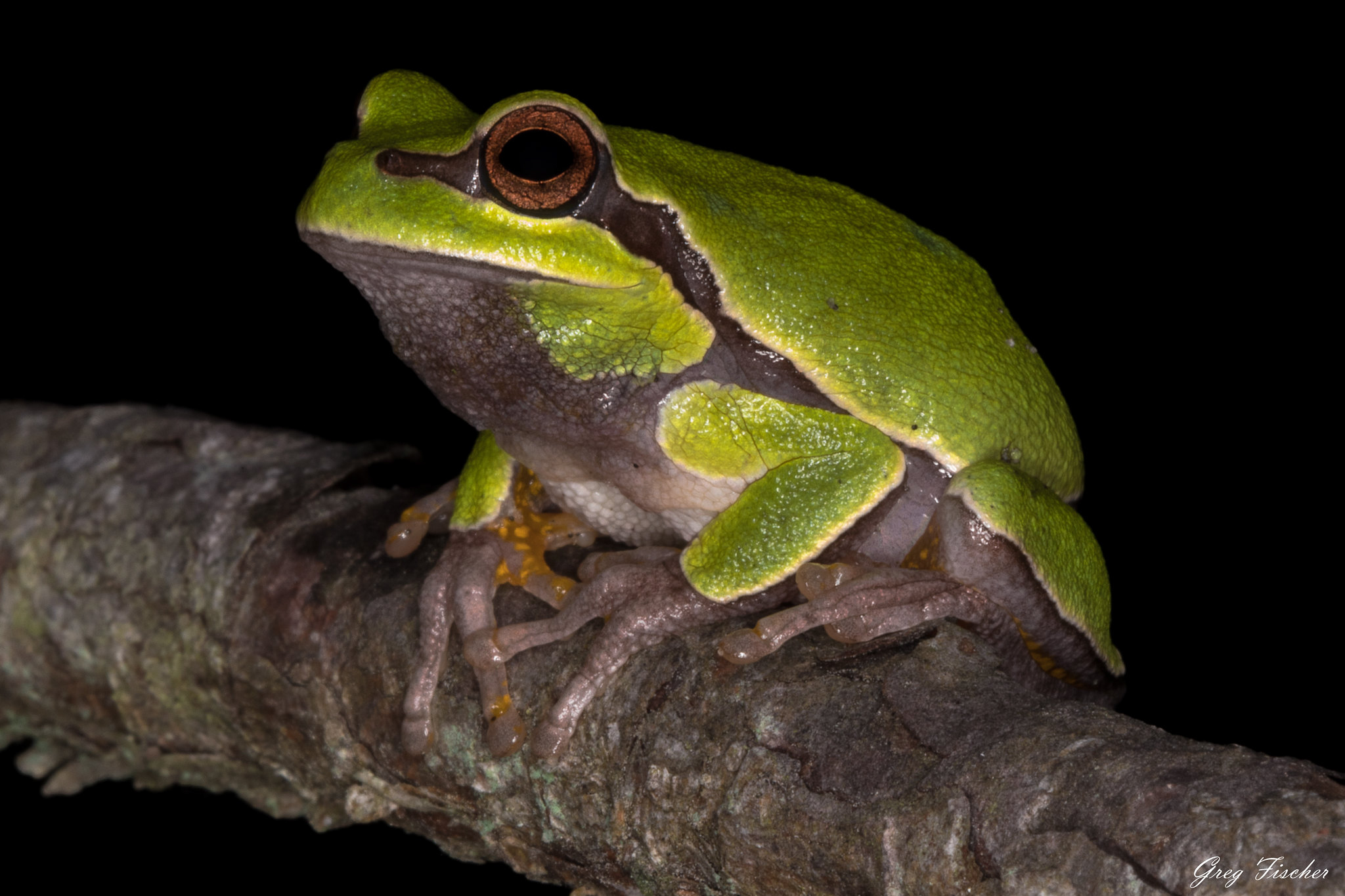 Fischer's phone "call" that led him to the wild amphibian he's studying was not your typical conversation. Nevertheless, he was thrilled that nature answered. Researchers use a technique known as call-back where they play a creature's vocalizations in hopes of getting a response to locate a species.
Since 2008, there hasn't been an official report of a Pine Barrens Tree Frog sighting on campus. The lack of sightings doesn't mean the frogs aren't present though.
Despite their loud calls and bright green skin speckled with orange details and a purple stripe, they aren't easy to spot. They are most active on hot, humid nights, especially around storms, in late May through early July during their breeding season—not exactly a popular time for humans to visit the woods.
Finding one is an adventure that requires planning, dedication, a flashlight, a good pair of muck boots and a rain jacket.
Researchers still have a lot of questions about the species, so Fischer spent his spring tracking them down on campus to get a better idea of the local population's habitat preferences and abundance.
For the study, he set up audio equipment to record a week's worth of nighttime frog calls at seven different locations that he identified as suitable habitat. The frogs like cedar bogs, seepage from streams, vernal ponds and pitch pine lowlands, all of which can be found on campus.
In addition to deploying technology, he went out and listened by ear.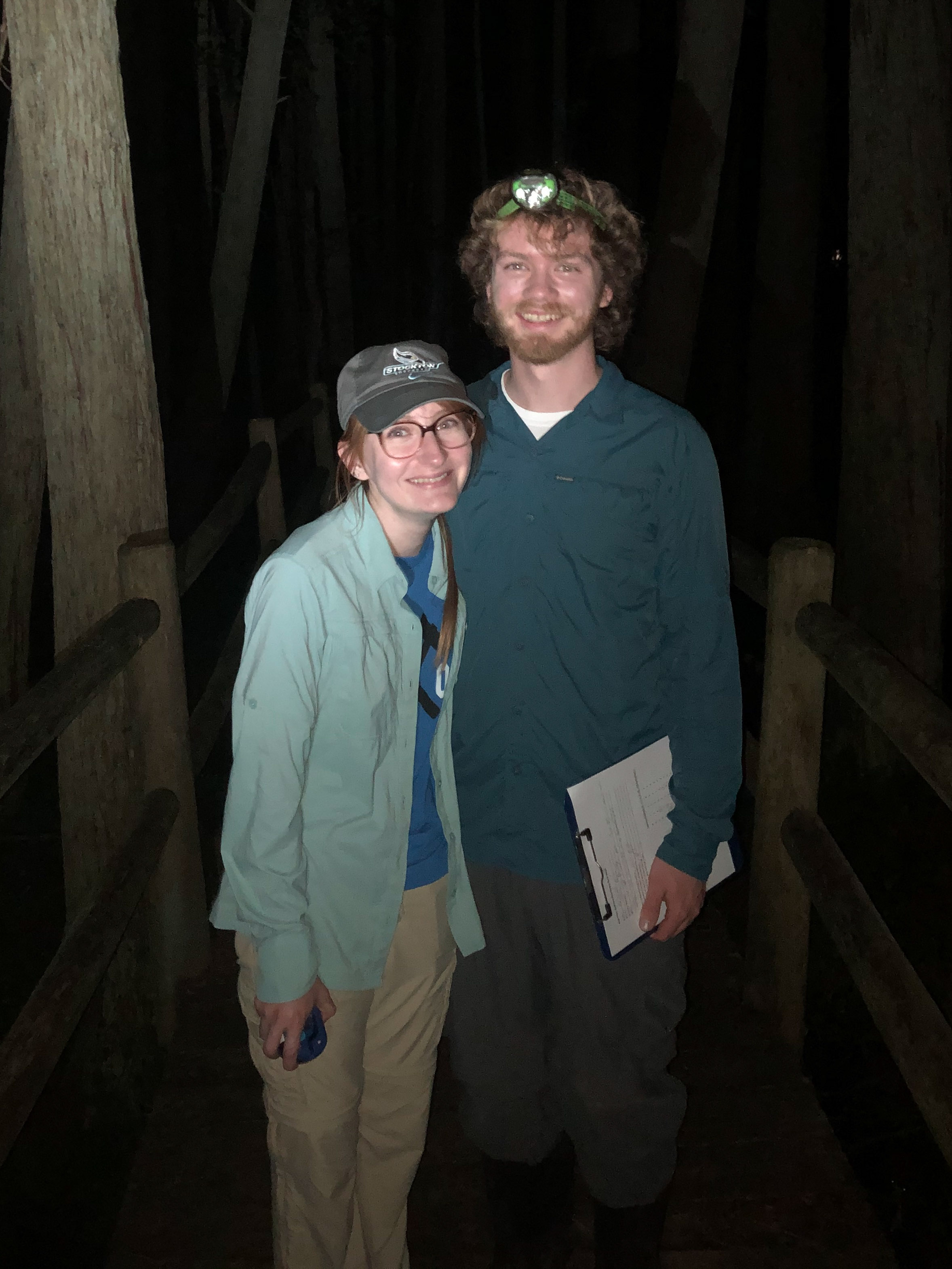 Haley Vernon '20, a Sustainability graduate, navigated the soggy, wetlands in the dark with Fischer. "My wife, as of Aug. 9, has a significant amount of frog knowledge and acted as my field assistant for all of my in-person surveys at Stockton," he said.
Now that the breeding season has ended and he has a soundtrack of frogs singing for hours, he is teaching audio software to recognize the different frog calls, so that it can identify which species were present at each location and their abundance.
At the study sites, Fischer also recorded the water depth, pH and associated plant species—all variables important to the frogs when selecting breeding sites.
Although his survey focuses on the Pine Barrens Tree Frog, Fischer is monitoring for the presence and abundance of all late-breeding frog species. He doesn't expect to get a comprehensive data set on all frog species because the early breeders like the spring peeper aren't active during the time frame of his study.
Fischer's findings will be compiled into a report for his capstone and shared with the state's Department of Environmental Protection.
Wetlands that are classified for their exceptional resource value receive added protections, Fischer explained. Pine Barrens Tree Frog habitat receives those protections when there is data to show the presence of the species.
Fischer is the first to confirm their presence on campus in more than a decade. Just a few years ago, he was unaware that the species existed.
During an internship at The Wetlands Institute in Stone Harbor, he learned about the Pine Barrens Tree Frog from staff research scientist Brian Williamson who was surveying them at the time and invited interns to join him on his search.
Fischer described the species as "charismatic and a mascot for the pines," and most importantly, a champion for conservation.
Intrigued by the species, he accepted an internship with Stockton's Environmental Internship Program last year and is still involved in the ongoing survey for Pine Barrens Tree Frogs at New Jersey Army National Guard and New Jersey Department of Military and Veterans Affairs facilities throughout the frog's range.
"The survey didn't result in us finding Pine Barrens Tree Frogs at any of the military facilities or at Stockton, but it was certainly another influence on my project," Fischer explained.
The Stacy Moore Hagan Memorial Scholarship provided funding to make the campus tree frog survey possible. Roland Hagan '90 established the scholarship program to support interns pursuing research in memory of his wife, who he met at Stockton. An internship is where Stacy's 17-year career in marine science began, and more than a decade of scientific research has been conducted by students in her honor.
When Fischer wasn't surveying frogs for his capstone project this spring, he was still exploring the pine barrens. He recently served as a nature guide for his friend Colin Stewart who filmed and edited a documentary on the pines. Many of the scenes were captured right on Stockton's campus.
Fischer also spends a lot of time behind his own camera lens as a wildlife photographer. He got his first camera as a freshman and started documenting backyard birds. Soon his camera was leading him to parks and natural areas.
A field experience in Ecuador led by Professor Tait Chirenje allowed him to grow his portfolio and document biodiversity he'd never seen before. His Flickr feed shows the wildlife and landscapes that students explore while learning about global environmental issues.
He returned to Ecuador as a teaching assistant. "I thought the first trip was a once-in-a-lifetime experience, so I was beyond grateful to go back," he explained.
Chirenje, who teaches in the Environmental Studies program, said, "In my 16 years of teaching, doing research and mentoring students at Stockton University, I cannot think of anyone who outshines Greg in dedication, intellectual acumen and maturity. I can always count on Greg to give it his best, often going beyond what is assigned to answer other questions that often lead to more avenues of exploration. Greg has found a way to blend his personal interests and hobbies with his professional aspirations and the result of that is a budding environmental scientist."
Fischer grew up near the beach and has always enjoyed exploring nature. At Stockton, he has made himself at home in the outdoor classroom, and thanks to the Pine Barrens Tree Frog, he has thoroughly explored the most remote corners of the campus forest.
Reported by Susan Allen
View a gallery of Greg Fischer's photography captured in New Jersey and Ecuador.