Professor Edits Book on State-by-State History of Race in U.S.
Galloway, N.J. - Stockton University Distinguished Professor of Social Work and Africana Studies Patricia Reid-Merritt has edited a new book that offers insight into the history of race and racism in every state in the union.
"A State-By-State History of Race and Racism in the United States" is a more than 1,000-page two-volume work by scholars from across the country that provides chronologies, historical narratives and biographies of major figures from the perspective of all 50 states and the District of Columbia.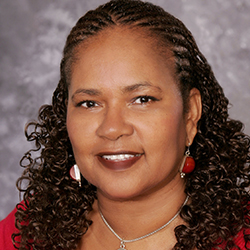 "There are no race-free zones in America," Reid-Merritt said. "Issues related to race and racism are in every single state in the union."
Topics range from treatment of Native Americans in the West, to African Americans in the South and Japanese Americans during World War II.
"So many people think of racial discrimination as largely a Southern issue," Reid-Merritt said. "But it is not. And I learned a lot about how the concept of race shaped our nation."
She said the book does not address issues based on religion or ethnic background, but maintained its focus on race. She said the stories demonstrate that while race is still an issue in America, there has been change over time.
"You can see how states developed and addressed race and how they broke barriers," she said. "Some have made more progress than others. A lot has to do with education, housing and incarceration, which can create de facto segregation. Every state has had its up and downs."
She said among the stories are violence against Native Americans in Ohio, the struggle of Black Mormons in Utah, military factories in Washington state that had separate stairwells for workers, and the training of black military officers in West Virginia. The volume covers the period from the first European settlers' impact on indigenous populations to the Black Lives Matter movement today.
In addition to editing the two volumes, Reid-Merritt also wrote the chapter on Oregon. Stockton University Professor of Communications Donnetrice Allison wrote the chapter on Massachusetts, her home state.
Reid-Merritt said the books are suitable for advanced high school and college students interested in social issues surrounding race.
"I see these volumes as a resource, to introduce people to the concept of race in America,' Reid-Merritt said. "It's worth reading, even if people just read about their own state."
The two-volume book was published by ABC-CLIO Corporate and is available for $198 at abc-clio.com. Ebooks are also available through ebook vendors.
Patricia Reid-Merritt is also the editor of Race in America: How a Pseudoscientific Concept Shaped Human Interaction. She is the author of Sister Power: How Phenomenal Black Women are Rising to the Top; Righteous Self-Determination: The Black Social Work Movement in America; and Tarnished Legacy: A Reluctant Memoir.
MEDIA ADVISORY: Stockton University's Africana Studies Program will host a special program on the book from 10:30 a.m. to 12:30 p.m. Feb. 12 in the Campus Center Theater featuring Patricia Reid-Merritt and the authors of the chapters on Pennsylvania, Delaware, New Jersey and New York. The event is free and open to the public.
Media interested in interviews with Reid-Merritt can contact Diane D'Amico at Stockton.
# # #
Contact:
Diane D'Amico
Director of News and Media Relations
Stockton University
Galloway, N.J. 08205
Diane.DAmico@stockton.edu
609-652-4593
609-412-8069
stockton.edu/media